printer friendly version
Remote monitoring and telemetry at power station water plants
July 2018
Data Acquisition & Telemetry
The wireless ability to manage pumps remotely over long distances is now available using Omniflex's Teleterm M3 Radio RTUs. This full functionality IEC61131 PLC enables both control and wireless communications to exist in a single package with flexible I/O and subnet communication interfaces for VSDs and other serial devices including power meters.
The system comprises as many Teleterm M3 Radio RTUs as required, each housed in a weatherproof enclosure with a built-in PSU and standby batteries. A unit is installed at the (local) remote control side with all the I/O dedicated to control inputs and pump feedback statuses, while at the field side at the pump (remote) a unit with all the I/O dedicated to control outputs and pump feedback inputs is installed.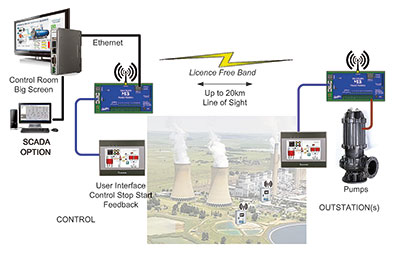 Power station water plant data acquisition and control.
The built-in radio allows up to 20 km line-of-sight communication between the two sets of controls, allowing flexibility. The system supports peer to peer communications allowing multiple stations to be integrated into one control system. This allows easy plug-and-play with only the wiring of the power supply and the control circuits required. Optional HMIs can be provided to do the control of the pump and to indicate statuses. The on-board Ethernet port also allows connection to an existing scada or DCS system, thus saving on additional hardware. Big screen options are also available to visualise the entire water plant in real time for a control room, ensuring operators are not blind to outside plant statuses.
A communications link indication is provided to ensure the system is up and running, while alarm logging can be included so that status can be recorded for historical purposes.
Even the speed of the pump can be controlled, as the unit includes both a 4-20 mA input and a 4-20 mA output.
Low power consumption makes the system suitable for use in a solar powered environment if required, and a battery can be included in the event of a mains power failure. Water quality as part of environmental responsibility is a key element to triple bottom line reporting with water licensee operators needing to provide data for licensing authorities and compliance data for reporting.
For more information contact Ian Loudon, Omniflex Remote Monitoring Specialists, +27 (0)31 207 7466, sales@omniflex.com, www.omniflex.com
Credit(s)
Further reading:
RS Components introduces RX23E-A
July 2020, RS Components SA , Data Acquisition & Telemetry
RS Components has introduced a new series of single-chip devices from Renesas, the RX23E-A microcontrollers (MCUs) which combine an analog front end (AFE) and an MCU core for use in equipment that delivers 
...
Read more...
---
Remote alarm monitoring made simple
May 2020, Omniflex Remote Monitoring Specialists , IS & Ex
Alarms are normally managed on site by personnel charged with supervising the plant/facility and ensuring the continuity of the operation. Alarms are implemented to help manage operations and mobilise 
...
Read more...
---
Wireless control of pumps
February 2020, Omniflex Remote Monitoring Specialists , Industrial Wireless
The ability to control a pump remotely over distance and without using wires is simple using Omniflex Teleterm Radio RTUs over a licence free band, avoiding administration of radio frequency band use. 
...
Read more...
---
Advanced controller for data acquisition
December 2019, RJ Connect , Data Acquisition & Telemetry
The ioThinx 4530 series is an advanced modular controller product with a unique hardware design, making it an ideal solution for a variety of industrial data acquisition applications. The controller has 
...
Read more...
---
The importance of up-to-date alarm annunciators
January 2020, Omniflex Remote Monitoring Specialists , IS & Ex
At 1.23 pm on Sunday, 24 July 1994, twenty-six people were injured when an explosion erupted through an oil refinery in an otherwise quiet corner of South Wales in the United Kingdom. The site was occupied 
...
Read more...
---
Time synchronise your key remote sites
November 2019, Omniflex Remote Monitoring Specialists , Sensors & Transducers
Managing processes where root cause identification is rapidly identified can generate substantial savings though improved productivity and implementation of planned preventive maintenance schedules. Knowing 
...
Read more...
---
Omniflex eases mine water compliance
October 2019, Omniflex Remote Monitoring Specialists , System Integration & Control Systems Design
Water licences carry a 'Burdon of Proof' that the licence holder will not harm the environment or the water system through its activities. This covers the use of water from the system and the responsible 
...
Read more...
---
Top data management on the DIN rail
October 2019, Endress+Hauser South Africa , Data Acquisition & Telemetry
The data manager family of Endress+Hauser is growing. To meet the strong demand from the market for a smart, compact DIN rail data manager for mounting in the control cabinet, development of the RSG45 
...
Read more...
---
IoT data logger
October 2019, Impact Measurement Solutions , Data Acquisition & Telemetry
IMS is known across the globe as a leading industry expert and manufacturer of condition monitoring data loggers and telemetry. The company performs data logger engineering, manufacturing and servicing 
...
Read more...
---
Alarm system upgrade from Omniflex
September 2019, Omniflex Remote Monitoring Specialists , IS & Ex
Fiddler's Ferry Power Station was constructed by the CEGB (Central Electricity Generating Board) in the UK and came into full operation in 1973. It has four 500 MW sets, giving a total generating capacity 
...
Read more...
---