printer friendly version
Rotating vane flowmeter
July 2018
Flow Measurement & Control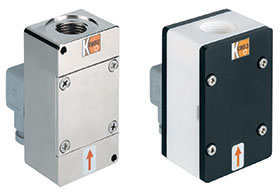 The Vane Technology Principle, a method of measuring and monitoring the flow of different media trough piping, has been proven worldwide. Kobold flowmeters and monitors work with this proven principle. Instrotech is offering the Kobold DFT rotating vane flowmeter, the equipment of choice whenever traditional impeller technology is to be used for the measuring or monitoring of volumetric flow rates. The modular design of this type makes the system universal in use, inexpensive and space-saving in operation.
The DFT completely fulfils requirements for efficient and low-cost production methods. Due to the option of a PTFE housing, users get a resistant and highly reliable measurement system for operation in aggressive media.
The wide measuring range of 0,2–2,0 l/min up to 3–60 l/min means that DFT rotating vane flowmeters can be used for a wide variety of applications. With a maximum operating temperature of 80°C and a maximum pressure of 16 bar (if the brass housing is used), this device can be used for almost all process conditions.
The heart of the Kobold impeller is a securely embedded ring magnet, which is hermetically sealed against the respective medium. It transfers the rotation of the impeller to a Hall sensor fixed to the housing with a space-saving attachment. This sensor in turn transforms the rotational movements into a frequency signal in proportion to the volumetric flow. The downstream Kobold electronic evaluation unit then transforms the signal into either a digital display or an analog normalised signal, or it can be used to switch up to two limit contacts. LEDs show operational readiness and switching state of the limit value relay. Also, counter or dosage electronics can be used.
In combination with the Kobold electronic unit this system provides extremely accurate measuring results under difficult conditions. Typical applications are in cooling water monitoring, general mechanical engineering, wastewater treatment, heavy goods and in the chemical industry.
For more information contact Instrotech, +27 (0)10 595 1831, sales@instrotech.co.za, sales@instrotech.co.za
Credit(s)
Further reading:
Miniature IR thermometer for plastic film
May 2019, Instrotech , Pressure Measurement & Control
Temperature is a key physical variable for ensuring quality in the production of plastic film. The application of non-contact temperature measurement technology poses the challenge that films with a thickness 
...
Read more...
---
Revolutionary new flowmeter
May 2019, Bürkert South Africa , Flow Measurement & Control
Bürkert is known for producing high quality process control equipment for the hygienic processing sector. The company has developed FLOWave, an innovative solution for liquid flow measurement, which has 
...
Read more...
---
New flowmeter for biogas
May 2019, KROHNE , Flow Measurement & Control
The new Optisonic 7300 Biogas ultrasonic flowmeter from Krohne has been specially designed to measure dry and wet biogas with variable composition. The meter provides additional functions, like calculation 
...
Read more...
---
Miniature multi-turn encoder
May 2019, Instrotech , News
Modern industrial applications demand innovative designs featuring high performance, precise information and smaller component footprints. To this end, Instrotech now offers the Scancon miniature absolute 
...
Read more...
---
Keller's water level monitoring systems
April 2019, Instrotech , Level Measurement & Control
The Grib Mine, located in Russia's Mezensky District in the Arkhangelsk Oblast, is one of the largest diamond deposits in the world. During winter, temperatures can drop to -25° and sometimes -37°. The 
...
Read more...
---
Insertion resistance thermometers
April 2019, Instrotech , Temperature Measurement
Instrotech is offering Kobold's MMA range of industrial temperature probes, or insertion resistance thermometers, with or without transmitter. The MMA is engineered using 316 stainless steel and incorporates 
...
Read more...
---
Plug-and-play solution for flow monitoring
April 2019, Countapulse Controls , Flow Measurement & Control
Ease of flow monitoring with low maintenance benefits is a given with the compact plug and play EGE SNS 450 thermodynamic flow sensor from Countapulse Controls – the sole southern African agent for EGE's 
...
Read more...
---
Low volume rotating vane flowmeter
April 2019, Instrotech , Flow Measurement & Control
Instrotech is offering Kobold's DTK rotating vane flowmeter for small quantities, a versatile, efficient and very economic piece of equipment. This flowmeter was specially developed for use in low viscosity 
...
Read more...
---
Electromagnetic flowmeter for conductive fluids
April 2019, Instrotech , Flow Measurement & Control
Instrotech is offering the Kobold electromagnetic inductive flowmeter for conductive fluids – the model DMH – with a standard accuracy of ± 0,3% of reading stability of zero. It is used specifically for 
...
Read more...
---
Foxboro's vortex flowmeters designed for harsh process environments
April 2019, EOH Process Automation Solutions , Flow Measurement & Control
The 84 series measures volumetric and mass flow of saturated and super-heated steam.
Read more...
---