Rockwell Automation powers desalination plant
July 2018
PLCs, DCSs & Controllers

printer friendly version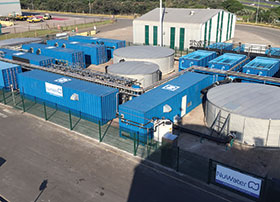 Water specialist, NuWater has developed a two megalitre desalination plant at a smelter plant in KwaZulu-Natal. Rockwell Automation, through its PartnerNetwork program participants, CraigCor Distribution and system integrator M&M Electronics, supplied automation products and conducted programming and HMI development for use on this plant. It facilitates continuous smelter operations in the face of water shortages caused by the severe drought that saw local dam levels drop to alarmingly low levels.
NuWater incorporated the Integrated Architecture system into its automation and control development by means of Rockwell PLCs, HMIs with visualisation control software, VSDs and industrial network equipment, as well as the powering switchgear componentry. Integrated Architecture system enabling products included a ControlLogix L73 Processor, Distributed I/O Model through a quantity of 10 stations that utilise POINTIO modules, one main Network Redundancy through Device Level Ring (DLR), 22 PowerFlex 755 VSDs (up to 110 kW) and Rockwell Moulded Case Circuit Breaker Switchgear.
"As water-stressed nations turn to seawater desalination as a solution for process and drinking water, we are leading the way in terms of our product offering," says NuWater's chief business development officer, NJ Bouwer. He adds that most of the equipment offered to the smelter was refurbished to help make sure that the short lead-times required could be met. "The existing equipment already had MCCs and control centres, which we decided to refit with the latest Rockwell Automation product portfolio. Although many manufacturers have similar product offerings, it is hard to find robust and reliable equipment that can withstand the rigours of working in these often wet and humid environments."
"Water industry professionals around the world face an increase in challenges due to stringent government regulations and ageing control systems," says Rockwell account manager, Jacques Jacobs. "This causes tighter water quality standards and rising labour, operating and maintenance costs. The Rockwell Automation vision of The Connected Enterprise helps overcome some of these challenges. Through the Integrated Architecture system and the connection of smart devices, new windows of opportunity into processes open. Data and analytics enable better and faster decision-making, while seamless connectivity spurs new collaboration."
For more information contact Jacques Jacobs, Rockwell Automation, +27 (0)21 527 2900, jjacobs1@ra.rockwell.com, www.rockwellautomation.com/en_za
Credit(s)
Further reading:
Rockwell Automation upgrades control at Mozal Aluminium
February 2019, Rockwell Automation , System Integration & Control Systems Design
Rockwell Automation has migrated the control systems at Mozal Aluminium's furnace assembly and ladle cleaning shop to its modern DCS based on the PlantPAx design standard.
Read more...
---
Rockwell Automation expands power range
February 2019, Rockwell Automation , Electrical Power & Protection
Rockwell Automation has expanded the power ranges and capabilities of TotalForce technology for its Allen-Bradley PowerFlex 755T AC drives. The drives now offer an expanded power range, helping engineers 
...
Read more...
---
ABB unveils latest DCS upgrade
February 2019, ABB South Africa , PLCs, DCSs & Controllers
Originally launched in 1994, Freelance is ABB's DCS solution for process industries. It combines the advantages of a DCS with the PLC, and is characterised by ease-of-use, scalability, flexibility and 
...
Read more...
---
Graphic terminals provide enhanced software integration
February 2019, Rockwell Automation , Operator Interfaces, Switches & Relays
End users and OEMs are seeking HMI solutions that simplify and streamline visualisation, especially in larger applications. With the new Allen-Bradley PanelView 5510 family of graphic terminals, companies 
...
Read more...
---
RS Components launches PLCnext controller
February 2019, RS Components SA , PLCs, DCSs & Controllers
RS Components has introduced the first programmable logic controller to be based upon Phoenix Contact's PLCnext Technology open control platform. Aimed at distributed modular control applications in industrial 
...
Read more...
---
Rockwell Automation drives digital transformation
January 2019, Rockwell Automation , IT in Manufacturing
New FactoryTalk InnovationSuite, powered by PTC, accelerates digital transformation strategies.
Read more...
---
Kia Slovakia reduces safety ­downtime
January 2019, Rockwell Automation , IS & Ex
Allen-Bradley GuardLogix maximises efficiency in body shop.
Read more...
---
Diversity, and the currency of ideas
December 2018, Rockwell Automation , News
How can we measure the actual business value created in organisations by diversity amongst our workforces? Rockwell Automation Sub-Saharan Africa managing director Barry Elliott discusses.
Read more...
---
Flexible tower light from Rockwell Automation
November 2018, Rockwell Automation , System Integration & Control Systems Design
Rockwell Automation has introduced the Allen-Bradley ControlTower 856T 70 mm Tower Light system to market. This new system incorporates brighter LED illumination and a broad offering of visual and sound 
...
Read more...
---
Advanced light curtain improves safety
November 2018, Rockwell Automation , IS & Ex
The rise of robots has ushered in an increased demand for light curtains that provide a safe environment between the robotic work cells and the rest of the plant. The Allen-Bradley GuardShield 450L safety 
...
Read more...
---