Smart infrastructure for the water industry
July 2018
PLCs, DCSs & Controllers

printer friendly version
Water is a scarce and valuable resource, and management of wastewater is coming under increased scrutiny. Water operations face increasing pressure to deliver more quality water with fewer resources in the face of higher costs, increasing regulations and growing populations. Many operators are looking to maximise profitability while also meeting this growing demand with ageing, disparate and inefficient systems.
Water today
As in all industries, data is increasingly important in the water industry. Information gaps lead to decreased water quality and operational inefficiencies. Overburdened operators rely on personal experience to perform difficult manual data collaboration tasks, which can introduce operational errors. Changes in source water decreases treatment consistency with large process swings. Manual records on ageing assets create unpredictable downtime and service interruptions. Lack of distribution water data encourages expensive over-treatment and allows quality to vary by customer location. Old control systems don't offer the built-in security for the latest cyber threats.
The statistics in South Africa on water losses are largely inconclusive since the data collection layer is poor. By simply collecting data about water losses, municipalities could realise monumental savings and proactively monitor and maintain water distribution infrastructure.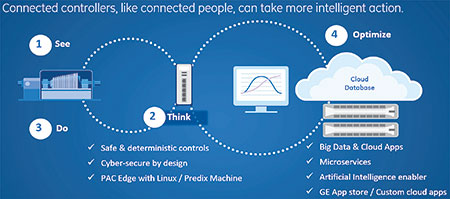 Intelligent water
Water utilities can be transformed through Industry 4.0 by harnessing data if infrastructure is connected and able to communicate seamlessly. Connected water and wastewater control solutions can lower operational risk and cost of water through:
• Edge apps that leverage operator experience to analyse and optimise the process control under varying real-world conditions.
• Outcome optimised controllers that can receive weather forecasts from the cloud to better handle storm surges.
• Historical data from the cloud that can be analysed from multiple sites and assets to determine the optimum operation and execute proactive maintenance, reducing downtime.
• Field agents that monitor remote water quality allowing for inline distribution, reducing chemical use by nearly 20% and providing consistent water quality to all customers.
The combination of cloud analytics and edge apps running on local controllers can provide up to a 30% energy reduction for pumping and process operations. The latent potential of intelligent and connected water infrastructure can unlock these savings and even more value.
Solutions to meet today's challenges
To compete and win in today's changing water and wastewater market, end-users need smart, scalable and connected solutions that reduce costs and improve water quality for customers. GE knows that increasing profitability means improving efficiency, lowering training costs and applying the right products at the right points in the processes. All this must be done while improving the quality of water and carefully monitoring the entire operation.
While the added value of intelligent water infrastructure is high, security and integrity of the system itself is of paramount importance. Intelligent water must be secure by design and should have a hardware root of trust as the foundation of all the security constructs in the control system. GE's IICS portfolio of controllers now come with Trusted Platform Module (TPM) technology that enable hardware root of trust. All boot firmware is signed by GE with the private key stored in the TPM module to ensure only GE signed firmware will run on the hardware. In today's connected environment, securing operations is more important than ever.
For more information contact Motion Control Systems, +27 (0)11 450 3344, info@motioncontrolsystems.co.za, www.motioncontrolsystems.co.za
Further reading:
ABB unveils latest DCS upgrade
February 2019, ABB South Africa , PLCs, DCSs & Controllers
Originally launched in 1994, Freelance is ABB's DCS solution for process industries. It combines the advantages of a DCS with the PLC, and is characterised by ease-of-use, scalability, flexibility and 
...
Read more...
---
RS Components launches PLCnext controller
February 2019, RS Components SA , PLCs, DCSs & Controllers
RS Components has introduced the first programmable logic controller to be based upon Phoenix Contact's PLCnext Technology open control platform. Aimed at distributed modular control applications in industrial 
...
Read more...
---
Flexible controller technology removes project roadblocks
October 2018, Emerson Automation Solutions , PLCs, DCSs & Controllers
Emerson's latest capital project technology enables chemical, life sciences, oil and gas, and other industrial manufacturers to scale automation, simplifying project execution. As capital projects grew 
...
Read more...
---
PC-based control ensures high quality sporting goods
September 2018, Beckhoff Automation , PLCs, DCSs & Controllers
ADC fills market niche with standardised and highly precise testing systems.
Read more...
---
Yokogawa releases Centum VP R6.06
September 2018, Yokogawa South Africa , PLCs, DCSs & Controllers
Yokogawa has announced the addition of new functions to the Centum VP integrated production control system, which will be released as Centum VP R6.06. The enhancements include the addition of support 
...
Read more...
---
Mini PLC offers versatile options
September 2018, AC/DC Dynamics , PLCs, DCSs & Controllers
GIC's PL-100 mini programmable logic controller is a real-time system designed for multiple input and output arrangements. The PL-100 can control a wide variety of devices to support the user's evolving 
...
Read more...
---
Latest PlantPAx release empowers convergence
September 2018, Rockwell Automation , PLCs, DCSs & Controllers
With the latest release of the PlantPAx DCS from Rockwell Automation, industrial producers can create smarter, more productive and protected operations. The new system capabilities include a more intuitive 
...
Read more...
---
Micro PLC reduces complexity of large standalone machines
September 2018, Rockwell Automation , PLCs, DCSs & Controllers
Machine designers can use a new micro PLC to help optimise the control architecture in large standalone machines or systems. The new Allen-Bradley Micro870 PLC can support smart micro applications that 
...
Read more...
---
New controller for DC retrofit applications
September 2018, Rockwell Automation , PLCs, DCSs & Controllers
The new Allen-Bradley PowerFlex DC field controller from Rockwell Automation enables customers to upgrade their DC motor application to a modern system, without the need for complex external devices. 
...
Read more...
---
Rockwell Automation powers desalination plant
July 2018, Rockwell Automation , PLCs, DCSs & Controllers
Water specialist, NuWater has developed a two megalitre desalination plant at a smelter plant in KwaZulu-Natal. Rockwell Automation, through its PartnerNetwork program participants, CraigCor Distribution 
...
Read more...
---