printer friendly version
Smart infrastructure for the water industry
July 2018
PLCs, DCSs & Controllers
Water is a scarce and valuable resource, and management of wastewater is coming under increased scrutiny. Water operations face increasing pressure to deliver more quality water with fewer resources in the face of higher costs, increasing regulations and growing populations. Many operators are looking to maximise profitability while also meeting this growing demand with ageing, disparate and inefficient systems.
Water today
As in all industries, data is increasingly important in the water industry. Information gaps lead to decreased water quality and operational inefficiencies. Overburdened operators rely on personal experience to perform difficult manual data collaboration tasks, which can introduce operational errors. Changes in source water decreases treatment consistency with large process swings. Manual records on ageing assets create unpredictable downtime and service interruptions. Lack of distribution water data encourages expensive over-treatment and allows quality to vary by customer location. Old control systems don't offer the built-in security for the latest cyber threats.
The statistics in South Africa on water losses are largely inconclusive since the data collection layer is poor. By simply collecting data about water losses, municipalities could realise monumental savings and proactively monitor and maintain water distribution infrastructure.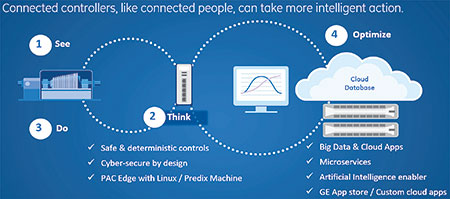 Intelligent water
Water utilities can be transformed through Industry 4.0 by harnessing data if infrastructure is connected and able to communicate seamlessly. Connected water and wastewater control solutions can lower operational risk and cost of water through:
• Edge apps that leverage operator experience to analyse and optimise the process control under varying real-world conditions.
• Outcome optimised controllers that can receive weather forecasts from the cloud to better handle storm surges.
• Historical data from the cloud that can be analysed from multiple sites and assets to determine the optimum operation and execute proactive maintenance, reducing downtime.
• Field agents that monitor remote water quality allowing for inline distribution, reducing chemical use by nearly 20% and providing consistent water quality to all customers.
The combination of cloud analytics and edge apps running on local controllers can provide up to a 30% energy reduction for pumping and process operations. The latent potential of intelligent and connected water infrastructure can unlock these savings and even more value.
Solutions to meet today's challenges
To compete and win in today's changing water and wastewater market, end-users need smart, scalable and connected solutions that reduce costs and improve water quality for customers. GE knows that increasing profitability means improving efficiency, lowering training costs and applying the right products at the right points in the processes. All this must be done while improving the quality of water and carefully monitoring the entire operation.
While the added value of intelligent water infrastructure is high, security and integrity of the system itself is of paramount importance. Intelligent water must be secure by design and should have a hardware root of trust as the foundation of all the security constructs in the control system. GE's IICS portfolio of controllers now come with Trusted Platform Module (TPM) technology that enable hardware root of trust. All boot firmware is signed by GE with the private key stored in the TPM module to ensure only GE signed firmware will run on the hardware. In today's connected environment, securing operations is more important than ever.
For more information contact Motion Control Systems, +27 (0)11 450 3344, info@motioncontrolsystems.co.za, www.motioncontrolsystems.co.za
Further reading:
New Modicon IIoT-ready controller
September 2020, Schneider Electric South Africa , PLCs, DCSs & Controllers
The Modicon M262 is IIoT-ready, designed and delivered with intuitive direct cloud connectivity and no gateways are required for OEMs to design solutions for performance demanding applications.
Read more...
---
Modular mid-range PLC series
June 2020, ElectroMechanica , PLCs, DCSs & Controllers
The Delta compact modular mid-range AS series PLCs, available locally from ElectroMechanica (EM), is a high-performance, multi-purpose controller designed for all kinds of automated equipment. The series 
...
Read more...
---
Fishery relies on Siemens process management
December 2019 , PLCs, DCSs & Controllers
The fishery in Steinach, Switzerland, breeds fish species which are under threat so that they can be released into domestic waterways in the canton of St. Gallen. The quality and temperature of the water, 
...
Read more...
---
Meet the Future: Edge Programmable Industrial Controllers
November 2019, Opto Africa Holdings , PLCs, DCSs & Controllers
All controls engineers are familiar with PLCs and PACs (programmable automation controllers). Both have been used and improved over many years, incorporating capabilities that used to be found only in 
...
Read more...
---
Precise control in joining applications
October 2019, ASSTech Process Electronics + Instrumentation , PLCs, DCSs & Controllers
Digiforce is the trusted name when comprehensive monitoring of press-fit, joining, riveting and caulking processes is needed. The models 9306 and 9310 are being successfully used in innumerable applications 
...
Read more...
---
The powerful Festo modular control system CPX-E
Technews Industry Guide: Industrial Internet of Things & Industry 4.0, Festo South Africa , PLCs, DCSs & Controllers
Designed as an EtherCAT master and motion controller with protection to IP20, the powerful automation system CPX-E for factory and process automation with NE21-specific certifications is becoming the 
...
Read more...
---
Rockwell strengthens industrial control system security
July 2019, Rockwell Automation , PLCs, DCSs & Controllers
Communications between industrial control devices have minimal protection today. This leaves them vulnerable to threats like malicious tampering and incidental system changes that can stop production 
...
Read more...
---
Siemens extends the Simine ­portfolio
June 2019, Siemens Digital Industries , PLCs, DCSs & Controllers
Siemens has extended the Simine portfolio for high-pressure grinding mills (HPGR) to include a new controller. Plug-and-play functionality makes the load share controller available for immediate use. 
...
Read more...
---
Schneider Electric announces a new era of control
June 2019, Schneider Electric South Africa , PLCs, DCSs & Controllers
Schneider Electric's new high-end Modicon M580 Ethernet programmable automation controller (ePAC) features redundant processors, native Ethernet, and cybersecurity embedded into its core. It combines 
...
Read more...
---
Selecting the right PLC
June 2019, AC/DC Dynamics , PLCs, DCSs & Controllers
Automation projects, big or small, start with a specification. Here are five factors to consider when choosing a PLC vendor.      
Broad range of devices
The selected brand must have a complete product 
...
Read more...
---