printer friendly version
Purely analog signal conditioning
June 2018
Data Acquisition & Telemetry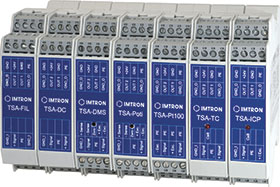 IMTRON, part of the GHM Group, has launched the Purely Analogue Signal Conditioning TSA modules that offer well-established methods for processing, filtering, amplifying and galvanically isolating sensor data in high quality.
The modules can convert nearly any analog sensor signal into standard signals that can then be processed, for instance, in a control unit for data acquisition. In order to prevent damage to the system and guarantee high signal quality, inputs and outputs are galvanically isolated from each other and the supply voltage and signals are filtered.
Offering test stand design for machine construction and the automotive industry, status monitoring of machines and systems, monitoring of wind turbines and actuation of servo valves, the modules offer the following advantages:
• Cost reduction – signal condition and galvanically isolating amplifier in one device, a separate isolator is unnecessary.
• More signals – optional second output for integration into PLCs, displays and end devices for data acquisition.
• High signal quality – flexible interference suppression with replaceable filter modules.
• Velocity – limit frequencies of up to 30 kHz.
• Precision – high precision and long-term stability.
• Special requests – tailored solutions possible, even in small quantities.
• No software necessary – plug & play
A selection of TSA modules comprising standard, two channel, special modules and TSA PWR special modules for actuation of servo valves are available.
The basic configuration
The modules are designed for a potential-free signal conversion and conditioning in automation and measuring technology. Each provides 3-way isolation with flexible interference suppression and plug-in filters, designed as Butterworth or Bessel filters of the fourth order. Other orders and filter characteristics can be implemented upon request.
With potential isolation and filter characteristics, the modules are particularly well-suited for suppression of interfering influences in measuring and control circuits, for galvanic isolation of power and signal circuits, as well as for prevention of earth loops.
The standard supply voltage is 24 VDC with a 12 V version also available as an option. The modules have plug-in connections for simple connection and the standard module width is 22,5 mm. Customer-specific adaptations e.g. measuring ranges, amplification factors, or sensor feed can be realised on request.
The TSA modules are able to measure and record practically every measurable parameter regardless of whether it involves the monitoring of slowly changing variables, such as temperature, or rapidly changing signals, such as speed or vibration. All data is recorded with chronological synchronisation.
IMTRON's extensive expertise in signal conditioning is well recognised. The applications can apply to a test stand with several hundred channels or a laboratory measuring station with only a few channels. The company is also able to offer tailored solutions to meet specific customer requirements.
For more information contact Jan Grobler, GHM Messtechnik South Africa, +27 (0)11 902 0158, info@ghm-sa.co.za, www.ghm-sa.co.za
Credit(s)
Further reading:
Water analysis technology reduces downtime
January 2020, GHM Messtechnik SA , Analytical Instrumentation & Environmental Monitoring
In order to monitor the process of reverse osmosis and ensure that deposits do not clog up membranes and reduce system efficiency, Martens, a member of the GHM Group, has joined the forces with its Condix 
...
Read more...
---
Advanced controller for data acquisition
December 2019, RJ Connect , Data Acquisition & Telemetry
The ioThinx 4530 series is an advanced modular controller product with a unique hardware design, making it an ideal solution for a variety of industrial data acquisition applications. The controller has 
...
Read more...
---
Mobile CO2 measuring device
November 2019, GHM Messtechnik SA , Analytical Instrumentation & Environmental Monitoring
The measurement of CO
2
emissions throughout industry is a critical activity. Across many industries, leaks in equipment resulting from non-maintenance, mechanical damage or wear and tear can impact on 
...
Read more...
---
Top data management on the DIN rail
October 2019, Endress+Hauser , Data Acquisition & Telemetry
The data manager family of Endress+Hauser is growing. To meet the strong demand from the market for a smart, compact DIN rail data manager for mounting in the control cabinet, development of the RSG45 
...
Read more...
---
IoT data logger
October 2019, Impact Measurement Solutions , Data Acquisition & Telemetry
IMS is known across the globe as a leading industry expert and manufacturer of condition monitoring data loggers and telemetry. The company performs data logger engineering, manufacturing and servicing 
...
Read more...
---
Compact conductivity monitoring solution
August 2019, GHM Messtechnik SA , Sensors & Transducers
Condix is a low maintenance, easy to install measuring transducer that saves time and money. This solution for monitoring of conductivity in liquids does not require a separate measuring transducer nor 
...
Read more...
---
Climate is what we expect – weather is what we get
July 2019, GHM Messtechnik SA , Analytical Instrumentation & Environmental Monitoring
The influence of meteorology is significant on every human activity in modern life.
Read more...
---
Fieldlogger for data acquisition
June 2019, Mimic Components , Data Acquisition & Telemetry
The Fieldlogger is a great asset to the Novus automation range of products. It is one of the most comprehensive instruments for the acquisition of data recording, and is capable of analog and digital 
...
Read more...
---
Safety temperature ­measurement device for boilers
Africa Automation Fair 2019 Preview, GHM Messtechnik SA , Temperature Measurement
GHM Messtechnik's Safety-TL4896 is a SIL2-rated temperature measuring device from Martens, that conforms to international boiler regulations and offers a unique front panel installation. Certified to 
...
Read more...
---
A range of level sensors
Africa Automation Fair 2019 Preview, GHM Messtechnik SA , Level Measurement & Control
GHM Messtechnik has available the Val.co range of affordable and effective level sensors that have application across all sectors of industry, especially tank building. The range includes small float 
...
Read more...
---