printer friendly version
Infrared temperature sensing in steel processing applications
June 2018
Temperature Measurement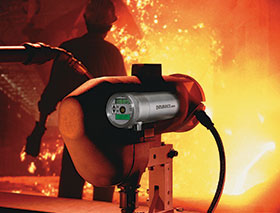 In the iron and steel industry, and in many foundry applications, temperature measurements show whether processes are operating within their proper ranges, whether a re-heater is too cold or too hot, whether a stand needs adjusting, or how much cooling should be applied. Each stage must be accurately monitored, so the steel retains the correct metallurgical properties as it travels through the process.
Every section of the steel manufacturing process can benefit from infrared thermometers and the customised applications developed by Fluke Process Instruments (formally Raytek and Ircon). These benefits include: higher quality products; increased productivity; reduced energy costs; enhanced worker safety; reduced downtime and easy data recording.
Increased functionality and greater control
Infrared sensors take temperature measurement one step further. Fast and accurate analog and digital output allows temperature data to be integrated into control systems and simultaneously output for remote temperature monitoring and analysis. Smart sensors, with digital electronics and 2-way communications, can be configured remotely from the safety of the control room, especially important for metals with changing emissivity. The result: increased functionality and greater control.
A wide range of optics covers an enormous variety of applications supported by integrated through-the-lens sighting, plus either laser or video sighting for correct target location. Infrared thermometers are used in many iron and steel applications including:
• Continuous casting: accurate real-time temperature monitoring coupled with the ability to adjust water nozzles and water flow rates allow for proper cooling, which helps maintain metallurgical properties. Fixed sensors, fibre optic sensors and line scanners are standard in this application.
• Reheating: reheating steel to a uniform temperature is critical so that deformation does not occur. Uneven heating strains milling equipment and increases maintenance downtime. Measuring inside a re-heater with a series of temperature measurement devices gives an operator the ability to check the overall temperature and burner efficiency, while being able to correct the process results in a more efficient use of fuel. Once the slab or billet exits the reheat furnace, ratio thermometers or line scanners (for wide slabs) transmit temperature data immediately to an operator or controller allowing mill operations to be adjusted to their correct settings.
• Rolling mills: the diversity in the types of hot rolling mills and the number of types of stands in a process vary according to the type of product being manufactured. Scale breakers, rolling stands, down coilers and coil boxes are a few areas for the utilisation of IR temperature measurement and scanning.
• Cold mills: coiling is also often done at the end of the finishing stands after cooling, and the coiled steel is transported to cold mills in another area in the plant or shipped to other facilities. Cold rolling makes a product thinner and smoother and is done while the steel is around 100°C, or at room temperature. Sensors mounted between each finishing stand allow the operator to detect temperature changes that require any adjustments.
Rod and wire mills
In a typical rod and/or wire mill, billets are reheated and sent to a rolling mill to be reshaped as rods. From here the rods go through a series of intermediate stands that reduce the rods to different sizes. Finishing stands reduce and smooth the rods into a product that can be further processed into hundreds of different products. Reheating a billet to a uniform temperature is critical to the entire process as uneven heating strains milling equipment and increases maintenance downtime.
Knowing the temperature of the product at each stand allows the operator to adjust the rollers accordingly. When the product heads for the cooling area, cooling is rapid but carefully monitored to make sure the metallurgical properties are correct. If cooling is improperly controlled, the product would not meet specifications and could be downgraded or scrapped.
In some processes, the high speeds and vibrations of narrow rod or wire products make temperature measurement difficult. High-performance infrared ratio thermometers solve this problem. Even when the target drifts in and out of the field of view, or is partially obscured, the Marathon sensor will still take accurate temperature measurements.
Other processes
Infrared provides temperature measurement solutions exist for every step in the steel treatment and manufacturing process, from coke ovens and blast furnaces to annealing mills and coating mills. In fact, wherever temperature is to be measured, from the raw material to the finished goods, there is probably an infrared, non-contact solution.
The fixed units and portables form Raytek and Ircon are well known industry standards. The scanners from both companies can come as complete applications packages with tried and tested software to fit perfectly into many industrial applications. Continual innovation and new products like the Endurance series, designed in conjunction with Raytek and Ircon, will ensure that solutions can be found for every application.
For more information contact R&C Instrumentation, 086 111 4217, info@randci.co.za, www.randci.co.za
Credit(s)
Further reading:
Resistance thermometers for hazardous areas
August 2021, Instrotech , Temperature Measurement
Instrotech now offers Kobold's TWL resistance thermometers with ATEX approvals for ignition protection Exd or Exia.
Read more...
---
Thermal imaging in materials testing
July 2021, R&C Instrumentation , Temperature Measurement
The Raytek ThermoView TV40 thermal imaging camera with ThermoView software is an ideal choice for material testing applications.
Read more...
---
Vibration-resistant thermowells
July 2021, WIKA Instruments , Temperature Measurement
Debottlenecking is desirable as minor percentage increases in output capacity can result in significant profit returns.
Read more...
---
Temperature measuring in steel processing
June 2021, R&C Instrumentation , Temperature Measurement
Accurate and reliable temperature measurement is a part of efficient metal processing and steel manufacturing.
Read more...
---
Temperature and humidity monitoring for vaccine rollouts
May 2021, Omniflex Remote Monitoring Specialists , Temperature Measurement
How remotely monitoring facilities maintains the vaccine cold chain.
Read more...
---
High-temperature pyrometer with Bluetooth
May 2021, R&C Instrumentation , Temperature Measurement
Raytek has added Bluetooth capability to the Raynger 3i Plus handheld pyrometer.
Read more...
---
Automated cold chain monitoring
March 2021 , Temperature Measurement
Smart, connected and automated temperature monitoring at every point helps logistics companies proactively ensure their cold chain is never broken and goods arrive in prime condition for use and sale.
Read more...
---
Accuracy of infrared temperature measurement
March 2021, R&C Instrumentation , Temperature Measurement
Infrared (IR) thermometers have the ability to measure temperature without coming into physical contact with a particular product.
Read more...
---
Battery powered digital temperature gauges
March 2021, Instrotech , Temperature Measurement
hese gauges offer a wide range of industrial and analytical possibilities for applications where high accuracy and clear indication are required.
Read more...
---
Automotive paint cure – a formidable task
April 2021, R&C Instrumentation , Temperature Measurement
To provide protection to the car body, a series of coatings is applied to the raw substrate and in turn thermally cured. Accurate control of the thermal process is critical to the performance of the coating both cosmetically and physically.
Read more...
---