printer friendly version
Optimised pump ­performance
May 2018
Valves, Actuators & Pump Control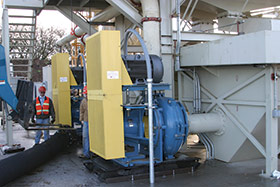 Ignoring pumps is a risk because when these components break down, or run below optimum efficiency, the whole process suffers. Manufacturing and process companies are always under cost pressure, making it vital to maximise assets and maintain uptime.
SKF has identified four different ways to optimise pump performance:
The right bearing
Bearings in centrifugal pumps support hydraulic loads imposed on the impeller, the mass of the impeller and shaft, as well as loads due to couplings and drive systems. They also keep the shaft axial and radial deflections within acceptable limits for the impeller and shaft seal. The bearings often will face high axial loads, marginal lubrication, and high operating temperatures and vibration, all while the bearings attempt to minimise friction, which, if uncontrolled, can result in power loss, excessive heat generation, increased noise or wear, and early bearing failure. So, first and foremost, evaluate bearings (types, designs and arrangements) in the context of their anticipated operating environment. Suitable bearings are available to satisfy even the most difficult conditions faced by centrifugal pumps.
Proper lubrication
Improper lubrication accounts for more than 30% of bearing failures. Good lubricants prevent metal-to-metal contact and undesired friction. The common methods for the effective lubrication of pump bearings include: grease, oil bath, oil ring, oil mist and air-oil.
Oil mist generates the least amount of friction (allowing rotational speed to be based on the bearing design instead of lubrication limitations) and creates a positive pressure within the bearing housing (fending off invasive contaminants). Regardless of lubrication method, always specify lubricant according to the demands on vertical shafts and resistance to solids, pressure, temperatures, loads and chemical attack.
Sealing the system
Bearing seals in centrifugal pumps handle four crucial tasks. They retain lubricants or liquids, exclude contaminants, separate fluids and confine pressure. The choice of seal for centrifugal pump bearings depends on the unique demands and operating conditions of the application. Keep in mind, though, that the bearing and sealing arrangement represent an integrated system. Dynamic radial seals generally are the best choice for centrifugal pumps. These seals create the barrier between surfaces in relative motion. Seal selection ultimately must be based on a thorough review of application parameters and environmental factors.
Particularly in pump applications, for example, seals will be exposed to relatively constant pressure differentials, making pressure seals (in which the seal cavity is pressurised) the preferred choice. Seals usually provide a much shorter life than the components they protect so don't fall into the common habit of scheduling seal replacement only at intervals dictated by requirements of other components such as bearings.
Monitoring pump health
Regular measurement and analysis of key physical parameters, such as vibration and temperature, can detect pump system problems before they occur. Basic instruments can assess and report on vibration, temperature and other parameters. More advanced tools include online surveillance systems and software that can deliver real-time data. Many problems will manifest as vibration, which is widely considered the best operating parameter to judge pump train condition. Vibration can detect problems such as imbalance, misalignment, bearing oil-film instabilities, rolling bearing degradation, mechanical looseness, structural resonance and a soft foundation. Vibration measurements are quick and fairly non-intrusive because pump equipment remains undisturbed.
Operators can also play a pivotal part in proactive maintenance strategies by serving as the 'eyes and ears' to detect equipment faults before problems escalate and performing basic maintenance activities.
For more information contact Samantha Joubert, SKF South Africa, +27 (0)11 821 3500, samantha.joubert@skf.com, www.skf.co.za
Credit(s)
Further reading:
SKF solution saves capex for mining customer
June 2019, SKF South Africa , News
When a long-standing customer in the platinum sector required assistance to salvage its spherical roller bearings, SKF came to the fore. Through its in-depth remanufacturing expertise and capabilities, 
...
Read more...
---
SKF expands engineering services to address changing customer needs
May 2019, SKF South Africa , News
The last few months have seen SKF South Africa substantially expand its engineering team and services to keep in step with the company's new technology and service developments, as well as to address 
...
Read more...
---
Schubert & Salzer in control at PVS
May 2019, Macsteel Fluid Control , Valves, Actuators & Pump Control
Belgium-based PVS Chemicals produces extremely pure chemicals for use in the semiconductor industry. One of the company's outstanding innovations is the production of ultra-pure sulphuric acid. As the 
...
Read more...
---
Ball sector valves and sliding gate valves
Africa Automation Fair 2019 Preview, Macsteel Fluid Control , Valves, Actuators & Pump Control
Macsteel Fluid Control is exhibiting ball sector valves and sliding gate valves from Schubert & Salzer Control Systems at Stand D17.    The robust, efficient ball sector valves are capable of very precise 
...
Read more...
---
Actuators for precise positioning
Africa Automation Fair 2019 Preview , Valves, Actuators & Pump Control
Beck actuators provide precise positioning of valves, dampers, fluid couplings and other final control elements.    Unlike pneumatic and conventional electric actuators, they can withstand continuous 
...
Read more...
---
Valve island with CoilVision technology
Africa Automation Fair 2019 Preview, Hydramatics Control Equipment , Valves, Actuators & Pump Control
Camozzi Automation's Series D valve island has the ability to combine two different valve sizes in the same island with the help of only one initial electric part, bringing important benefits in terms 
...
Read more...
---
Speedy, reliable mA loop valve testing
Africa Automation Fair 2019 Preview, Comtest , Valves, Actuators & Pump Control
Fluke's new 710 mA loop valve tester allows technicians to source the 4-20 mA signal while it interrogates HART data to collect critical information about a valve's position and status, providing quick 
...
Read more...
---
Extended valve offering
Africa Automation Fair 2019 Preview, Metso South Africa , Valves, Actuators & Pump Control
Flow control specialist, Metso is showcasing the latest additions to its offering for the process industries, as well as the most comprehensive line of control valves available on the market today. Pay 
...
Read more...
---
Digitalisation: the cultural challenge
May 2019, SKF South Africa , IT in Manufacturing
SKF pays attention to the human side of digital transformation.
Read more...
---
New Rotork master station for valve actuator control
May 2019 , Valves, Actuators & Pump Control
Rotork has launched the latest generation of its monitoring and control system for valve actuators and plant equipment. Suitable for use in all industries, the Rotork Master Station is capable of operating 
...
Read more...
---