printer friendly version
Optimised pump ­performance
May 2018
Valves, Actuators & Pump Control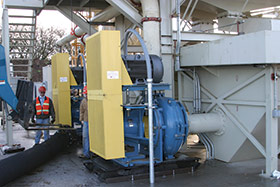 Ignoring pumps is a risk because when these components break down, or run below optimum efficiency, the whole process suffers. Manufacturing and process companies are always under cost pressure, making it vital to maximise assets and maintain uptime.
SKF has identified four different ways to optimise pump performance:
The right bearing
Bearings in centrifugal pumps support hydraulic loads imposed on the impeller, the mass of the impeller and shaft, as well as loads due to couplings and drive systems. They also keep the shaft axial and radial deflections within acceptable limits for the impeller and shaft seal. The bearings often will face high axial loads, marginal lubrication, and high operating temperatures and vibration, all while the bearings attempt to minimise friction, which, if uncontrolled, can result in power loss, excessive heat generation, increased noise or wear, and early bearing failure. So, first and foremost, evaluate bearings (types, designs and arrangements) in the context of their anticipated operating environment. Suitable bearings are available to satisfy even the most difficult conditions faced by centrifugal pumps.
Proper lubrication
Improper lubrication accounts for more than 30% of bearing failures. Good lubricants prevent metal-to-metal contact and undesired friction. The common methods for the effective lubrication of pump bearings include: grease, oil bath, oil ring, oil mist and air-oil.
Oil mist generates the least amount of friction (allowing rotational speed to be based on the bearing design instead of lubrication limitations) and creates a positive pressure within the bearing housing (fending off invasive contaminants). Regardless of lubrication method, always specify lubricant according to the demands on vertical shafts and resistance to solids, pressure, temperatures, loads and chemical attack.
Sealing the system
Bearing seals in centrifugal pumps handle four crucial tasks. They retain lubricants or liquids, exclude contaminants, separate fluids and confine pressure. The choice of seal for centrifugal pump bearings depends on the unique demands and operating conditions of the application. Keep in mind, though, that the bearing and sealing arrangement represent an integrated system. Dynamic radial seals generally are the best choice for centrifugal pumps. These seals create the barrier between surfaces in relative motion. Seal selection ultimately must be based on a thorough review of application parameters and environmental factors.
Particularly in pump applications, for example, seals will be exposed to relatively constant pressure differentials, making pressure seals (in which the seal cavity is pressurised) the preferred choice. Seals usually provide a much shorter life than the components they protect so don't fall into the common habit of scheduling seal replacement only at intervals dictated by requirements of other components such as bearings.
Monitoring pump health
Regular measurement and analysis of key physical parameters, such as vibration and temperature, can detect pump system problems before they occur. Basic instruments can assess and report on vibration, temperature and other parameters. More advanced tools include online surveillance systems and software that can deliver real-time data. Many problems will manifest as vibration, which is widely considered the best operating parameter to judge pump train condition. Vibration can detect problems such as imbalance, misalignment, bearing oil-film instabilities, rolling bearing degradation, mechanical looseness, structural resonance and a soft foundation. Vibration measurements are quick and fairly non-intrusive because pump equipment remains undisturbed.
Operators can also play a pivotal part in proactive maintenance strategies by serving as the 'eyes and ears' to detect equipment faults before problems escalate and performing basic maintenance activities.
For more information contact Samantha Joubert, SKF South Africa, +27 (0)11 821 3500, samantha.joubert@skf.com, www.skf.co.za
Credit(s)
Further reading:
Wireless machine monitoring
June 2020, SKF South Africa , Maintenance, Test & Measurement, Calibration
SKF has teamed up with connectivity expert LumenRadio to create a new wireless monitoring system, measuring vibration and temperature. The SKF Enlight Collect IMx-1 System combines SKF's knowledge in 
...
Read more...
---
Low-friction bearings for EV drivetrains
April 2020, SKF South Africa , Motion Control & Drives
Bearings, although buried deep within the vehicle, are on the front line in contributing to drivetrain efficiencies and delivering reliability for automotive manufacturers. Breakthroughs in technologies 
...
Read more...
---
SKF acquires software development start-up
April 2020, SKF South Africa , News
SKF has completed the acquisition of Form Automation Solutions (FAS), a US-based software development start-up company. FAS has developed GoPlant, a mobile-based asset inspection and data collection solution 
...
Read more...
---
Automotive products for race winning performance
April 2020, SKF South Africa , News
SKF is a passionate sponsor of global motorsport. Through its Racing Division, the company is involved in all aspects of technical assistance, design and manufacture for motorsport applications. In the 
...
Read more...
---
SKF technology for tidal turbine
April 2020, SKF South Africa , News
SKF has developed a power-train for the world's most powerful tidal turbine, capable of generating 2 MW. SKF has been supplying bearings and components to Scotland-based Orbital Marine Power since 2011 
...
Read more...
---
Festo online configurator tool simplifies sizing of process valves
April 2020, Festo South Africa , Valves, Actuators & Pump Control
From manually operated to automated process valves, the new configurator tool for process valves from Festo makes selecting the right solution easy and less time-consuming.
Read more...
---
Early detection of faults in BMW's light metal die casting
April 2020, Macsteel Fluid Control , Valves, Actuators & Pump Control
Sliding gate valves from Schubert & Salzer optimise process reliability.
Read more...
---
All around the turbine
April 2020, Valve & Automation , Valves, Actuators & Pump Control
At the heart of a power station are the steam turbines, which serve as generators or mechanical drives for pumps und compressors. For their operation, a network of valves is built around the turbines. 
...
Read more...
---
SKF bares the truth about bearings
Technews Industry Guide: Maintenance, Reliability & Asset Optimisation 2020, SKF South Africa , Motion Control & Drives
Correct equipment care is crucial to ensure optimal performance and reliability.
Read more...
---
SKF takes monitoring to the next level
April 2020, SKF South Africa , Sensors & Transducers
SKF's new optical sensing technology takes monitoring to the next level, providing engineers with new insights into machine performance. SKF Fibre Optic Sensing uses optical fibres to measure forces, 
...
Read more...
---