printer friendly version
Enhanced pressure vessel level measurement
May 2018
Level Measurement & Control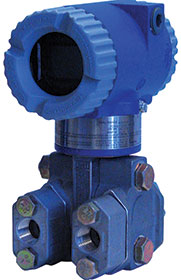 The traditional approach to level measurement in a pressurised vessel, such as a boiler, has been to use a conventional differential pressure (DP) transmitter with external water-filled 'wet' legs connecting both the high and low pressure sides of the transmitter to the drum. The use of DP transmitters for drum level is ideal because of their low cost, ease of installation and high reliability. However, the output of a conventional DP transmitter in this application will have inaccuracies caused by changes in static pressure, the densities of the water in each leg, and the densities of the steam and water in the drum.
The Foxboro solution
The Foxboro IMV31 density-compensated level transmitter provides a new approach to drum level measurement. While maintaining all the advantages of DP transmitters, it uses multiple measurements and on-board level calculations to provide a more accurate measurement. This eliminates the need to make similar level calculations in the control system.
The new instrument is based on Foxboro's proven multivariable transmitter technology, which was originally developed for flow measurement. The heart of the device is its ability to conduct on-board level calculations based on multiple measurements and fluid density calculations. The transmitter has a pressure sensor and a differential pressure sensor, as well as two internal temperature sensors. It also has the ability to power and monitor an external RTD temperature sensor.
The transmitter continuously calculates the unique fluid densities, based on measured pressures and temperatures, and uses this information along with the DP measurement to calculate an accurate density-compensated liquid level. The densities of both the water and steam are calculated separately, based on the pressure measurement and vessel temperature. The transmitter has an RTD input and can also use the saturation stream table's temperature corresponding to the measured vessel pressure in calculating water and steam densities.
Results
Regardless of the size of the drum and the saturation pressure, the IMV31 significantly improves the accuracy of drum level measurement over conventional DP transmitters and automatically provides dynamic compensation for varying pressures and temperatures.
For more information contact Johan van Jaarsveld, EOH, +27 (0)87 803 9783, johan.vanjaarsveld@eoh-pas.co.za, www.eoh-pas.co.za
Credit(s)
Further reading:
Kobold's new float level switches
August 2019, Instrotech , Level Measurement & Control
Kobold's M-series level switch comprises a float that slides up and down with the liquid along a guide tube. Thus, up to 4 reed contacts moulded in the guide tube are switched in a non-contacting fashion 
...
Read more...
---
Foxboro buoyancy level transmitter
August 2019, EOH Process Automation Solutions , Level Measurement & Control
Principle of operation
When an element a (displacer rod) is immersed into a liquid, according to Archimedes' Principle, the displacer will 'lose' some of its weight proportional to the level of the liquid 
...
Read more...
---
Level measurement for sanitary applications
August 2019, WIKA Instruments , Level Measurement & Control
WIKA's model FLM-H magnetostrictive sensor has been specifically designed to meet the requirements of the food and beverage, pharmaceutical and biotechnology industries. The sensor is particularly suitable 
...
Read more...
---
Water level system controls cathodic protection
August 2019, Omniflex Remote Monitoring Specialists , Level Measurement & Control
Corrosion Control Services is a leading specialist in the design, installation, commissioning and monitoring of cathodic protection. CCSL carries out works on reinforced concrete structures, historic 
...
Read more...
---
A case for IIoT's future in supply chain management
Technews Industry Guide: Industrial Internet of Things & Industry 4.0, VEGA Controls SA , Level Measurement & Control
This paper will explore how one construction materials hauling company used level measurement sensors and IIoT networks to manage their operation while simultaneously securing its customers' supply chain, and keeping costs low.
Read more...
---
Smart pH measurement solutions
July 2019, EOH Process Automation Solutions , Analytical Instrumentation & Environmental Monitoring
Foxboro has announced the expansion of its Smart pH product family. The enhanced Model 876PH-S transmitter, along with recently released Smart PH10 and PH12Smart pH Sensors, now provide smart pH measurement 
...
Read more...
---
Continuous level measurement
July 2019 , Level Measurement & Control
DRH Components is the official distributor of Bindicator bin level sensors in South Africa. These prevent overflow spills, controlling surge bins, detecting blocked chutes and providing on/off control 
...
Read more...
---
Understanding accuracy specifications
May 2019, EOH Process Automation Solutions , Pressure Measurement & Control
Pressure measurement device accuracies are commonly specified as percentage of full scale, or percentage of reading, and the difference is significant. If an accuracy statement simply names a percentage 
...
Read more...
---
Continuous level measurement
Africa Automation Fair 2019 Preview, Morton Controls , Level Measurement & Control
The Nivobob series from Morton Controls is used for continuous level measurement within bulk storage silos and for interface measurement of sludge beds. The system is immune to dust, dielectricity, conductivity, 
...
Read more...
---
A range of level sensors
Africa Automation Fair 2019 Preview, GHM Messtechnik SA , Level Measurement & Control
GHM Messtechnik has available the Val.co range of affordable and effective level sensors that have application across all sectors of industry, especially tank building. The range includes small float 
...
Read more...
---