printer friendly version
Enhanced pressure vessel level measurement
May 2018
Level Measurement & Control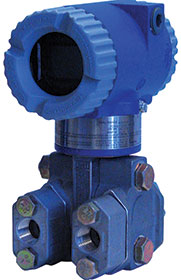 The traditional approach to level measurement in a pressurised vessel, such as a boiler, has been to use a conventional differential pressure (DP) transmitter with external water-filled 'wet' legs connecting both the high and low pressure sides of the transmitter to the drum. The use of DP transmitters for drum level is ideal because of their low cost, ease of installation and high reliability. However, the output of a conventional DP transmitter in this application will have inaccuracies caused by changes in static pressure, the densities of the water in each leg, and the densities of the steam and water in the drum.
The Foxboro solution
The Foxboro IMV31 density-compensated level transmitter provides a new approach to drum level measurement. While maintaining all the advantages of DP transmitters, it uses multiple measurements and on-board level calculations to provide a more accurate measurement. This eliminates the need to make similar level calculations in the control system.
The new instrument is based on Foxboro's proven multivariable transmitter technology, which was originally developed for flow measurement. The heart of the device is its ability to conduct on-board level calculations based on multiple measurements and fluid density calculations. The transmitter has a pressure sensor and a differential pressure sensor, as well as two internal temperature sensors. It also has the ability to power and monitor an external RTD temperature sensor.
The transmitter continuously calculates the unique fluid densities, based on measured pressures and temperatures, and uses this information along with the DP measurement to calculate an accurate density-compensated liquid level. The densities of both the water and steam are calculated separately, based on the pressure measurement and vessel temperature. The transmitter has an RTD input and can also use the saturation stream table's temperature corresponding to the measured vessel pressure in calculating water and steam densities.
Results
Regardless of the size of the drum and the saturation pressure, the IMV31 significantly improves the accuracy of drum level measurement over conventional DP transmitters and automatically provides dynamic compensation for varying pressures and temperatures.
For more information contact Johan van Jaarsveld, EOH, +27 (0)87 803 9783, johan.vanjaarsveld@eoh-pas.co.za, www.eoh-pas.co.za
Credit(s)
Further reading:
Understanding accuracy specifications
May 2019, EOH Process Automation Solutions , Pressure Measurement & Control
Pressure measurement device accuracies are commonly specified as percentage of full scale, or percentage of reading, and the difference is significant. If an accuracy statement simply names a percentage 
...
Read more...
---
Continuous level measurement
Africa Automation Fair 2019 Preview, Morton Controls , Level Measurement & Control
The Nivobob series from Morton Controls is used for continuous level measurement within bulk storage silos and for interface measurement of sludge beds. The system is immune to dust, dielectricity, conductivity, 
...
Read more...
---
A range of level sensors
Africa Automation Fair 2019 Preview, GHM Messtechnik SA , Level Measurement & Control
GHM Messtechnik has available the Val.co range of affordable and effective level sensors that have application across all sectors of industry, especially tank building. The range includes small float 
...
Read more...
---
Keller's water level monitoring systems
April 2019, Instrotech , Level Measurement & Control
The Grib Mine, located in Russia's Mezensky District in the Arkhangelsk Oblast, is one of the largest diamond deposits in the world. During winter, temperatures can drop to -25° and sometimes -37°. The 
...
Read more...
---
80 GHz for liquids
April 2019, VEGA Controls SA , Level Measurement & Control
Vegapuls 64 radar level measurement improves efficiency for bitumen supplier.
Read more...
---
Foxboro's vortex flowmeters designed for harsh process environments
April 2019, EOH Process Automation Solutions , Flow Measurement & Control
The 84 series measures volumetric and mass flow of saturated and super-heated steam.
Read more...
---
New Schneider Electric pressure transmitters with FoxCal Technology
March 2019, EOH Process Automation Solutions , Pressure Measurement & Control
Through its Foxboro brand, Schneider Electric continues to provide high-quality instrumentation to customers through the introduction of a multi-tiered pressure transmitter line. The new transmitters 
...
Read more...
---
Level monitoring and visualisation
March 2019, Morton Controls , Level Measurement & Control
UWT's Nivotec series is designed to make data movement and communication between monitoring and control systems easy and flexible. The Nivotec 2000 and 3500 series are specifically adaptable to customer 
...
Read more...
---
Monitoring the level of molten polyethylene
March 2019, VEGA Controls SA , Level Measurement & Control
More than ever before, the number of car parts made from plastics and plastic composites is on the increase. According to the American Chemistry Council, plastics account for approximately 50% of the 
...
Read more...
---
The next level in dairy applications
February 2019, Endress+Hauser , Level Measurement & Control
Reliable and repeatable tank level measurement proven with 80 GHz technology.
Read more...
---