printer friendly version
The advantages of non-contact temperature measurement
May 2018
Temperature Measurement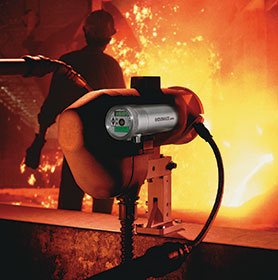 After time, temperature is the most measured physical unit. In production, as well as in quality control and maintenance, temperature represents an important indicator of product quality or equipment conditions.
Users struggling with large maintenance bills for thermocouples, or the plant downtime required to replace regular contact-type temperature probes, can benefit by switching to non-contact infrared temperature measurement devices.
In fact, there are many advantages when using infrared thermometers:
• Fast response time (ms range), user gets more information per time period.
• Measure objects that move, rotate or vibrate.
• Measure high temperatures up to 3000ºC. Contact probes will not work or have a short lifetime.
• No mechanical damage or contamination of the surface (food, pharmaceuticals, painted surfaces, soft plastics etc.).
• No influence of objects with high thermal conductivity where object temperature would change if contacted (e.g. glass, wood, small or very thin objects).
However, to ensure accurate repeatable measurement users must consider the following:
• There has to be direct line of sight between the sensor and the object.
• The optics of an infrared thermometer need to be protected against dust or condensation.
• IR thermometers measure surface temperatures and the ability to emit thermal radiation depends on the kind of material and especially on the surface finish.
Emerging trends
Recently the IR sensor market has seen two major trends emerge:
Firstly, IR thermometers are significantly lower in cost. The most expensive parts of an infrared thermometer are the lenses and detectors. New lens materials, technologies and mass production of IR detectors for consumer products have resulted in lower prices for these two important components. Together, with the increased demand for industrial IR-thermometers, high volume production of standard sensors has resulted in greater manufacturing efficiency for the IR thermometer manufacturers.
Secondly, IR sensors are becoming smaller in size. In the past, the measurement of low temperatures made it necessary to use fast lenses with relatively large diameters in order to capture enough emitted energy. Progress in detector technology and the use of better detector performance, together with improved low noise analog preamplifier techniques have helped reduce the dimensions of the IR sensing head dramatically. As a result, lenses can have smaller diameters.
Due to the increasing expectations of users, and competition among manufacturers, infrared thermometers are continually being improved and electronic design is an area that has seen the most advances recently.
R&C Instrumentation covers the full range of IR temperature measuring devices.
The Raytek range of portable units cover temperatures from -50 to 3000°C. Fixed units from Raytek and Ircon are well known and the scanners from both companies can be supplied as complete applications packages with software to suit many industrial applications.
Continual innovation and new products like the Endurance series, designed in conjunction between Raytek and Ircon, ensure that solutions are available for all situations. There are many reasons to consider IR temperature measurement to maintain and control process plants and R&C's application engineers are ready to assist.
For more information contact R&C Instrumentation, 086 111 4217, info@randci.co.za, www.randci.co.za
Credit(s)
Further reading:
Vibration pen for hazardous areas
R&C Instrumentation IS & Ex
Vibration and temperature are the most common parameters measured on process plants to predict equipment failure or process problems. As part of the extensive range of vibration measurement products and IS rated instruments from R&C Instrumentation, the TV712 series from Time now comes in IS versions for EX Hazardous areas such as coal mines and chemical plants.
Read more...
---
Tubeskin thermocouple assembly
WIKA Instruments Temperature Measurement
The proprietary thermal shield design of the Tefracto-Pad is a patent-pending WIKA innovation in several countries.
Read more...
---
Pyrometer for hazardous areas
R&C Instrumentation Temperature Measurement
The intrinsically safe version of Fluke's versatile Thermalert 4.0 is fully Ex certified for use in Zones 1 and 2 (gas) and Zones 21 and 22 (dust).
Read more...
---
High-temperature infrared thermometer
Comtest Temperature Measurement
The instrument ships with a USB 2.0 computer interface cable, FlukeView Forms documenting software and the standard Fluke 2-year warranty.
Read more...
---
Infrared camera for glass manufacturing
Instrotech Temperature Measurement
The Optris PI 450 G7 allows for the capturing of real-time thermal images of everything from glass beads right up to large panes.
Read more...
---
The evolution of infrared line scanning technology
R&C Instrumentation Temperature Measurement
Instrumentation manufacturers are responding to industry demands by designing IR scanners that not only provide better online performance, but also greater simplicity and ease of use.
Read more...
---
Professional quick-response thermometer
GHM Messtechnik SA Temperature Measurement
The newly designed G 1200 thermocouple quick-response thermometer from Greisinger offers excellent performance at a low price while delivering high-quality temperature measurements via a wide range of 
...
Read more...
---
Ultra-cool field metrology well
Comtest Temperature Measurement
The 9190A is ideal for pharmaceutical, biomedical and food processing applications that demand strict quality control and regulatory process compliance.
Read more...
---
Non-contact temperature measurement in the cement industry
R&C Instrumentation Temperature Measurement
Industrial IR sensors and systems for non-contact temperature measurement are vital to the cement industry and can be employed throughout the plant for process monitoring and predictive maintenance.
Read more...
---
Compact IR camera
Instrotech Temperature Measurement
Instrotech now offers the Optris PI 05M compact IR thermal imaging camera for high temperature applications.
Read more...
---