printer friendly version
Bringing innovation and world-class ignition technology to the combustion environment
Technews Industry Guide: Maintenance, Reliability & Asset Optimisation 2018
Sensors & Transducers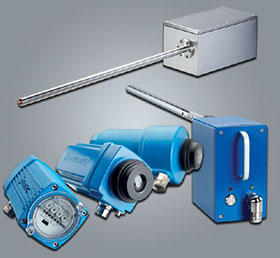 Firing up large industrial combustion plants with many burners is a complex process requiring various equipment such as ignitors that require gas or oil to initiate the combustion process. OEN Enterprises just made this process easier and more efficient through the introduction of the new Hegwein Microwave Plasma Ignition System, which forms an electric arc – a bright white plasma – at a temperature in excess of 3500 degrees Celsius. Once introduced into the boiler, it directly ignites liquid fuels as well as pulverised solids like coal and biomass. It can also be used to ignite gaseous and liquid fuels in other combustion applications across industries.
The high ignition temperature of this new ignitor enables high ignition potential, and ignition in oxygen-free environments, with no additional fuels such as gas or oil are required. The new ignitor caters for applications requiring instantaneous and reliable direct ignition of hard coal burners, whist eliminating the time-consuming conditioning of traditional gas and oil start-up burners. It allows for 1 and/or 2 mill operation with higher boiler system availability and improved flexibility of the load control, resulting in a more efficient energy mix usage.
An alternative ignition product that OEN offers is the Durag D-HG series, a high energy spark ignition system (HESI). It has an integrated temperature control and an under and over voltage protection functionality, as well as a discharge control, short circuit test, LED indication for ignition feedback, ready for operation signal and fault finding capability. It produces an energy of 5,6J at a maximum ignition frequency of 20 sparks per second and is also fully programmable to suit specific plant requirements. Varyious ignition lance lengths to suit plant specifications, and a retraction unit are also available.
To evaluate the characteristics of the flame produced, the Durag D-LX 201 range of flame monitors provide fail safe and self-monitoring functionalities. As the D-LX 201 is burner and flame specific, it measures the electromagnetic radiation in the ultraviolet, visible and infrared region of the flame spectrum, and analyses specific portions such as intensity, frequency, flame flicker and stability of the flame in more detail. This enables the flame monitor to indicate that there is a flame, as well as provide a flame on signal and a 'valid' ma output. There is also a RS-485 output available that can be used for diagnostics or as a permanent output to the appropriate Durag software.
For more information contact Chesney Brady, OEN Enterprises, +27 (0)11 675 4447, sales@oen.co.za, www.oen.co.za
Credit(s)
Further reading:
Get your sensor data faster
May 2019, VEGA Controls SA , Sensors & Transducers
VEGA's Tools App enables sensor parameters and configuration settings to be read and adjusted via Bluetooth on any smartphone or tablet. They are easy to operate and all data is permanently available 
...
Read more...
---
Indoor air quality management
May 2019, Atlas Industrial Systems , Sensors & Transducers
Atlas Industrial Systems (AIS) is the sole supplier of the Honeywell, a first in mobile-supported, indoor air quality management. Regulated by ICASA, this system is user-friendly and has proven valuable 
...
Read more...
---
Ultrasonic sensors for level measurement and object ­detection
May 2019, ifm - South Africa , Sensors & Transducers
ifm – South Africa's new M30 ultrasonic sensors for continuous level measurement and object detection are distinguished by their long range of up to eight metres. This makes them particularly suited for 
...
Read more...
---
Machine vision solutions
May 2019, Westplex , Sensors & Transducers
Westplex specialises in machine vision products and systems for visual inspection, and is a country-wide, one-stop source for a wide range of industrial machine vision products. Westplex represents world 
...
Read more...
---
Load sensing by light
May 2019, SKF South Africa , Sensors & Transducers
SKF's new optical sensing technology takes monitoring to the next level, providing engineers with new insights into machine performance. SKF Fibre Optic Sensing uses optical fibres to measure forces, 
...
Read more...
---
Contact-free optical communication
May 2019, Countapulse Controls , Sensors & Transducers
Optical data transceivers are the appropriate choice for any application where data needs to be transmitted without cables and without interference. The Leuze DDLS 500 data transceiver makes contact-free 
...
Read more...
---
Shock-proof linear position sensors
April 2019, Turck Banner , Sensors & Transducers
Turck's enhanced Li linear position sensors measure position values at a frequency of 5 kHz at measuring lengths of up to 2 metres. Turck has updated its contactless Li Q25 positioning systems and has 
...
Read more...
---
Inductive sensors with Teflon coating
April 2019, ASSTech Process Electronics + Instrumentation , Sensors & Transducers
With switching distances of up to 50 mm and magnetic field resistance of 200 mT, Wenglor's inductive sensors with correction factor 1 come in a total of eight new welding-field resistant models, with 
...
Read more...
---
2D barcode reader increases traceability
April 2019, SICK Automation Southern Africa , Sensors & Transducers
SICK Automation South Africa, one of the country's leading sensor solution suppliers for industrial applications, recently installed 120 image-based 2D barcode readers across multiple scanning stations 
...
Read more...
---
Setting standards for monitoring and safety in the radiation detection industry
Technews Industry Guide: Maintenance, Reliability & Asset Optimisation 2019, OEN Enterprises , Sensors & Transducers
Exposure to harmful levels of radiation can easily be prevented with a new generation of ultra-small, wearable dosimeters. Less expensive, simpler to use, and portable, Thermo Scientific's EPDs (electronic 
...
Read more...
---