printer friendly version
Festo's energy efficiency module MSE6-E2M
Technews Industry Guide: Maintenance, Reliability & Asset Optimisation 2018
Pneumatics & Hydraulics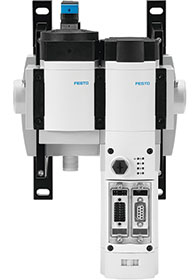 Saving energy is easier than ever before thanks to the MSE6-E2M. It helps end users to achieve their energy efficiency and sustainability targets and improves the efficiency of machinery for OEMs. The intelligent service module rigorously monitors and regulates the compressed air supply in new and existing systems – fully automatically.
Standby: compressed air off
If the E2M detects a standby status on the basis of predefined data, the compressed air supply is shut down automatically – similar to energy-saving start-stop systems in cars. The compressed air consumption drops to zero during these pauses, even if the system has leaks. The compressed air supply can be easily restarted at the machine's control panel.
Leakage measurement
When the compressed air supply is shut down, the E2M checks the system for leaks. Rapidly dropping pressure indicates excessive leakage and a notification is then sent to the system operator. For the first time, the air preparation system is monitoring, diagnosing and notifying maintenance teams based on actual requirements.
Condition and system monitoring
The E2M enables simple energy monitoring by continuously providing process data. Connected to the machine's control system via Profibus, the E2M cyclically exchanges important data such as flow rate, pressure and consumption, which can be seen and operated via the control panel. Other features include:
• Zero compressed air consumption in standby mode.
• Monitors the system for leaks.
• Ensures maintenance in the event of leaks.
• Enables effective monitoring of relevant process data.
For more information contact Kershia Beharie, Festo, 086 003 3786, kershia.beharie@festo.com, www.festo.co.za
Credit(s)
Further reading:
Experience digitalisation at the Festo Virtual Exhibition
June 2020, Festo South Africa , News
Festo is breaking new ground with its first-ever Virtual Exhibition scheduled to take place from the 15-16 July. Visitors will get to experience digitalisation as never before. This exhibition will be 
...
Read more...
---
Festo TechTalk: Energy efficiency thanks to smart products
July 2020, Festo South Africa , IT in Manufacturing
This year's TechTalk focused on smart products that help companies to produce energy efficiently, educational measures that empower employees for lifelong learning as well as for the digital working world 
...
Read more...
---
Festo online configurator tool simplifies sizing of process valves
April 2020, Festo South Africa , Valves, Actuators & Pump Control
From manually operated to automated process valves, the new configurator tool for process valves from Festo makes selecting the right solution easy and less time-consuming.
Read more...
---
Seamless integrated connectivity for electric automation from Festo
April 2020, Festo South Africa , Fieldbus & Industrial Networking
The cloud is everywhere. We save data on the cloud and access it on our phones and computers from anywhere at our convenience. The same applies to seamless connectivity in industrial automation from your 
...
Read more...
---
RS adds self-adjusting double-acting air cylinders
December 2019, RS Components SA , Pneumatics & Hydraulics
RS Components has expanded its offering from factory automation manufacturer Festo to include new double-acting pneumatic cylinders in the DSBC product range. Aimed at both machine builders and maintenance 
...
Read more...
---
Festo's digitalised product world
January 2020, Festo South Africa , System Integration & Control Systems Design
HoloLens, mobile phones, 3D printing and smart glasses – the gadgets that captured the public imagination in the blockbuster movie 'Back to the Future' over 30 years ago have now become a reality, all thanks to digitalisation.
Read more...
---
Refrigeration compressed air dryers
January 2020, Artic Driers , Pneumatics & Hydraulics
The R Class range of compressed air refrigeration dryers and RSXW chemical adsorption dryers have consistently low dew points, with an attractive entry price and a low cost of ownership once in operation. 
...
Read more...
---
World record for Festo's BionicOpter
December 2019, Festo South Africa , News
The Festo BionicOpter will be included in the 2020 Guinness World Records. The chapter 'Robots' presents the most amazing records from the world of super robots and artificial intelligence. The Festo 
...
Read more...
---
Festo inspires with smart digital solutions at the Automation Expo
September 2019, Festo South Africa , News
Festo hosted the first leg of the Automation Expo in Johannesburg at the Sandton Convention Centre, while the second took place in Port Elizabeth at the Boardwalk Convention Centre. Both ended on a high 
...
Read more...
---
Productivity Master points the way to digitalisation
September 2019, Festo South Africa , System Integration & Control Systems Design
Seamless connectivity of handling and software solutions developed by Festo.
Read more...
---