printer friendly version
Three advantages of wireless magnetometers for vehicle detection
April 2018
Industrial Wireless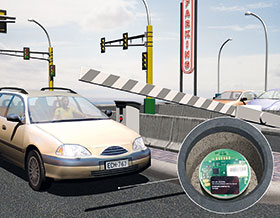 The ability to detect vehicles reliably offers significant advantages for asset management, resource allocation, site safety and traffic control. Identifying the right technology for a vehicle detection application can be challenging, and many factors must be taken into consideration, including task, size of target, sensing range, sensor mounting and whether the application is primarily indoor or outdoor. This article explains how a wireless magnetometer can be used for vehicle detection and describes the top three advantages of the technology.
What is a magnetometer?
Magnetometers can be either wired or wireless, but for the purposes of this article we will focus on wireless magnetometers, which offer important advantages to the end-user.
A magnetometer works by using a passive sensing technology to detect large ferrous objects such as trucks, automobiles, or rail cars by measuring the change in the ambient magnetic field. When a vehicle alters that magnetic field, the sensor detects those changes. As with other sensors, the range of the magnetometer will depend on the target.
Advantages of wireless magnetometers for vehicle detection
Cost-effective: A wireless magnetometer provides a cost-effective and convenient alternative to other sensing technologies. It requires no wiring or external control box, but achieves an accurate and repeatable response.
Minimally invasive: Wireless magnetometers are less invasive, less expensive and easier to commission quickly compared to inductive loops, because wireless magnetometer units are small, self-contained and don't require extensive work under the concrete. The wireless M-Gage sensor from Banner, for example, can be installed above grade or below grade. Below-grade installation requires only a small 7,5 cm hole drilled into the concrete for each sensor location, which means less downtime for installation.
Low maintenance
A truly wireless magnetometer will not only offer wireless communication via radio, but will also be completely self-contained, including the battery. The long life of the battery ensures continuous performance for years at a time.
Important considerations
In order to detect reliably when the magnetic field is disrupted, a magnetometer must first be taught the typical ambient magnetic conditions. Therefore a vehicle must not be present when the sensor is being taught.
Another consideration when installing a magnetometer is that if the sensor moves out of alignment over time, it may cease to function properly. Because of this, a magnetometer must be rigidly fixed at the time of installation to ensure reliable long-term functioning.
Wireless magnetometers from Banner Engineering also feature an advanced algorithm that detects fluctuations and adjusts accordingly. Finally, in cold climates that experience large amounts of snow, it is often necessary to install the magnetometer below grade to avoid damage from snowploughs.
For more information contact Brandon Topham, RET Automation, +27 (0)11 453 2468, brandon.topham@retautomation.com, www.retautomation.com
Credit(s)
Further reading:
Adroit brings M2M, IoT and IIoT to the industrial world
June 2019, Adroit Technologies , Industrial Wireless
Combining the new IIoT capability with GIS interfaces, situational awareness and alarm management data, all can use the big data and analytical processing capability of Adroit's standard scada Intelligence software package to derive greater insights and value from their processes.
Read more...
---
Pressure transmitters for mobile equipment
June 2019, Turck Banner , Pressure Measurement & Control
In order to provide solutions for use in mobile equipment, Turck has expanded its portfolio of pressure sensors with the introduction of the PT1100/2100 transmitters. This includes mining, forestry, agricultural 
...
Read more...
---
Wireless networks for AGV systems
June 2019, RJ Connect , Industrial Wireless
In order for factories to perform their tasks efficiently and optimise production, automated material handling (AMH) systems, such as AS/RS and AGVs, need the flexibility to move around on their designated 
...
Read more...
---
Merging control and telemetry
June 2019, Omniflex Remote Monitoring Specialists , Industrial Wireless
Wireless telemetry and control in plants have become a necessity with the data acquisition requirement of modern plant control to lift performance and compliance. In-plant cabling costs often push the 
...
Read more...
---
Managing complexity in wireless environments
June 2019, Axiz , Industrial Wireless
In the decades since its infancy, wireless networking has undergone tremendous shifts, opening an avenue for enterprise wireless Internet consumption. The advances in speed, coupled with the sheer convenience 
...
Read more...
---
Magnetic sensors for C-groove cylinders from SMC
June 2019, Turck Banner , Sensors & Transducers
Turck's portfolio of magnetic field sensors is being expanded: The BIM-UNC product series was specially optimised for perfect mounting in the C-groove pneumatic cylinder of SMC. The sensors can be inserted 
...
Read more...
---
Mobility for Industry 4.0 ­challenges
Africa Automation Fair 2019 Preview, Pepperl+Fuchs , Industrial Wireless
The Tab-Ex 02 series of tablets from Pepperl+Fuchs has innovative features that make Industry 4.0/IIoT applications easy to implement.    The DZ1 version ecom has a range of applications that are unique 
...
Read more...
---
New generation HMI/PLC series of controllers
Africa Automation Fair 2019 Preview, Turck Banner , IT in Manufacturing
The new generation of the TX700 series of HMI/PLC controllers can control and visualise even more complex processes and applications than before. With several interfaces and an integrated OPC UA server, 
...
Read more...
---
Wireless vibration and ­temperature monitoring
Africa Automation Fair 2019 Preview, Turck Banner , Temperature Measurement
Banner Engineering's wireless vibration solutions kit and temperature sensor provides superior machine monitoring. Designed to effectively monitor machines for increases in vibration and temperature, 
...
Read more...
---
Hazardous area access point
Africa Automation Fair 2019 Preview , Industrial Wireless
Bartec's Wireless X is a small, light wireless access point, eliminating the need for bulky, heavy enclosures and external antennas. On show at Stand G13, it has both IECEx and ATEX Zone 1 certification. 
...
Read more...
---