printer friendly version
RFID for reliable product traceability
April 2018
Industrial Wireless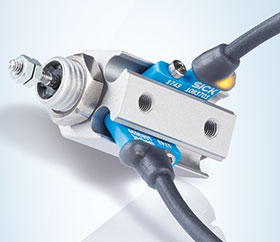 SICK is showcasing completely transparent production based on the new RFU65x RFID read/write device. This product detects transponders at long range, recording the direction in which the objects are moving at the same time. The associated user data can be sent directly to an ERP or MES system. This reduces processing times and increases production efficiency.
Identification and location solutions that combine maximum availability with a transparent material flow are vital for effective product traceability. Conventional RFID devices record RFID tags over long distances depending on sender power, aperture angle, tag properties and application environment. Until now, directions of movement could only be derived by using additional external antennas and intelligent algorithms. With the new technology supported by the RFU65x, both position and angle can be determined and direction of movement can be detected. Even transponders which are moving in opposite directions at the same time can be detected and their directions of movement recorded.
The operating range of the RFU65x covers an angle of ±45° with a typical sensing range of up to five metres. RFID tags are recorded below a certain measuring angle in relation to the zero point of the reader. Algorithms can be used to derive instances of passage, including the direction of movement, from the various measuring points.
The RFU65x RFID read/write device thus saves space, time and money in applications for identifying vehicles and vehicle parts. Although objects with transponders that are located in the immediate vicinity are identified, they are filtered out as static transponders and only used if required for diagnostic purposes. As well as cutting costs, the RFU65x also simplifies and accelerates application processes in logistics and the automotive industry.
The ICASA-approved product family provides system integrators with the ability to install additional application software directly within variants of the RFU6xx. The user can develop and manage device-specific application software through the SICK development environment and even transfer this to other devices. This can be facilitated via a range of programming techniques, including JAVA, LUA and C++ (in the planning stages). The platform thus offers maximum flexibility to support solutions for the IT tasks of the future.
For more information contact Mark Madeley, SICK Automation Southern Africa, +27(0)11 472 3733, mark.madeley@sickautomation.co.za, www.sickautomation.co.za
Credit(s)
Further reading:
Long range wireless communication for air instrumentation
Technews Industry Guide: Industrial Internet of Things & Industry 4.0, Artic Driers , Industrial Wireless
Artic Driers in association with Suto iTEC of Germany have launched a long range wireless communication system for the comprehensive range of compressed air instrumentation marketed by Artic. Wireless 
...
Read more...
---
Using IS phones or tablets for barcode scanning
Technews Industry Guide: Industrial Internet of Things & Industry 4.0, Extech Safety Systems , Industrial Wireless
Extech Safety Systems worked with Mobexx in the UK to develop the mobXscan mobile application for barcode scanning with mobile devices. The application (https://mobxscan.com) has been released for Windows 
...
Read more...
---
Bluetooth low energy IoT development kit
July 2019, RS Components SA , Industrial Wireless
RS Components is now offering the Bluetooth Low Energy IoT Development Kit (B-IDK) from ON Semiconductor. Based on the industry's lowest power Bluetooth Low Energy radio System-on-Chip (SoC), the modular 
...
Read more...
---
Linearise all your signals
July 2019, Omniflex Remote Monitoring Specialists , Industrial Wireless
Signal conditioners have progressed over the years to become mainstream protection front ends for PLC and DCS control systems. They provide signal isolation and protection from the harsh plant conditions 
...
Read more...
---
Safety laser scanner for outdoor ­applications
July 2019, SICK Automation Southern Africa , IS & Ex
SICK Automation has launched another global innovation: the first safety laser scanner certified to IEC 62998 for use in outdoor applications. The outdoorScan3 allows automated guided vehicle systems 
...
Read more...
---
Adroit brings M2M, IoT and IIoT to the industrial world
June 2019, Adroit Technologies , Industrial Wireless
Combining the new IIoT capability with GIS interfaces, situational awareness and alarm management data, all can use the big data and analytical processing capability of Adroit's standard scada Intelligence software package to derive greater insights and value from their processes.
Read more...
---
Accurate bulk flow measurement in the cement industry
June 2019, SICK Automation Southern Africa , Flow Measurement & Control
The rapid development of sensor technology provides cement producers with a toolbox of solutions to optimise performance and strengthen market presence. Non-contact volume flow measurement of conveyed 
...
Read more...
---
Wireless networks for AGV systems
June 2019, RJ Connect , Industrial Wireless
In order for factories to perform their tasks efficiently and optimise production, automated material handling (AMH) systems, such as AS/RS and AGVs, need the flexibility to move around on their designated 
...
Read more...
---
Merging control and telemetry
June 2019, Omniflex Remote Monitoring Specialists , Industrial Wireless
Wireless telemetry and control in plants have become a necessity with the data acquisition requirement of modern plant control to lift performance and compliance. In-plant cabling costs often push the 
...
Read more...
---
Managing complexity in wireless environments
June 2019, Axiz , Industrial Wireless
In the decades since its infancy, wireless networking has undergone tremendous shifts, opening an avenue for enterprise wireless Internet consumption. The advances in speed, coupled with the sheer convenience 
...
Read more...
---