printer friendly version
New release of DeltaV
April 2018
PLCs, DCSs & Controllers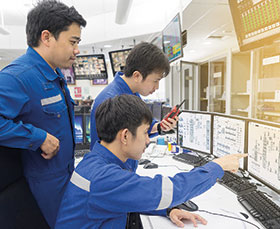 Emerson has expanded its Plantweb digital ecosystem with the launch of DeltaV version 14, a cybersecurity-certified control system designed to deliver new value in capital projects and make plant operations more connected and productive. The latest release provides significant innovations to the entire DeltaV architecture and was built with customers' digital transformation initiatives in mind.
This major update to the automation system includes several meaningful enhancements to eliminate costs and reduce complexity in capital projects, plus improve productivity during operations through enhanced access to production and equipment data, improved usability and greater security.
"More than ever, an integrated plant data environment is essential to achieve digital transformation," said Jamie Froedge, president of Process Systems and Solutions, Emerson Automation Solutions. "With DeltaV, we're reducing the engineering effort required to connect plant, operational and information systems. Our customers will now have more capabilities in their distributed control and safety systems to help them successfully execute capital projects and optimise operations."
Capital project flexibility
Continuing to advance the impact of DeltaV electronic marshalling on capital project engineering, CHARM I/O Block takes CHARMs – which achieved more than one million deployments at more than 1100 sites in only five years – closer to the field. Small enclosures with up to 12 CHARMs can now be installed closer to field devices, significantly reducing wiring and overall installation costs by as much as 60% and providing more engineering flexibility.
Smart Commissioning, launched in 2016, took one of the most engineering-intensive operations off a project's critical path. Traditionally, commissioning has been a manual task that requires more than two hours per device for thousands of devices. Smart Commissioning reduced commissioning time to 25 minutes. Emerson is now expanding these capabilities and reducing device commissioning time to as little as 10 minutes, a nearly 93% reduction in costly commissioning time that could save several hundred-thousand dollars in engineering costs.
Mobility and user experience
DeltaV Live Operator Interface is a modern, built-for-purpose operations experience that is easy to understand and modify. The HMI comes pre-engineered with the industry's best practices for user experience including ISA 101.01 and is based on research with the Centre for Operator Performance, a consortium of vendors and academia focused on human factors engineering. The HTML5 interface enables scalable graphics and gives operators the flexibility to adjust their displays to focus on process data that is most important for each situation. The new operator interface helps improve overall situational awareness and decision-making speed. Emerson is helping companies prepare for the shift to mobility with DeltaV Live by building a foundation for graphics to be transferrable across desktops, laptops, and mobile devices, all without additional engineering or custom scripting.
A secure, connected plant
DeltaV will offer its users a new level of confidence and protection from cybersecurity threats by being one of the only systems to have a top-to-bottom cybersecurity certification. DeltaV v14 will be certified ISASecure SSA Level 1 by the International Society of Automation (ISA), signifying that Emerson developers are trained to write secure code and the system as a whole is hardened against cyber threats.
Emerson is making connecting a plant's OT systems with IT systems seamless by expanding OPC UA access in its DeltaV hardware and software offerings. DeltaV is the pathway for most plant data and now using the IIoT's most prevalent protocol, OPC UA, DeltaV applications and servers can securely share data to cloud analytics applications, remote monitoring solutions, and third-party technologies.
Emerson announced the first two additions of its new DeltaV system last year with the DeltaV PK Controller and DeltaV Mobile. The DeltaV PK Controller enables plants to control skids and applications typically managed by PLCs with a standalone DeltaV controller or connect into an integrated full-scale DCS automation architecture or the cloud via embedded OPC UA. The DeltaV Mobile platform natively connects into DeltaV – securely and without additional engineering – to enable managers, engineers, operators and subject matter experts to monitor operations and have critical data and alarms at their fingertips, whenever and wherever they need it.
For more information contact Rob Smith, Emerson Automation Solutions, +27 (0)11 451 3700, rob.smith@emerson.com, www.emerson.com
Credit(s)
Further reading:
Emerson's digital ecosystem empowers top quartile performance
Technews Industry Guide: Industrial Internet of Things & Industry 4.0, Emerson Automation Solutions , IT in Manufacturing
Plantweb provides new mobility and decision-support technologies.
Read more...
---
The powerful Festo modular control system CPX-E
Technews Industry Guide: Industrial Internet of Things & Industry 4.0, Festo , PLCs, DCSs & Controllers
Designed as an EtherCAT master and motion controller with protection to IP20, the powerful automation system CPX-E for factory and process automation with NE21-specific certifications is becoming the 
...
Read more...
---
New manifold valve design for pressure transmitters
July 2019, Emerson Automation Solutions , Valves, Actuators & Pump Control
Emerson has introduced a new manifold product family for its Rosemount pressure transmitters. Manifolds shut off or equalise pressure at the transmitter and also provide the critical mounting mechanisms 
...
Read more...
---
Rockwell strengthens industrial control system security
July 2019, Rockwell Automation , PLCs, DCSs & Controllers
Communications between industrial control devices have minimal protection today. This leaves them vulnerable to threats like malicious tampering and incidental system changes that can stop production 
...
Read more...
---
Emerson acquires KNet software
June 2019, Emerson Automation Solutions , News
Emerson has announced the acquisition of KnowledgeNet (KNet) software from Tunisia-based Integration Objects. KNet's unique analytics application software accelerates digital transformation initiatives 
...
Read more...
---
Siemens extends the Simine ­portfolio
June 2019, Siemens Digital Industries , PLCs, DCSs & Controllers
Siemens has extended the Simine portfolio for high-pressure grinding mills (HPGR) to include a new controller. Plug-and-play functionality makes the load share controller available for immediate use. 
...
Read more...
---
Schneider Electric announces a new era of control
June 2019, Schneider Electric South Africa , PLCs, DCSs & Controllers
Schneider Electric's new high-end Modicon M580 Ethernet programmable automation controller (ePAC) features redundant processors, native Ethernet, and cybersecurity embedded into its core. It combines 
...
Read more...
---
Selecting the right PLC
June 2019, AC/DC Dynamics , PLCs, DCSs & Controllers
Automation projects, big or small, start with a specification. Here are five factors to consider when choosing a PLC vendor.      
Broad range of devices
The selected brand must have a complete product 
...
Read more...
---
Effective day-to-day monitoring of essential assets
June 2019, Emerson Automation Solutions , Maintenance, Test & Measurement, Calibration
Efficient operation of essential assets is key in achieving productivity and operational targets. Facilities, manufacturers, operators, and producers can move forward in planning for their output by having 
...
Read more...
---
Emerson appoints new president for Middle East and Africa
May 2019, Emerson Automation Solutions , News
Emerson has appointed Vidya Ramnath as the new president for its Automation Solutions business in Middle East and Africa.    A 24-year veteran of Emerson, she was most recently vice president for Emerson's 
...
Read more...
---