printer friendly version
Atmospheric visibility sensor performs in all conditions
April 2018
Sensors & Transducers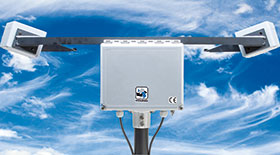 The Model 73000 Sentry Visibility Sensor
The Young Sentry Visibility Sensor measures atmospheric visibility (meteorological optical range) by determining the amount of light scattered by particles in the air (smoke, dust, haze, fog, rain and snow).
Performance in all weather conditions is achieved with an integrated design that keeps all cabling internal to the sensor for complete protection from hazards. The sensor is made from anodised aluminium and rugged, UV-resistant fibreglass enclosures. Based on the proven field experience of the NWS and FAA, the sensor uses a 'look down' geometry to reduce window contamination and clogging from blowing snow. The optical windows have continuous duty anti-dew heaters. Optional thermostatically controlled external hood heaters are available for additional protection in extreme environments. All power and signal lines to the Sentry are protected with surge and EMI filtering to ensure uninterrupted service for the life of the sensor.
Installation and maintenance are simple with the Sentry. A sturdy mounting flange located on the bottom of the main enclosure mates with a user-supplied mounting pipe. Power and signal cables are installed through waterproof cable glands on the bottom of the main enclosure to terminal boards for simple but reliable connections. Calibration of the Sentry in the field is as simple as attaching a factory supplied calibration fixture and following a procedure that takes less than 30 minutes.
Model 73100 Sentry T optimised for operation in tunnels
The Young Sentry Tunnel Visibility Sensor's sensitivity is optimised for reduced visibility in automobile and rail tunnels, typically caused by vehicle emissions.
Model 73200 Sentry EX for hazardous area applications
The Young Sentry EX Explosion Proof Visibility Sensor is designed for high performance in hazardous environments at petrochemical production sites, refining facilities and transportation terminals. The ATEX Zone 1 rated housing and offshore marine-grade sheathed cables ensure all-weather IP66 performance to monitor changes in visibility.
Operation
A LED emitter with 850 nm wavelength focuses on a measurement volume that intersects with the observation zone of an IR receiver, which measures the amount of 'light' that is 'forward-scattered' by airborne particles. The IR energy measured at the receiver is proportional to the 'extinction coefficient', which is inversely proportional to visibility. The airborne particles can be fog, rain, snow, smoke or dust.
Standard visibility units are either kilometres or miles. Forward scatter type sensors like the Sentry measure a sample volume of air close to the sensor, and using the assumption of air homogeneity, calculate the visibility, which could be as far as 16 km depending on the clarity of the air. Visibility sensors cannot measure what is happening 16 km away, but must assume that if the atmosphere between the sensor and distance is uniform, then an observer at the sensor can see a range of 16 km.
To reduce dust/ice/snow collection on the lens as well as reflection from other objects, the Sentry's emitter and receiver lens face downward. The lens must be kept clean for an accurate measurement and a quick wipe with window cleaner is all that is required. The frequency of cleaning varies depending on proximity to dust, salt or other contamination sources. The typical service life of an LED emitter is 5 to 7 years.
Every Sentry has a lens heater within the emitter and receiver housings to prevent condensation. This is a standard feature. As an option, hood heaters may be installed to help prevent snow accumulation and icing on the housings. Hood heating is recommended for all applications in colder environments.
For more information contact Felie Le Roux, Inteltronics, +27 (0)82 445 2531, inteltronics@icon.co.za, www.inteltronics.co.za
Credit(s)
Further reading:
Multi-colour touch sensors with ­IO-Link
June 2019, ifm - South Africa , Sensors & Transducers
The new multi-colour touch sensors from ifm bring flexible adaptation to any application. Where many different sensors were required before, one individually adjustable sensor is sufficient today. The 
...
Read more...
---
Static and rotational torque sensors
June 2019, ASSTech Process Electronics + Instrumentation , Sensors & Transducers
With the new compact 8661 series of torque sensors, Burster has extended its portfolio to include static and rotating torques over the range from 0,05 to 200 Nm. In addition to the highly accurate measurements, 
...
Read more...
---
Handheld control valve tester
June 2019, Comtest , Sensors & Transducers
In the past, control valve testing meant using complicated testers that required extensive training, the removal of the valve, and often one-to-two hours of test time on the bench. Comtest is therefore 
...
Read more...
---
Magnetic sensors for C-groove cylinders from SMC
June 2019, Turck Banner , Sensors & Transducers
Turck's portfolio of magnetic field sensors is being expanded: The BIM-UNC product series was specially optimised for perfect mounting in the C-groove pneumatic cylinder of SMC. The sensors can be inserted 
...
Read more...
---
Photoelectric sensor for demanding applications
June 2019, Rockwell Automation , Sensors & Transducers
The new Allen-Bradley 42AF RightSight M30 photoelectric sensor from Rockwell Automation is the latest addition to the company's smart sensing portfolio. Built with improved environmental resistance and 
...
Read more...
---
Vision sensors
Africa Automation Fair 2019 Preview , Sensors & Transducers
The VG series vision sensors utilise images captured by integrated industrial camera lenses to determine a target object's presence, colour, size, shape, orientation, patterns and more. On show at Stand 
...
Read more...
---
Radiometric density system
Africa Automation Fair 2019 Preview, Mecosa , Sensors & Transducers
On show at Stand D08 is the new DuoSeries LB 475 radiometric density system from Berthold, which is designed for the cementing and hydraulic fracturing industries. The density transmitter is a state-of-the-art 
...
Read more...
---
IO-Link infrastructure components
Africa Automation Fair 2019 Preview, Pepperl+Fuchs , Sensors & Transducers
Pepperl+Fuchs has on show a range of IO-Link infrastructure components. As a globally established communication standard that is system- and fieldbus-independent, IO-Link offers many advantages. The universal 
...
Read more...
---
High performance sensors
Africa Automation Fair 2019 Preview , Sensors & Transducers
The LE46C sensors from Leuze electronic are reliable and cost-effective, with high performance reserves and large ranges. On exhibit at Stand J13, these sensors are ideal for use in conveyor and storage 
...
Read more...
---
Leak detection in coal-fired power stations
Africa Automation Fair 2019 Preview, Instrotech , Sensors & Transducers
Instrotech's advanced acoustic leak detection system, Inspecta FFT, can detect boiler tube leaks in coal-fired utilities and in oxygen plants and gasifiers. The technology and equipment is in use in power 
...
Read more...
---