printer friendly version
Mass flow measurement of gases
April 2018
Flow Measurement & Control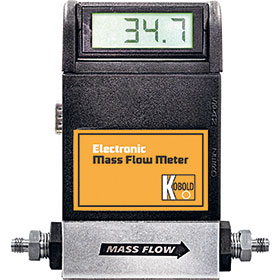 Kobold offers the type MAS mass flowmeter that works according to the calorimetric method of measurement and was specially conceived for gas flow measurement. Since gases can be compressed, the volume changes with pressure and temperature. In practice this means that calibration should be done for a particular working pressure and temperature. This conversion is not needed with the MAS electronic mass flowmeter because only the mass flow of the gas is determined by measuring the heat transfer.
The gas is led through a sophisticated, laminar flow bypass that gives it a laminar stream. Due to the pressure difference that arises, a small quantity of gas branches off into the measuring pipe. With laminar flow, the distribution ratios of both gas quantities remain constant. This is important for the calculation of the flow volume. There are two temperature measuring points (RTD elements) in the measuring tube arranged in sequence (one behind the other). The gas flowing through is subjected to a constant amount of heat. The gas molecules absorb that heat and carry it away. This creates a temperature difference between the sensors that increases with the amount of gas that flows through. The temperature difference creates a resistance difference in the RTD elements. It is now only necessary to convert the temperature difference into the standard mass flow. A state-of-the-art electronic 180° rotating LCD display shows the corresponding volume flow in standard units per minute. The digital display makes it virtually impossible to make a reading error.
The low heat capacity of the measuring tube and the low mass of the auxiliary flow guarantees users a fast response time. Since pressure and temperature changes have only a small effect on the measurement, the mass flowmeter can be used within a large pressure and temperature range without need for adjustment. The standard equipment includes an analog output so that readings can be continuously processed further. Another advantage of the MAS is the large measuring range in different steps of 0-10 Nml/min up to 0-500 Nl/min. The MAS has small dimensions and can be used in any position.
Typical applications are in process control, laboratories, gas display tables, OEM applications, leakage rate testing, filter monitoring and gas flow calibration. The sophisticated measuring procedure and modern electronics make the MAS suitable for a wide range of applications and greatly simplify the measuring of gas flow.
Credit(s)
Further reading:
Accurate bulk flow measurement in the cement industry
June 2019, SICK Automation Southern Africa , Flow Measurement & Control
The rapid development of sensor technology provides cement producers with a toolbox of solutions to optimise performance and strengthen market presence. Non-contact volume flow measurement of conveyed 
...
Read more...
---
Flow sensor for liquid media
June 2019, Festo , Flow Measurement & Control
The new flow sensor SFAW from Festo is ideal for monitoring cooling circuits, for example in welding guns in the automotive industry as well as in front-end applications in the semiconductor and electronics 
...
Read more...
---
Electromagnetic flowmeters
Africa Automation Fair 2019 Preview, Dupleix Liquid Meters (DLM) , Flow Measurement & Control
Badger Meter's electromagnetic flowmeters are ideally suited for flow measurement of all liquids with a minimum conductivity of 5 μS cm. The flow measurement is independent of density, temperature and 
...
Read more...
---
Flowmeters for clean liquids and gases
Africa Automation Fair 2019 Preview, WIKA Instruments , Flow Measurement & Control
Venturi tubes such as WIKA's model FLC-VT are reliable, easy to use and low maintenance.    They are particularly suitable for the measurement of clean liquids and gases. The main advantages of a Venturi 
...
Read more...
---
Industrial gas flowmeters
Africa Automation Fair 2019 Preview, Mecosa , Flow Measurement & Control
The IN-FLOW mass flowmeters and controllers by Bronkhorst High-Tech are of rugged design according to IP65. Showcased at Stand D08, the instruments are available for flow ranges from 0,05 to 1 mln/min 
...
Read more...
---
Miniature IR thermometer for plastic film
May 2019, Instrotech , Pressure Measurement & Control
Temperature is a key physical variable for ensuring quality in the production of plastic film. The application of non-contact temperature measurement technology poses the challenge that films with a thickness 
...
Read more...
---
Leak detection in coal-fired power stations
Africa Automation Fair 2019 Preview, Instrotech , Sensors & Transducers
Instrotech's advanced acoustic leak detection system, Inspecta FFT, can detect boiler tube leaks in coal-fired utilities and in oxygen plants and gasifiers. The technology and equipment is in use in power 
...
Read more...
---
New flowmeter for biogas
May 2019, KROHNE , Flow Measurement & Control
The new Optisonic 7300 Biogas ultrasonic flowmeter from Krohne has been specially designed to measure dry and wet biogas with variable composition. The meter provides additional functions, like calculation 
...
Read more...
---
Miniature multi-turn encoder
May 2019, Instrotech , News
Modern industrial applications demand innovative designs featuring high performance, precise information and smaller component footprints. To this end, Instrotech now offers the Scancon miniature absolute 
...
Read more...
---
Pyrometer with automatic spot finder
Africa Automation Fair 2019 Preview, Instrotech , Temperature Measurement
The Optris infrared Xi series is a fusion between a robust, compact pyrometer and an advanced IR camera. The integrated spot finder function enables accurate temperature measurements in moving objects 
...
Read more...
---