printer friendly version
Flexible yet standardised solutions from Festo simplify connector production
March 2018
Pneumatics & Hydraulics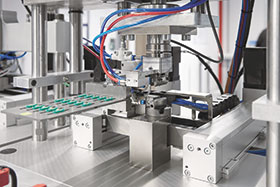 Just as PCBs have successfully managed to pack an increasing amount of power into a smaller space, developers of plug connectors are working to accommodate more power and a higher contact density into smaller, lighter plug connectors. The family-owned British manufacturer, Harwin, relies on Festo automation to safeguard the quality and flexibility of its production using equipment such as the servo press kit YJKP and the compact handling system YXMx.
Harwin's connectors are high quality, reliable and durable and can thus be used in harsh ambient conditions. They do not only fit the bill for customers in industry sectors such as cost-conscious consumer electronics, but also in the ultimate performance seekers such as aerospace, motor sports and the automotive industry, where extreme operating temperatures between –65 and 150°C, as well as severe vibrations, are the order of the day. This means the connectors have to be manufactured to very high standards.
High standards
The response by Harwin to these market requirements has been to launch the Gecko range of connectors. These advanced connectors have a pin pitch of only 1,25 mm and are half the size and 75% lighter than micro D connectors. Their robust screw connection makes them extremely safe and reliable and able to withstand countless mating operations without damage.
The Gecko connector manufacturing process has been continuously refined from an initially manual operation to today's highly automated solution, capable of producing hundreds of thousands of connectors a year with a wide range of configurations ranging from 4 to 50 pins, and many PCB mounting options.
Modular concept
Harwin started developing a new manufacturing line with the aim of making the production of the Gecko series more efficient. Both a high level of automation and a high degree of flexibility were needed to produce differently shaped and sized connectors on one line. "That is why we developed a modular concept together with Festo," explains Paul McGuinness, operations director at Harwin.
The new assembly lines are built around the servo press kit YJKP and the compact handling system YXMx from Festo. The handling system takes care of the XY movements of the workpiece carriers and the plastic housings assembled in several of the system stations. The servo press kit, which provides easy-to-configure position and force controlled movement along the Z-axis, is used for press-fitting and bending the contact pins.
Standard parts
In all stations, the electric and pneumatic drives are each controlled by their own controller together with a valve terminal. "These Festo systems enable maximum standardisation and modularisation, as standard parts are used everywhere. This makes commissioning and maintenance easier," explains McGuinness.
One of the assembly lines for manufacturing the connectors consists of multiple stations for inserting, press-fitting and bending the contact pins. In the first station, the workpiece carriers are equipped with the connector housings, which are positioned using the compact handling system so that the contact pins can be inserted. In the second station, the servo press presses the contact pins into the connector housing. The precision gripper from Festo locates the workpiece carriers while the pins are fitted.
The handling system and the servo press kit are also used in the last station for bending the contact pins to the required angle. The CoDeSys software in the controller allows comprehensive control of the servo press profile, providing position and force control throughout the cycle. The application software supplied with the servo press makes programming extremely easy thanks to an intuitive graphical user interface.
Three valve terminals controlled by the master controller actuate the numerous electric and pneumatic grippers and actuators. "The automated modular concept ensures low production costs and high reliability, precision, repetition accuracy and flexibility," concludes McGuinness. "This makes it easy to adapt the press profile to the different connector variants without the need for special programming skills."
For more information contact Kershia Beharie, Festo, 086 003 3786, kershia.beharie@festo.com, www.festo.co.za
Credit(s)
Further reading:
Parker Hannifin introduces couplings for quick and easy installation
May 2019, Parker Hannifin Sales Company South , Pneumatics & Hydraulics
Parker Hannifin now offers quick connection couplings for its NSA series, notable for features including their low weight. NSA couplings are available in nickel-plated brass or stainless steel, while 
...
Read more...
---
Festo Automation Suite
Technews Industry Guide: Maintenance, Reliability & Asset Optimisation 2019, Festo , IT in Manufacturing
Software for quick and reliable commissioning.
Read more...
---
VUVS-LT Poppet Valve
Technews Industry Guide: Maintenance, Reliability & Asset Optimisation 2019, Festo , Pneumatics & Hydraulics
Frequently used in different locations and exposed places, the VUVS-LT Poppet Valve can take a lot – all without losing its good looks. Simple on the outside, sturdy on the inside, it is the ideal combination 
...
Read more...
---
Optimum hydraulic performance through cost effective filtration solutions
Technews Industry Guide: Maintenance, Reliability & Asset Optimisation 2019, Hydrasales , Pneumatics & Hydraulics
Maintenance personnel have to facilitate optimum hydraulic system performance through their programmes, hence the incorporation of oil cleanliness checks, or oil contamination monitoring should not be 
...
Read more...
---
The advantages of rolled vs. cut threads for fluid system instrumentation fittings
March 2019, Fluid Systems Africa , Pneumatics & Hydraulics
A new level in leak tightness from Fluid Systems Africa.
Read more...
---
The automated chameleon tongue
March 2019, Festo , Motion Control & Drives
Festo's adaptive gripper can pick up anything.
Read more...
---
Ready for smart manufacturing
March 2019, Metal Work Pneumatic South Africa , Pneumatics & Hydraulics
Metal Work's new EB80 is an electro-pneumatic system consisting of a solenoid valve assembly with fieldbus or multi-pin control, and modules to manage analog or digital input/output signals. It can accommodate 
...
Read more...
---
Flexible drive control
March 2019, Festo , Motion Control & Drives
Servo drive and servo motor as a complete system.
Read more...
---
Quarter-turn actuator for harsh conditions
February 2019, Festo , Valves, Actuators & Pump Control
Thanks to its versatility and flexibility, Festo's quarter-turn actuator DFPD can be used in a variety of applications. Its modern, simple and compact design impresses whether it is used with ball valves, 
...
Read more...
---
Ham-Let moves into the future with smart valves
December 2018, Fluid Systems Africa , Pneumatics & Hydraulics
The Ham-Let Group has manufactured high-quality instrumentation valves, fittings and auxiliary products for fluid systems in a variety of markets since 1950, and has now launched its first smart valve 
...
Read more...
---