printer friendly version
APM 3D solids scanner for bulk products
March 2018
Level Measurement & Control
Measuring the level of bulk solids presents a challenge, since providing just a level measurement does not necessarily represent the total quantity of product stored due to irregular surface of the bulk material.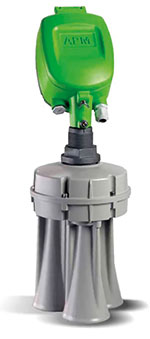 However, determining the exact volume is important for production management and related logistics processes, which can have a direct impact on the efficiency and profitability of a company. Calculating volume is often based on inaccurate estimates from single point measurements, or by complicated and slow manual methods. Such inaccuracies often lead to companies holding an unnecessarily high product reserve, or an underutilised storage capacity.
New technology
The APM 3D scanner for bulk materials uses low frequency acoustic waves to make its measurement. The advantage of this is minimal attenuation in dusty environments. To obtain a three-dimensional map of the surface, the scanner uses the 3D phase radar principle, similar to that used in aviation. The map-points returning from the surface are refined using an advanced self-learning fuzzy logic algorithm, which is applied to dimensions of the silo to take into account the repo site angles. The acoustic bandwidth used is between 2,3 and 7 kHz. The energy attenuation created by dust is low in this band and therefore the measurement is practically immune to the dust.
The acoustic signal sits within the audible band, however, the noise levels fall far below the set health and safety guidelines. The intensity of the noise prevents dust from settling on the inner surface of the waveguides, sensors and membranes.
Thanks to the self-cleaning ability of the acoustic signal, dust does not build up in the active parts of the waveguides.
Short acoustic pulses with different frequencies are alternately transmitted from three piezo sensors and the respective waveguides route them to the surface of the material. Irregularities in the surface of the bulk material create multiple reflections, which are then electronically processed. By using advanced filtration methods, the individual signal reflections are detected and converted into a map of the surface.
The 3D scanner is capable of covering a wide surface area depending on the height at which it is located. To cover very large areas multiple scanners may be used. The correct location of individual scanners is important for accurate measurement, which is why installation and commissioning is supported by qualified APM specialists.
Comprehensible output
The APM 3DVision software provides data processing and visualisation. It provides general information about the quantities of products stored, but also a detailed view of the situation in an individual silo. The same software can also prepare reports of stocked materials at defined times.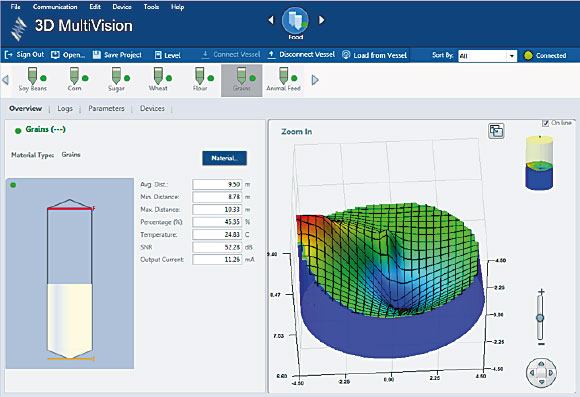 Detailed view of a silo with visualisation of the material surface.
Applications
The 3D scanner technology is useful in all sectors of industry where there is a need to monitor the volume and status of bulk materials. The unit allows accurate measurement of virtually any bulk material with a density of 200 kg/m3 in silos up to 70 m high.
For more information contact Sean Frost, Dupleix Liquid Meters, +27 (0)11 457 0500, sales@dlm.co.za, www.dlm.co.za
Credit(s)
Further reading:
Electromagnetic flowmeters
Africa Automation Fair 2019 Preview, Dupleix Liquid Meters (DLM) , Flow Measurement & Control
Badger Meter's electromagnetic flowmeters are ideally suited for flow measurement of all liquids with a minimum conductivity of 5 μS cm. The flow measurement is independent of density, temperature and 
...
Read more...
---
Continuous level measurement
Africa Automation Fair 2019 Preview, Morton Controls , Level Measurement & Control
The Nivobob series from Morton Controls is used for continuous level measurement within bulk storage silos and for interface measurement of sludge beds. The system is immune to dust, dielectricity, conductivity, 
...
Read more...
---
A range of level sensors
Africa Automation Fair 2019 Preview, GHM Messtechnik SA , Level Measurement & Control
GHM Messtechnik has available the Val.co range of affordable and effective level sensors that have application across all sectors of industry, especially tank building. The range includes small float 
...
Read more...
---
Keller's water level monitoring systems
April 2019, Instrotech , Level Measurement & Control
The Grib Mine, located in Russia's Mezensky District in the Arkhangelsk Oblast, is one of the largest diamond deposits in the world. During winter, temperatures can drop to -25° and sometimes -37°. The 
...
Read more...
---
80 GHz for liquids
April 2019, VEGA Controls SA , Level Measurement & Control
Vegapuls 64 radar level measurement improves efficiency for bitumen supplier.
Read more...
---
Rotex Automation Limited
March 2019, Dupleix Liquid Meters (DLM) , News
Dupleix Liquid Meters (DLM) is proud to announce that it has recently been appointed as the Rotex solenoid valve range distributor for southern Africa.    Rotex was founded in 1967, in conjunction with 
...
Read more...
---
Level monitoring and visualisation
March 2019, Morton Controls , Level Measurement & Control
UWT's Nivotec series is designed to make data movement and communication between monitoring and control systems easy and flexible. The Nivotec 2000 and 3500 series are specifically adaptable to customer 
...
Read more...
---
Monitoring the level of molten polyethylene
March 2019, VEGA Controls SA , Level Measurement & Control
More than ever before, the number of car parts made from plastics and plastic composites is on the increase. According to the American Chemistry Council, plastics account for approximately 50% of the 
...
Read more...
---
The next level in dairy applications
February 2019, Endress+Hauser , Level Measurement & Control
Reliable and repeatable tank level measurement proven with 80 GHz technology.
Read more...
---
Digital float switch
February 2019, WIKA Instruments , Level Measurement & Control
As its first instrument of this kind, WIKA has launched a float switch with a PNP/NPN output signal. The model GLS-1000 detects the level of liquids with an accuracy of 1 mm or less. The digitised float 
...
Read more...
---