Twice as easy
March 2018
Pressure Measurement & Control

printer friendly version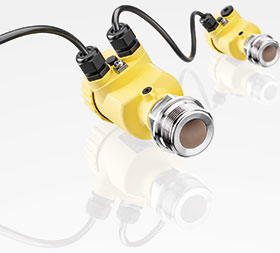 Pressure vessels and process tanks have to meet high safety requirements. Continuous monitoring of the differential pressure plays a major role in minimising the risks from hazards such as excess pressure, leaks or dust-explosive substances. VEGABAR series 80 pressure transmitters have proven to be very effective for this task. And the method is simple: just put two of them together.
Thanks to innovative technology, two of these pressure gauges can be quickly transformed into a perfect electronic differential pressure system. Two sensors of the VEGABAR series 80 determine the process pressure with the help of two measured values: the tank pressure and the total pressure resulting from the pressure of the medium and the overpressure. The user can simply take a pressure transmitter from stock, order another identical sensor with electronics version 'slave' and have an electronic differential pressure system up and running in a jiffy.
As opposed to conventional differential pressure systems, electronic differential pressure measurement with VEGABAR series 80 is not affected by the ambient temperature or strong vibration. And it has another impressive feature: in the version with oil-free ceramic CERTEC measuring cell, the pressure transmitter is completely resistant to temperature shocks. In fact, this extremely high overload resistance factor of 200 can be found nowhere else on the market. Its simple operation based on the proven instrument platform plics and optional 'second line of defense' make it the ideal solution for differential pressure measurement.
More information contact Chantal Groom, VEGA Controls SA, +12 (0)11 795 3249, chantal.groom@vega.com, www.vega.com
Credit(s)
Further reading:
VEGA Controls SA appoints new managing director
February 2019, VEGA Controls SA , News
VEGA Controls SA has announced the appointment of Fredrick Streicher as the company's new managing director, effective from 1 January.    He has been with the company for the last 13 years where he was 
...
Read more...
---
Compact differential pressure transmitter
January 2019, Vepac Electronics , Pressure Measurement & Control
The Halstrup Walcher P 34 series differential pressure transmitter is designed for pressure monitoring applications in cleanrooms, laboratories, pharmaceutical plants and operating theatres as well as 
...
Read more...
---
Hygienic diaphragm pressure gauges
December 2018, WIKA Instruments , Pressure Measurement & Control
WIKA has expanded the application range of its hygienic diaphragm pressure gauges with the model PG43SA-S, which is now also available in a version with ATEX approval. The pressure gauge can thus be used 
...
Read more...
---
Analysing pressure peaks
November 2018, Instrotech , Pressure Measurement & Control
Keller's Leo 5 high-resolution digital manometer features precise sensor technology, fast signal processing, peak recording and data storage with a time stamp. Designed for deployment in hostile environments, 
...
Read more...
---
Pressure measurement with dual display
October 2018 , Pressure Measurement & Control
The PSQ series dual digital display pressure sensors from Autonics allow users to monitor both PV and SV readings. The 12-segment LCD display is capable of displaying various alphanumeric characters for 
...
Read more...
---
Flush-mount pressure transmitter
October 2018, ASSTech Process Electronics + Instrumentation , Pressure Measurement & Control
Specifically developed for the supervision of clean rooms, the Kimo CPE 300 transmitter is dedicated to the measurement of low pressure or depression of air or neutral gasses from 0/10 Pa to -1000/ 1000 
...
Read more...
---
Innovative compact orifice plate
October 2018, WIKA Instruments , Pressure Measurement & Control
Compact orifice plates can be used without difficulty for the measurement of liquids, gases and vapours. WIKA's new compact orifice plate Model FLC-CO enables direct mounting of differential transmitters. Differential 
...
Read more...
---
Selecting appropriate pressure gauges
September 2018, SA Gauge , Pressure Measurement & Control
The use of pressure transmitters as the primary source of pressure measurement in sophisticated process applications is very popular. However, as a backup to the electrical readings, and as a local display, 
...
Read more...
---
VEGA launches VIS in South Africa
September 2018, VEGA Controls SA , News
VEGA Controls SA announced the local launch of the VEGA Inventory System (VIS) at a function held at Montecasino on 24 July. With VIS, VEGA combines its expertise in level measurement technology with 
...
Read more...
---
Keller sensors for static and ­dynamic pressures
September 2018, Instrotech , Pressure Measurement & Control
Keller's M5 series, the sensor for static and highly dynamic measurements (up to 50 kHz), represents something unique when considering the operating temperature range (up to 180°C), measurement accuracy 
...
Read more...
---