printer friendly version
Lighting and motion management systems
March 2018
Sensors & Transducers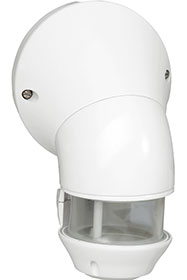 Legrand's lighting and motion management systems encompass a wide range of sensors designed to make buildings more energy efficient by automatically reducing the amount of time lighting is left on unnecessarily. According to the company, reduced lighting consumption not only lowers operating costs, but also reduces lamp replacement and maintenance requirements, and helps decrease greenhouse gas emissions. Motion and lighting management sensors can operate in occupancy mode where lights are automatically switched on or off according to occupancy, or in vacancy mode for additional energy saving, where lights are manually switched on and automatically switched off when the person leaves the area. These sensors can also use passive infrared technology (PIR), ultrasonic or dual technologies.
Suitable for harsh environments
Lighting management sensors are suitable for areas of a building with or without natural light, including passages, corridors, hallways, staircases and restrooms, and also for offices, storage rooms and warehouses. Additionally, these sensors are available with advanced features for installation outdoors and in humid areas of domestic, commercial and industrial buildings.
Legrand's lighting management sensors for controlling a single circuit in outdoor and damp areas with natural light, have an IP55 protection rating to guard against the ingress of dust and water. These sensors have an automatic switch on/off occupancy mode setting and switch off automatically when there is sufficient natural light in the area. There is an adjustable time delay between 5 s and 59 minutes, and a light level threshold from 5 to 1 275 lux.
These PIR wall or ceiling mounted multi lens sensors have 270° infrared detection with 18 m range and 0,7 W standby power consumption. The recommended fixing height is 2,5 m and with the use of an accessory, these units can also be mounted in corners.
Wide variety of options available
Lighting sensors for controlling a single circuit in outdoor and damp areas without natural light have automatic on/off controls, manual adjustment of the light level threshold and time delay via a potentiometer.
PIR direct wall/surface mounting motion sensors, with a recommended 2,5 m fixing height, have 360° infrared detection and an 8 m range. These sensors have adjustable light level thresholds from 10 to 1 275 lux and an adjustable time delay between 10 s and 10 minutes. Standby consumption is 0,75 W.
PIR sensors for wall or ceiling mounting, with a directional head, have a 360° infrared detection and standby consumption of 0,9 W. The light level threshold is adjustable from 1 to 1000 lux and the time delay is between 12 s and 16 minutes. The minimum fixing height is 1,7 m and the optimum distance between sensors is 6 m.
PIR technology direct wall/surface mounted 180° sensors have a front range detection of 6 x 15 m and consumption of 20 mA on standby. Connection to the controller is via a cord or RJ 45 cable.
Legrand's lighting management systems have been designed and manufactured to avoid energy waste as the building only consumes the energy it needs, when it needs it. The solutions for outdoor areas and humid areas also include sensors for managing multiple circuits.
Credit(s)
Further reading:
Reliable laser measurement sensor
June 2021, Turck Banner , Sensors & Transducers
Turck Banner's Q4X600 features reliable sensing over a wide range of distances.
Read more...
---
Air humidity/temperature sensor with IO-Link
June 2021, Turck Banner , Sensors & Transducers
The combination of the two measured variables in a single device makes the CMTH-M12 ideal for use in condition monitoring systems.
Read more...
---
Sensors from ifm electronic monitor industrial cooking processes
June 2021 , Sensors & Transducers
The pasta cooker from Staedler Automation is accurately controlled using sensors from ifm electronic to ensure product quality remains at a high level.
Read more...
---
Memosens 2.0: simple, safe and connected for future-proof applications
June 2021, Endress+Hauser South Africa , Sensors & Transducers
Memosens 2.0 represents the next, future-proof step in the evolution of Endress+Hauser's Memosens technology, while maintaining all of the familiar and well-established advantages.
Read more...
---
Legrand's new P17 Tempra Pro plugs
June 2021, Legrand , Electrical Power & Protection
New to Legrand's range of plugs and sockets is the versatile P17 Tempra Pro range, which has been developed for safe installation in indoor and outdoor environments.
Read more...
---
Networked beer tanks delight both landlords and breweries
May 2021, Instrotech , Sensors & Transducers
Smart transmitters trigger automatic reorders when tanks levels run low.
Read more...
---
Zutari introduces handheld 3D scanning technology
May 2021 , Sensors & Transducers
The scanner is an example of an innovative technology known as simultaneous localisation and mapping.
Read more...
---
PMD Profiler ensures error-free construction of car bodies
April 2021, ifm - South Africa , Sensors & Transducers
A particular challenge emerged in the production of Ford Kuga. The actual work step involves welding a small, completely flat reinforcing sheet onto a larger assembly.
Read more...
---
Compact radar sensor
April 2021, Turck Banner , Sensors & Transducers
Turck Banner's T30R offers more robust detection capabilities and longer range than ultrasonic solutions in a similar package size.
Read more...
---
3D vision for service robots
April 2021, Pepperl+Fuchs , Sensors & Transducers
With its high precision, reliability, and compact size, the R2300 multi-layer scanner tackles mobile service robot applications in an efficient manner.
Read more...
---