printer friendly version
Non-contacting radar level transmitter
February 2018
Level Measurement & Control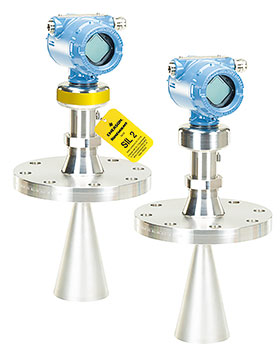 The Rosemount 5408 non-contacting radar level transmitter uses enhanced technology and human centred design to deliver accurate, reliable measurements on both liquid and solid materials. Using two-wire FMCW technology the instrument deploys a continuous echo to maximise radar signal strength and produce a more robust and reliable measurement. Delivering ease of use at every touch point, the 5408 uses an intuitive software interface to guide the operator through installation, commissioning, proof-testing and maintenance. Safety certified to IEC 61508 for SIL 2 applications, the Rosemount 5408:SIS reduces cost of risk, increases efficiency and protects people and the environment.
Application examples
The 5408 and 5408:SIS are ideal for level measurements over a broad range of liquid and solids applications. The transmitters are virtually unaffected by changing density, temperature, pressure, media dielectric, pH, and viscosity. Furthermore, non-contacting radar level is ideal when internal tank obstructions are a limiting factor.
Reactors: the 5408 is ideal for the most challenging applications, including reactors where there can be agitation, foaming, condensation as well as high temperatures and pressures.
Open atmospheric applications: measures reliably in open applications, from short range sumps or ponds to long range dams.
Bulk solids: the ideal solution for small to medium sized silos with rapid level changes. The narrow beam avoids internal obstructions while still keeping good level measurement.
Storage and buffer tanks: provides accurate and reliable level measurement for both metallic and non-metallic vessels containing almost any liquid (e.g. oil, gas condensate, water, chemicals).
Blenders and mixers: withstands the rigors of blenders and mixing tanks. Easy to install and commission, it is also unaffected by virtually any fluid property change.
Still pipe and chamber installations: an excellent choice for level measurement in tanks with still pipes. It may also be used in chambers, but guided wave radar is generally the best fit for these applications.
Safety applications: the R5408:SIS is the ideal choice for safety functions such as overfill prevention, level deviation monitoring or dry-run prevention.
For more information contact Automation & Control Solutions, +27 (0)11 249 6700, rfq@aveng-acs.com, www.aveng-acs.com
Credit(s)
Further reading:
Keller's water level monitoring systems
April 2019, Instrotech , Level Measurement & Control
The Grib Mine, located in Russia's Mezensky District in the Arkhangelsk Oblast, is one of the largest diamond deposits in the world. During winter, temperatures can drop to -25° and sometimes -37°. The 
...
Read more...
---
80 GHz for liquids
April 2019, VEGA Controls SA , Level Measurement & Control
Vegapuls 64 radar level measurement improves efficiency for bitumen supplier.
Read more...
---
Level monitoring and visualisation
March 2019, Morton Controls , Level Measurement & Control
UWT's Nivotec series is designed to make data movement and communication between monitoring and control systems easy and flexible. The Nivotec 2000 and 3500 series are specifically adaptable to customer 
...
Read more...
---
Monitoring the level of molten polyethylene
March 2019, VEGA Controls SA , Level Measurement & Control
More than ever before, the number of car parts made from plastics and plastic composites is on the increase. According to the American Chemistry Council, plastics account for approximately 50% of the 
...
Read more...
---
The next level in dairy applications
February 2019, Endress+Hauser , Level Measurement & Control
Reliable and repeatable tank level measurement proven with 80 GHz technology.
Read more...
---
Digital float switch
February 2019, WIKA Instruments , Level Measurement & Control
As its first instrument of this kind, WIKA has launched a float switch with a PNP/NPN output signal. The model GLS-1000 detects the level of liquids with an accuracy of 1 mm or less. The digitised float 
...
Read more...
---
Effective level sensors
February 2019, GHM Messtechnik SA , Level Measurement & Control
Val.co offers a range of affordable and effective level sensors that have applications across all sectors of industry, but that benefit, in particular, the tank building sector. The range includes small 
...
Read more...
---
Contents measurement in silos
January 2019, Morton Controls , Level Measurement & Control
Each industry provides its own challenges with regard to accurate process control. In the mining and metal processing industry, accurate level measurement is a challenge due to the increased volume of 
...
Read more...
---
A wavelength for all situations
January 2019, Endress+Hauser , Level Measurement & Control
113 GHz: the best fitting radar frequency for every level application.
Read more...
---
SIL2 for UWT's rotating paddle ­series
October 2018, Morton Controls , Level Measurement & Control
The terms 'functional safety' and 'safety integrity level' (SIL) have occurred more frequently since the publication of the international standard IEC 61508/IEC61511. Particularly in systems with hazard-causing 
...
Read more...
---