printer friendly version
Secure liquid level detection
February 2018
Level Measurement & Control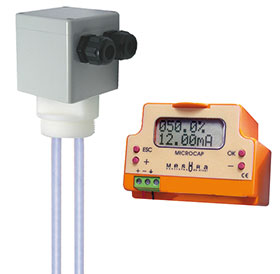 Kobold has capacitive level indicators, type NMC, specifically designed to measure liquid levels in tanks. They consist of a measuring probe and a connecting head with a plug-in evaluation module. Depending on the operating conditions, different probes are available:
• NMC-N: Standard version with metal tanks inserted, their walls undertaking the task of a second electrode. It is applicable for fluid foods as well as for different waters.
• NMC-S: The two probe sensor for non-metal tanks for operation in aggressive media.
• NMC-T: Especially for operation in non-metal holding tanks and media of lower conductivity, the designed probe consists of an interior probe and a surrounding pipe of stainless steel serving as a reference electrode.
• NMC-H: The electronics of one stick probe of stainless steel is thermally insulated by a special intermediate piece so that the sensor technology can easily handle up to 125°C.
Working principle
The measuring system is based on the capacitive measuring method. The probe and the tank wall, or the second electrode, form the plates of a capacitor; the medium in the tank is the dielectric fluid. The capacity depends on the medium. The more the medium touches the measuring probe, the higher the capacity. This change is detected by the plug-in evaluation module and transformed into a percentage display or a 4-20 mA signal. As there are no movable parts, the unit operates almost wear-free. Lengths of PTFE coated measuring probes of stainless steel can be freely chosen up to 4000 mm. Problematic apertures at holding tank base or at the side can be avoided by virtue of a simple and secure assembly from top. Fields of application include:
• Water or water-like liquids.
• Liquid food.
• Chemicals and aggressive liquids.
• Oils.
For more information contact Instrotech, +27 (0)10 595 1831, sales@instrotech.co.za, www.instrotech.co.za
Credit(s)
Further reading:
Miniature IR thermometer for plastic film
May 2019, Instrotech , Pressure Measurement & Control
Temperature is a key physical variable for ensuring quality in the production of plastic film. The application of non-contact temperature measurement technology poses the challenge that films with a thickness 
...
Read more...
---
Leak detection in coal-fired power stations
Africa Automation Fair 2019 Preview, Instrotech , Sensors & Transducers
Instrotech's advanced acoustic leak detection system, Inspecta FFT, can detect boiler tube leaks in coal-fired utilities and in oxygen plants and gasifiers. The technology and equipment is in use in power 
...
Read more...
---
Continuous level measurement
Africa Automation Fair 2019 Preview, Morton Controls , Level Measurement & Control
The Nivobob series from Morton Controls is used for continuous level measurement within bulk storage silos and for interface measurement of sludge beds. The system is immune to dust, dielectricity, conductivity, 
...
Read more...
---
Miniature multi-turn encoder
May 2019, Instrotech , News
Modern industrial applications demand innovative designs featuring high performance, precise information and smaller component footprints. To this end, Instrotech now offers the Scancon miniature absolute 
...
Read more...
---
A range of level sensors
Africa Automation Fair 2019 Preview, GHM Messtechnik SA , Level Measurement & Control
GHM Messtechnik has available the Val.co range of affordable and effective level sensors that have application across all sectors of industry, especially tank building. The range includes small float 
...
Read more...
---
Pyrometer with automatic spot finder
Africa Automation Fair 2019 Preview, Instrotech , Temperature Measurement
The Optris infrared Xi series is a fusion between a robust, compact pyrometer and an advanced IR camera. The integrated spot finder function enables accurate temperature measurements in moving objects 
...
Read more...
---
Keller's water level monitoring systems
April 2019, Instrotech , Level Measurement & Control
The Grib Mine, located in Russia's Mezensky District in the Arkhangelsk Oblast, is one of the largest diamond deposits in the world. During winter, temperatures can drop to -25° and sometimes -37°. The 
...
Read more...
---
80 GHz for liquids
April 2019, VEGA Controls SA , Level Measurement & Control
Vegapuls 64 radar level measurement improves efficiency for bitumen supplier.
Read more...
---
Insertion resistance thermometers
April 2019, Instrotech , Temperature Measurement
Instrotech is offering Kobold's MMA range of industrial temperature probes, or insertion resistance thermometers, with or without transmitter. The MMA is engineered using 316 stainless steel and incorporates 
...
Read more...
---
Low volume rotating vane flowmeter
April 2019, Instrotech , Flow Measurement & Control
Instrotech is offering Kobold's DTK rotating vane flowmeter for small quantities, a versatile, efficient and very economic piece of equipment. This flowmeter was specially developed for use in low viscosity 
...
Read more...
---