printer friendly version
Proline Promass Q 300/500
February 2018
Mass Measurement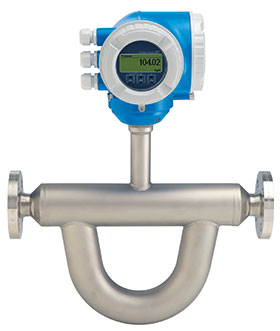 Whether in custody transfer or meeting stringent product quality requirements, superior measuring accuracy is essential in many industrial applications. Historically, high accuracy levels were only achievable under ideal circumstances, meaning stable process conditions and true single-phase homogeneous fluids. In the real world, however, these ideal conditions do not often exist. The Promass Q Coriolis flowmeter has been developed exactly for such applications in the food as well as the oil and gas industries.
Promass Q guarantees unmatched accuracy for mass flow, volume flow and density determination under frequently changing process conditions for:
• Highly accurate fluid density and concentration determination for product quality in the food industry.
• Highest accuracy and repeatability for custody transfer in mass or volume units in the oil and gas industry.
Multi-frequency technology for fluids with entrained gas
Measurement errors, no matter whether they are due to desired or unintentional air entrainment, are now a thing of the past. Promass Q, with its revolutionary multi-frequency technology (MFT) allows a real-time and active compensation of measuring errors due to fluids containing suspended bubbles or even micro bubbles.
The MFT allows an accurate measurement of various gas entrained fluids such as:
• Ice cream, cream cheese, milk, honey, jam, etc.
• Viscous heavy crudes, gas-saturated fluids, etc.
Additional benefits include:
• Exceptional density measurement performance.
• Wide useable flow range.
• Superior repeatability.
• Low sensitivity to changing process pressure/temperature.
• Small and light.
Transmitter technology for seamless system integration
Promass 300/500 makes no compromises in performance and accuracy. Digital signal processing starts right at the intelligent sensor and is the base for a truly multivariable measuring device: Mass flow, volume flow, density and temperature can be measured with one single sensor. With its variety of digital protocols (EtherNet/IP, Modbus RS- 485, Profibus DP, Profinet, FF, HART and WirelessHart) as well as freely configurable analog outputs, Promass Q 300/500 fulfils all expectation for seamless system integration.
Heartbeat Technology: feeling the pulse of a process
The onboard diagnostics and Heartbeat Technology ensure maximum product and process safety, allowing sensor, measuring tubes and electronics to be verified without process interruption. In the case of a sensor or electronic problem, text remedy instructions are provided. The data handling concept (HistoROM) makes the exchange of spare parts easy and reduces downtime, while calibration data and transmitter parameters are stored and automatically reloaded after a maintenance event.
Wireless access to all device data
The Proline 300 dual chamber housing eliminates the need to open the electronic housing during commissioning. For parameter changes or troubleshooting the web server allows the user to connect with the device through a standard laptop computer either via cable or wirelessly with any WLAN enabled device, without any additional tools or software. Furthermore, a fully graphical display with touch control, either built-in or remote, is available for full field access.
For more information contact Frans van den Berg, Endress+Hauser, +27 (0)11 262 8000, frans.vandenberg@za.endress.com, www.za.endress.com
Credit(s)
Further reading:
What does digitalisation mean for food product safety?
Endress+Hauser South Africa IT in Manufacturing
Product safety remains a vital topic for achieving food security across the globe. To date, many manufacturers still question whether digitalisation can help reduce the effort involved in process optimisation, production monitoring and system installation.
Read more...
---
IS interface for signal processing
Endress+Hauser South Africa IS & Ex
Endress+Hauser's RN series interface modules power the foundation of measurement instrument loops and safety instrumented systems.
Read more...
---
Digital transformation in mining
Endress+Hauser South Africa IT in Manufacturing
The mining industry is in a prime position to benefit from the adoption of digital technology across its operations.
Read more...
---
Temperature profiling in hydro processing units
Endress+Hauser South Africa Temperature Measurement
Precise and reliable temperature mapping of densely packed reactor catalyst beds makes an essential contribution to stable and profitable unit operations.
Read more...
---
Endress+Hauser integrates concentration measurement specialist
Endress+Hauser South Africa News
SensAction was founded in 2008 and has been part of the Endress+Hauser Group since 2017.
Read more...
---
Endress+Hauser honours its inventors
Endress+Hauser South Africa News
More than 500 inventors gathered virtually for Endress+Hauser's 21st Innovators' Meeting.
Read more...
---
Inventory management for LNG
Endress+Hauser South Africa IS & Ex
Endress+Hauser's innovative instrumentation and advanced inventory management solutions for LNG storage tanks ensure safe operation of plant and high levels of inventory transparency.
Read more...
---
Ready for use anywhere
Endress+Hauser South Africa Level Measurement & Control
The first 2-wire loop-powered compact transmitter enters the market.
Read more...
---
Smart solutions for digital transformation
Endress+Hauser South Africa IT in Manufacturing
Endress+Hauser fully embraces industrial digitalisation by applying new technology and communications, while leveraging its profound application expertise and know-how.
Read more...
---
Top rating for sustainability
Endress+Hauser South Africa News
Endress+Hauser improves further in independent EcoVadis audit.
Read more...
---