printer friendly version
Wireless telemetry gives better control of irrigation systems
November 2017
Industrial Wireless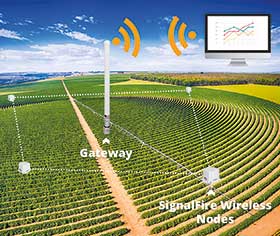 A critical component of farm operations, irrigation systems ensure regular water distribution to crops using a system of pumps, piping and sprayers. As water becomes a more scarce resource and affects operational costs, farmers must find more precise ways to manage agricultural irrigation systems to help conserve water supplies, while also operating more profitability.
On many farms, monitoring the irrigation system remains a manual chore. Workers travel throughout the many acres of the farm to perform manual checks on meters and then record and aggregate measurements to determine the status of operations. In some cases, farms do not have meters and rely on sight to decide if operations seem to be working correctly. As a result, farm operators cannot readily identify potential issues with pressures in spray nozzles that disperse chemicals over crops or an abnormally high electric current draw from pumps. The bottom line is: they do not even know how much water or chemicals are being used to feed crops. As agriculture is a large consumer of the earth's freshwater supply, farmers must employ better management practices to operate their irrigation systems.
A SignalFire Remote Sensing System (SFRSS) gives farmers and water districts the ability to monitor and control different factors of the irrigation system from the convenience of a tablet, computer or even a mobile phone. Instead of travelling to multiple locations to collect data for analysis, the SFRSS can provide real-time status on water pressure, pump usage, pump water flow, water tank levels and other critical operating parameters. Using this data, farmers can analyse trends, determine smart irrigation based on weather conditions and calculate and analyse water usage and costs. An irrigation dashboard also supports more accurate planning of maintenance, based on equipment condition.
The SFRSS configuration
The SFRSS employs radio nodes to extract and transmit data from sensors to a gateway that serves as the central processing hub. Fuelled by built-in batteries or solar power, the nodes power the sensors for a truly wireless system. The gateway delivers the information to an off-the-shelf supervisory system using Modbus protocol over Ethernet.
Sensor agnostic, the SignalFire wireless telemetry system, allows farm operators to specify different sensor types to monitor an agricultural irrigation system. Farms can use pressure sensors to track pump and spray nozzle pressure, electric clamp-on current meters to measure the pump current, flowmeters to measure water and chemical usage and level sensors to monitor the levels of water storage tanks, all in one network.
Because the solution works as a mesh, nodes can hop over kilometres of distance, from one crop field to another, and back to a gateway located at the point of monitoring such as the headquarters of the irrigation district. An Ethernet interface module connects the gateway to a local area network, and a WiFi network, or a cellular modem, brings the information to the field operators.
In a farming environment, a wireless system must be able to spread over many square kilometres. The mesh network of the SFRSS permits many wireless devices to self-configure into a web-like structure over large areas regardless of hills, buildings and other structures. Robust gateways can accommodate hundreds of transceiver inputs from the multiple field sensors, enabling the network to cover a geographic range of a mega farm of 10 000 acres.
Using the SFRSS to monitor and control farm irrigation system operations, farmers can cost effectively:
• Use a broad range of sensors to assess different operating parameters.
• Broadcast information over long ranges.
• Download and integrate sensor data to a PLC within a control room.
• Conduct analytics to improve irrigation system operation and water efficiency.
• Reduce costs by operating with lower water supplies.
• Ensure compliance with regulations regarding water usage.
• Verify correct billing of water usage.
• Comply with environmental sustainability.
By implementing the SFRSS, farmers gain better control and visibility over the operations of their irrigation systems to save money while using water more responsibly.
For more information contact SignalFire Wireless Telemetry, +1 978 212 2868, info@signal-fire.com, www.signal-fire.com
Further reading:
Long range wireless communication for air instrumentation
Technews Industry Guide: Industrial Internet of Things & Industry 4.0, Artic Driers , Industrial Wireless
Artic Driers in association with Suto iTEC of Germany have launched a long range wireless communication system for the comprehensive range of compressed air instrumentation marketed by Artic. Wireless 
...
Read more...
---
Using IS phones or tablets for barcode scanning
Technews Industry Guide: Industrial Internet of Things & Industry 4.0, Extech Safety Systems , Industrial Wireless
Extech Safety Systems worked with Mobexx in the UK to develop the mobXscan mobile application for barcode scanning with mobile devices. The application (https://mobxscan.com) has been released for Windows 
...
Read more...
---
Bluetooth low energy IoT development kit
July 2019, RS Components SA , Industrial Wireless
RS Components is now offering the Bluetooth Low Energy IoT Development Kit (B-IDK) from ON Semiconductor. Based on the industry's lowest power Bluetooth Low Energy radio System-on-Chip (SoC), the modular 
...
Read more...
---
Linearise all your signals
July 2019, Omniflex Remote Monitoring Specialists , Industrial Wireless
Signal conditioners have progressed over the years to become mainstream protection front ends for PLC and DCS control systems. They provide signal isolation and protection from the harsh plant conditions 
...
Read more...
---
Adroit brings M2M, IoT and IIoT to the industrial world
June 2019, Adroit Technologies , Industrial Wireless
Combining the new IIoT capability with GIS interfaces, situational awareness and alarm management data, all can use the big data and analytical processing capability of Adroit's standard scada Intelligence software package to derive greater insights and value from their processes.
Read more...
---
Wireless networks for AGV systems
June 2019, RJ Connect , Industrial Wireless
In order for factories to perform their tasks efficiently and optimise production, automated material handling (AMH) systems, such as AS/RS and AGVs, need the flexibility to move around on their designated 
...
Read more...
---
Merging control and telemetry
June 2019, Omniflex Remote Monitoring Specialists , Industrial Wireless
Wireless telemetry and control in plants have become a necessity with the data acquisition requirement of modern plant control to lift performance and compliance. In-plant cabling costs often push the 
...
Read more...
---
Managing complexity in wireless environments
June 2019, Axiz , Industrial Wireless
In the decades since its infancy, wireless networking has undergone tremendous shifts, opening an avenue for enterprise wireless Internet consumption. The advances in speed, coupled with the sheer convenience 
...
Read more...
---
Mobility for Industry 4.0 ­challenges
Africa Automation Fair 2019 Preview, Pepperl+Fuchs , Industrial Wireless
The Tab-Ex 02 series of tablets from Pepperl+Fuchs has innovative features that make Industry 4.0/IIoT applications easy to implement.    The DZ1 version ecom has a range of applications that are unique 
...
Read more...
---
Hazardous area access point
Africa Automation Fair 2019 Preview , Industrial Wireless
Bartec's Wireless X is a small, light wireless access point, eliminating the need for bulky, heavy enclosures and external antennas. On show at Stand G13, it has both IECEx and ATEX Zone 1 certification. 
...
Read more...
---