printer friendly version
Emerson introduces wireless gas monitor
November 2017
Industrial Wireless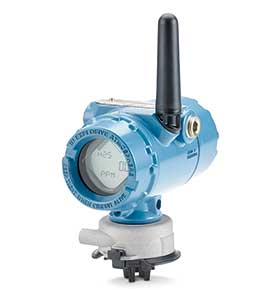 In response to the critical need for monitoring of toxic hydrogen sulphide gas in wellheads, tank farms, and other remote locations, Emerson has introduced its first fully integrated wireless gas monitor. The Rosemount 928 is a fully integrated WirelessHART toxic gas monitoring solution, which significantly improves safety in areas and applications that were previously considered to be too expensive and difficult to monitor due to remote or difficult-to-access locations.
Workers approaching sites like wellheads and remote tank batteries for maintenance are constantly in danger of exposure to unplanned releases of toxic gas. Monitoring these sites with conventional wired gas detection systems is often cost-prohibitive or logistically impossible. The installation, wiring, and commissioning costs for each additional wired device can add tens of thousands of dollars to the instrument's total installed cost. As a result, operators have been forced to rely on portable gas monitoring devices which provide no early warning or personnel safety, or even worse, carry on with no gas monitoring at all.
The Rosemount 928 gas monitor integrates into a WirelessHART network, eliminating wiring and dramatically reducing installation, commissioning and maintenance costs. Once integrated into the wireless network, personnel simply check the status of the remote monitoring system to know if a maintenance trip is safe.
In addition, it includes a power module and the Rosemount 628 toxic gas sensor that is both intrinsically safe and can be replaced in the field in minutes without the need for tools. The Rosemount 628 is a smart sensor module, meaning that calibration information is stored within the sensor, not the transmitter. This allows users to calibrate the sensor in a non-hazardous location and carry it into the field for quick exchanges with installed sensors. This further enhances the safety of personnel by minimising their time spent in potentially hazardous locations.
According to Sean McLeskey, product manager, flame and gas detection, Emerson Automation Solutions, "The need for hydrogen sulphide monitoring at these challenging locations is critical. The fact that companies can now so easily solve what has been such a challenging problem is a testament to the power of wireless technology. For current users of wireless solutions, or those considering a move to wireless, the Rosemount 928 is another step in the commitment to increasing safety at their facilities."
For more information contact Rob Smith, Emerson Automation Solutions, +27 (0)11 451 3700, rob.smith@emerson.com, www.emerson.com
Credit(s)
Further reading:
Long range wireless communication for air instrumentation
Technews Industry Guide: Industrial Internet of Things & Industry 4.0, Artic Driers , Industrial Wireless
Artic Driers in association with Suto iTEC of Germany have launched a long range wireless communication system for the comprehensive range of compressed air instrumentation marketed by Artic. Wireless 
...
Read more...
---
Emerson's digital ecosystem empowers top quartile performance
Technews Industry Guide: Industrial Internet of Things & Industry 4.0, Emerson Automation Solutions , IT in Manufacturing
Plantweb provides new mobility and decision-support technologies.
Read more...
---
Using IS phones or tablets for barcode scanning
Technews Industry Guide: Industrial Internet of Things & Industry 4.0, Extech Safety Systems , Industrial Wireless
Extech Safety Systems worked with Mobexx in the UK to develop the mobXscan mobile application for barcode scanning with mobile devices. The application (https://mobxscan.com) has been released for Windows 
...
Read more...
---
New manifold valve design for pressure transmitters
July 2019, Emerson Automation Solutions , Valves, Actuators & Pump Control
Emerson has introduced a new manifold product family for its Rosemount pressure transmitters. Manifolds shut off or equalise pressure at the transmitter and also provide the critical mounting mechanisms 
...
Read more...
---
Bluetooth low energy IoT development kit
July 2019, RS Components SA , Industrial Wireless
RS Components is now offering the Bluetooth Low Energy IoT Development Kit (B-IDK) from ON Semiconductor. Based on the industry's lowest power Bluetooth Low Energy radio System-on-Chip (SoC), the modular 
...
Read more...
---
Linearise all your signals
July 2019, Omniflex Remote Monitoring Specialists , Industrial Wireless
Signal conditioners have progressed over the years to become mainstream protection front ends for PLC and DCS control systems. They provide signal isolation and protection from the harsh plant conditions 
...
Read more...
---
Adroit brings M2M, IoT and IIoT to the industrial world
June 2019, Adroit Technologies , Industrial Wireless
Combining the new IIoT capability with GIS interfaces, situational awareness and alarm management data, all can use the big data and analytical processing capability of Adroit's standard scada Intelligence software package to derive greater insights and value from their processes.
Read more...
---
Emerson acquires KNet software
June 2019, Emerson Automation Solutions , News
Emerson has announced the acquisition of KnowledgeNet (KNet) software from Tunisia-based Integration Objects. KNet's unique analytics application software accelerates digital transformation initiatives 
...
Read more...
---
Wireless networks for AGV systems
June 2019, RJ Connect , Industrial Wireless
In order for factories to perform their tasks efficiently and optimise production, automated material handling (AMH) systems, such as AS/RS and AGVs, need the flexibility to move around on their designated 
...
Read more...
---
Merging control and telemetry
June 2019, Omniflex Remote Monitoring Specialists , Industrial Wireless
Wireless telemetry and control in plants have become a necessity with the data acquisition requirement of modern plant control to lift performance and compliance. In-plant cabling costs often push the 
...
Read more...
---