printer friendly version
Ultrasonic flowmeter for superheated steam
November 2017
Flow Measurement & Control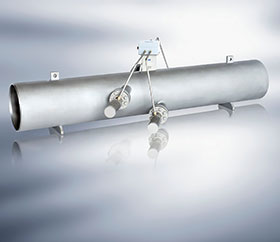 Krohne's Optisonic 8300 represents a dedicated ultrasonic flowmeter for the measurement of superheated steam. The 2-beam instrument stands out with a measuring accuracy of 1%, high repeatability, and a large dynamic measuring range. Typical applications include boiler and plant efficiency monitoring in power plants, energy balancing or inter-company steam billing.
As downtime of steam pipes is very costly and must be avoided, the 8300 was built for long-term use. It features a full bore flow sensor without moving parts or obstructions, and an overall sturdy and robust construction with no cables or sensitive parts exposed. Therefore, it can uphold its measuring accuracy without maintenance or subsequent calibration for up to 20 years, while keeping operating costs at a minimum. If verification of the measuring accuracy should become necessary, it can be provided by using the flowmeter diagnostics, without removing the flowmeter. With nominal sizes ranging from DN 100-1000, the new flowmeter is particularly suited to high flow rates. Pressure rating up to 200 bar and temperature rating up to 540°C are available, with higher requirements on request. With temperature and pressure sensors connected to the device, the integrated flow computer can calculate steam mass flow. Optisonic 8300 adds to Krohne's portfolio of ultrasonic process and custody transfer meters for liquids and gases, ranging from compressed air to liquid natural gas.
For more information contact Clayton Duckworth, Krohne SA, +27 (0)11 314 1391, c.duckworth@krohne.com, www.za.krohne.com
Credit(s)
Further reading:
Systematic flow metering
July 2019, Siemens Digital Industries , Flow Measurement & Control
Aguas de Saltillo, the water utility company which serves the Mexican city of Saltillo, is responsible for supplying drinking water to a population of around 850 000. To ensure a reliable supply to this 
...
Read more...
---
Water regulation made easy
July 2019, Instrotech , Flow Measurement & Control
Kobold's REG mechanical flow restrictors and rate regulators, with their simple yet effective functionality, are ideally suited to consumer applications and uniform supply to multiple consumers. Once 
...
Read more...
---
Accurate flow and mass measurement
July 2019, Actum Industrial , Flow Measurement & Control
Measurement of flowing media containing solids and particles poses a great challenge in the mining industry, due to the damage caused to inline flowmeters. The installation of inline flowmeters can be 
...
Read more...
---
What is the next big thing in Coriolis mass flowmeters?
June 2019, KROHNE , Mass Measurement
With such fast moving technology it can be difficult to forecast the 'next big thing', but it is possible to focus on two recent developments that look set to influence the market in the near future: high capacity flowmeters; and the ability of Coriolis meters to measure liquids with entrained gas.
Read more...
---
Accurate bulk flow measurement in the cement industry
June 2019, SICK Automation Southern Africa , Flow Measurement & Control
The rapid development of sensor technology provides cement producers with a toolbox of solutions to optimise performance and strengthen market presence. Non-contact volume flow measurement of conveyed 
...
Read more...
---
Flow sensor for liquid media
June 2019, Festo , Flow Measurement & Control
The new flow sensor SFAW from Festo is ideal for monitoring cooling circuits, for example in welding guns in the automotive industry as well as in front-end applications in the semiconductor and electronics 
...
Read more...
---
Electromagnetic flowmeters
Africa Automation Fair 2019 Preview, Dupleix Liquid Meters (DLM) , Flow Measurement & Control
Badger Meter's electromagnetic flowmeters are ideally suited for flow measurement of all liquids with a minimum conductivity of 5 μS cm. The flow measurement is independent of density, temperature and 
...
Read more...
---
Flowmeters for clean liquids and gases
Africa Automation Fair 2019 Preview, WIKA Instruments , Flow Measurement & Control
Venturi tubes such as WIKA's model FLC-VT are reliable, easy to use and low maintenance.    They are particularly suitable for the measurement of clean liquids and gases. The main advantages of a Venturi 
...
Read more...
---
Industrial gas flowmeters
Africa Automation Fair 2019 Preview, Mecosa , Flow Measurement & Control
The IN-FLOW mass flowmeters and controllers by Bronkhorst High-Tech are of rugged design according to IP65. Showcased at Stand D08, the instruments are available for flow ranges from 0,05 to 1 mln/min 
...
Read more...
---
New flowmeter for biogas
May 2019, KROHNE , Flow Measurement & Control
The new Optisonic 7300 Biogas ultrasonic flowmeter from Krohne has been specially designed to measure dry and wet biogas with variable composition. The meter provides additional functions, like calculation 
...
Read more...
---