printer friendly version
Special valves for steam systems
November 2017
Valves, Actuators & Pump Control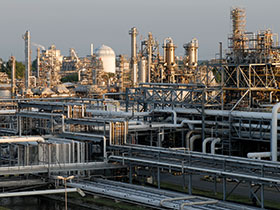 At its production site in Stade, Germany, the Dow Chemical Company operates a state-of-the-art gas and steam turbine power plant which produces not only power but also thermal energy for operating the chemical plants. Due to power/heat cogeneration, efficiency rates of more than 80% can be reached. A fuel mix based of hydrogen and natural gas is used in order to generate power and steam. The hydrogen is a by-product of the electrolysis system at the plant and combusts in a fully climate-neutral manner when it is burned. In the field of steam distribution, Dow uses the extremely robust segment disc valve from Schubert & Salzer. This special valve is characterised by excellent control precision, long-term tightness and almost completely wear-free attributes.
The design principle of segment disc valves
The central throttle device of this control valve is two discs with segmented openings which slide on one another and seal against each other. The discs are positioned vertically in the valve housing, facing the direction of flow. A moving disc is placed upon a rotationally fixed one, the geometry of which determines the throughput capacity and characteristic curve. These two discs have the same number of segments and the moving disc is rotated via a pushrod which is tangentially inserted. Consequently, the cross section of the free segment passage changes when a control intervention is made.
Irrespective of the pending pressure differential, the moving segment disc is pressed onto the fixed disc via a spring package. This ensures that the direction of flow is variable and that the valve can be installed in any desired location. Due to the fact that there are no metal seats with ring-shaped contact surfaces, no grooves will occur which can rapidly lead to leaks in traditional steam valves. Leakage ratios amounting to <0,001% of the Kvs value are constantly achieved with this significantly less vulnerable surface seal.
Thanks to this special design, segment disc valves are one of the few valve types able to combine control precision and a high level of tightness, even in extreme conditions and which also experience hardly any wear.
The standard segment disc valves are available in finely graduated intervals of between DN 25 and DN 300 – and go up to DN 800 where necessary – in an intermediate flange design for nominal pressures up to PN 25. They can be used for media temperatures ranging between 60 and 220°C (higher temperatures and nominal pressures available on request). These robust valves have a rangeability of 60:1.
Steam system reliably controlled for many years
The compact design, the comparatively low weight and the therefore easier handling as well as the minimised space requirements, even when dealing with large nominal sizes were, in addition to the high control precision and the high long-term tightness, the primary reasons for installing these valves at the Dow facility in Stade. The segment disc valve has been in continuous operation at the power plant since 2004, where it protects a 2,5 bar low pressure steam line against overpressure by safely discharging excess steam into the atmosphere. A silencer ensures that the permissible noise pressure level is not exceeded.
In recent years, the only part which needed to be replaced was a gland packing. According to information provided by the operator, the valve is still completely leak-tight, even after nearly 13 years in operation.
For more information contact Kamil Maharaj, Macsteel Fluid Control, +27 (0)31 581 7800, kamil.maharaj@macfluid.co.za, www.macsteel.co.za
Credit(s)
Further reading:
Schubert & Salzer in control at PVS
May 2019, Macsteel Fluid Control , Valves, Actuators & Pump Control
Belgium-based PVS Chemicals produces extremely pure chemicals for use in the semiconductor industry. One of the company's outstanding innovations is the production of ultra-pure sulphuric acid. As the 
...
Read more...
---
Ball sector valves and sliding gate valves
Africa Automation Fair 2019 Preview, Macsteel Fluid Control , Valves, Actuators & Pump Control
Macsteel Fluid Control is exhibiting ball sector valves and sliding gate valves from Schubert & Salzer Control Systems at Stand D17.    The robust, efficient ball sector valves are capable of very precise 
...
Read more...
---
Actuators for precise positioning
Africa Automation Fair 2019 Preview , Valves, Actuators & Pump Control
Beck actuators provide precise positioning of valves, dampers, fluid couplings and other final control elements.    Unlike pneumatic and conventional electric actuators, they can withstand continuous 
...
Read more...
---
Valve island with CoilVision technology
Africa Automation Fair 2019 Preview, Hydramatics Control Equipment , Valves, Actuators & Pump Control
Camozzi Automation's Series D valve island has the ability to combine two different valve sizes in the same island with the help of only one initial electric part, bringing important benefits in terms 
...
Read more...
---
Speedy, reliable mA loop valve testing
Africa Automation Fair 2019 Preview, Comtest , Valves, Actuators & Pump Control
Fluke's new 710 mA loop valve tester allows technicians to source the 4-20 mA signal while it interrogates HART data to collect critical information about a valve's position and status, providing quick 
...
Read more...
---
Extended valve offering
Africa Automation Fair 2019 Preview, Metso South Africa , Valves, Actuators & Pump Control
Flow control specialist, Metso is showcasing the latest additions to its offering for the process industries, as well as the most comprehensive line of control valves available on the market today. Pay 
...
Read more...
---
New Rotork master station for valve actuator control
May 2019 , Valves, Actuators & Pump Control
Rotork has launched the latest generation of its monitoring and control system for valve actuators and plant equipment. Suitable for use in all industries, the Rotork Master Station is capable of operating 
...
Read more...
---
RS Components introduces Fluke valve tester
May 2019, RS Components SA , Valves, Actuators & Pump Control
RS Components has announced availability of the Fluke 710 mA Loop Valve Tester, which is an easy-to-use tool that greatly simplifies the testing of control valves, enabling the quick measurement of critical 
...
Read more...
---
The evolution of partial stroke testing
April 2019, Valve & Automation , Valves, Actuators & Pump Control
The failure of these valves in crucial moments can be catastrophic, potentially rendering useless a Safety Instrumented System (SIS), put in place to reduce the possibility of an accident. Though static 
...
Read more...
---
Stafsjö introduces Linak electric actuator
April 2019, Valve & Automation , Valves, Actuators & Pump Control
Linak's electric actuator is a compact maintenance-free unit for on/off operations with a speed of 7-11 mm/sec. It is available as standard in a 24 V DC version but it can also work on 230 V AC or 120 
...
Read more...
---