printer friendly version
Becker Mining's turnkey proximity detection systems
November 2017
IS & Ex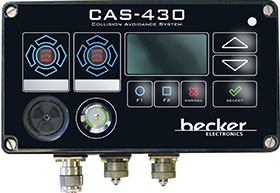 Becker Mining South Africa provides turnkey proximity detection systems (PDS), as well as tagging and tracking and related communication systems, which comply with stringent mining health and safety regulations.
The company has developed advanced proximity detection systems for nearly 20 years, which have significantly improved safety on the mines. Becker's modular PDS solutions are designed to prevent potential collisions during the operation of vehicles in the proximity of personnel on the surface, or underground.
"The company's latest patented tri-technology PDS solutions – which range from a simple, low-cost single technology system, to integrated multi-technological solutions – encompass all aspects of the most advanced mining communications and technology," states Andrew Trentelman, senior general manager electronics, Becker Mining South Africa. "Becker's patented tri-technology point of detection system is the only system available globally that combines three technologies, UHF, radar and electromagnetic, into one scalable system."
Bidirectional notification and early warning messaging alerts vehicle operators and personnel to the presence of each other, and to stationary or moving vehicles in close proximity, thus enhancing safety in arduous underground conditions.
Becker's latest PDS controller, which is the interface between the vehicle operator and multiple detection sensors mounted around the vehicle, provides various alert mechanisms for operators. These include cabin lighting and alert tones that are selected to suit exact requirements.
The system comprises customisable caution, warning and critical zones. Detection zone threshold distances are set according to specific requirements, covering small and large vehicles.
Tri-technology guarantees reliable communications
Becker's advanced solutions prevent electromagnetic interference, by transmitting data packets across the generated H field. Data received is recognised as a system tag and not an environmentally generated signal that could cause unnecessary warnings.
The tri-technology tag, which supports accident investigation and multi-mode operation, is compatible with Becker's tagging systems and communications networks. This tri-axis electromagnetic receiver ensures reliable detection by the system, regardless of the tag or miner's position.
Vehicle tags are self-powered RF devices that ensure the presence of a vehicle continues to be broadcast, even if the ignition has been turned off or the battery has been isolated. Control tags transmit specific commands to PDS controllers and miner tags, also providing alerts when entering a restricted or hazardous area.
Advanced self­diagnostic functionality provides continuous monitoring of all peripherals connected to the system, to ensure equipment is functioning correctly. The operator is immediately warned if a device stops responding to the PDS controller.
Becker Mining's high performance, fit for purpose solutions for underground and surface mining installations, include Leaky Feeder, Wi-Fi, tagging and tracking, as well as environmental monitoring PDS solutions.
In addition to communications solutions, Becker also offers IS and flameproof underground electrical reticulation products, as well as fluid transfer, rigging and rope attachment systems. An important feature of these systems is that they are designed to facilitate future upgrades.
For more information contact Andrew Trentelman, Becker Mining South Africa, +27 (0)11 617 6300, info@za.becker-mining.com, www.za.becker-mining.com
Credit(s)
Further reading:
Safety laser scanner for outdoor ­applications
July 2019, SICK Automation Southern Africa , IS & Ex
SICK Automation has launched another global innovation: the first safety laser scanner certified to IEC 62998 for use in outdoor applications. The outdoorScan3 allows automated guided vehicle systems 
...
Read more...
---
Control and report in hazardous areas
July 2019, Pepperl+Fuchs , IS & Ex
Installers expect quick and on-demand delivery from their electrical equipment suppliers, even for apparatus for hazardous areas. The carefully considered ability to configure many housing and control 
...
Read more...
---
Mobile application for barcode scanning
Africa Automation Fair 2019 Preview, Extech Safety Systems , IS & Ex
Extech is exhibiting the mobXscan app for use in hazardous areas, which adds the capability of barcode scanning to any Windows 10 tablet or Android device. It can be seen at Stand E03. It uses the built-in 
...
Read more...
---
Safety on the pistes
May 2019, Siemens Digital Industries , IS & Ex
Inauen Schätti, a construction company whose areas of specialism include ropeways, is working to improve piste safety for skiers. As part of a pilot test project on the Parpaner Rothorn mountain, the 
...
Read more...
---
Safety technology to improve ­flexibility
May 2019, AC/DC Dynamics , IS & Ex
The new Datalogic concept for robot evolution expects to overtake the competition. Following demanding safety regulations, outdated isolated robotic cells are now replaced with robot-like parts of industrial 
...
Read more...
---
Drone-based gas leak detection
May 2019, ABB South Africa , IS & Ex
Leaks in gas distribution and transmission pipelines present serious safety risks and result in lost revenue and profits to producers. The ABB Ability mobile gas leak detection system is a digital solution, 
...
Read more...
---
Conveyor system fire prevention
May 2019, R&C Instrumentation , IS & Ex
The transport of materials is a key activity for most industries. For many of these tasks, conveyor belt systems offer a cost effective and efficient solution. However, with such a system comes a high 
...
Read more...
---
LSIS achieves Ex rating for HMI range
Africa Automation Fair 2019 Preview, Ana-Digi Systems , IS & Ex
LSIS is rolling out Ex certification for its entire range of HMIs. These products now carry a rating which allows for a maximum pollution degree 2 level. Mounting the HMIs into an IP54 enclosure ensures 
...
Read more...
---
Equipment for hazardous areas
Africa Automation Fair 2019 Preview, Extech Safety Systems , IS & Ex
Extech Safety Systems is showcasing Sensear digital communication and active listening headsets and earplugs at Stand E03. These are for use in high noise and hazardous environments. Sensear's patented 
...
Read more...
---
Solutions for the Ex automation industry
Africa Automation Fair 2019 Preview, Stahl Esaco , IS & Ex
Stahl Esaco is presenting leading R. Stahl solutions and products for the Ex automation industry. These include remote I/O systems, HMIs and cameras, which can be viewed at Stand F12. The I/O systems 
...
Read more...
---