printer friendly version
Brewing up a storm is an artform
October 2017
PLCs, DCSs & Controllers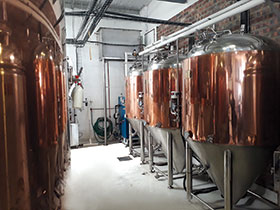 Hout Bay-based Urban Brewing Company, has become synonymous with good quality craft beers. The need for alternative drinking pleasure has been spawned from a glut of mainstream commercial beers, primarily lagers. Craft beers stand for variety, and this is where the art becomes important. When the proprietor, Peter Roeloffze, ventured into brewing, he realised that producing the best would mean firstly making use of a master brewer, and secondly, making the process repeatable to create a consistently good product.
With Pollock or van Gogh, their works of art came to life only when they had vision, passion and the correct tools in hand. The artist at Urban is brew master Jörg Finkeldey, of Brew Africa. Under the guidance of Roeloffze, Finkeldey was encouraged to consider the implementation of automation using a PLC, an HMI and VFDs to ensure a consistent and reliable product. This option looked like being a costly endeavour until the choice was narrowed down to LSIS for the process control.
The LSIS-XEC-SU PLC is the backbone of the system with XBF temperature and analog expansion cards calibrated to suit the process. The XP40-TTE 7" screen HMI, offering high definition process screens, was chosen as the canvas while the iG5A and iC5 VSDs took care of the system mixing and reticulation requirements.
Observing Finkeldey's passion at work, one gets the sense that this is more than knowledge, know-how and automated controls, but rather a master crafting a fine work of art. His tools are barley and wheat, water, hops and yeast, kettles, mixers, pumps and related control systems. These operate like instruments in an orchestra, to craft multi award winning, ales and lagers.
With the installed components and degree of automation and control, Finkeldey can master his craft relying on precise and accurate parameters confirming indeed the science behind the art of an outstanding and unique brew. The result is happy clients.
For more information contact Ana-Digi Systems, +27 (0)21 914 9030, sales@anadigi.co.za, www.anadigi.co.za
Credit(s)
Further reading:
New Modicon IIoT-ready controller
September 2020, Schneider Electric South Africa , PLCs, DCSs & Controllers
The Modicon M262 is IIoT-ready, designed and delivered with intuitive direct cloud connectivity and no gateways are required for OEMs to design solutions for performance demanding applications.
Read more...
---
Machine upgrade at Rostberg
August 2020, Ana-Digi Systems , System Integration & Control Systems Design
Ana-Digi Systems designs and delivers a state-of-the-art, reliable machine upgrade to match its client's requirements of easy setup and low maintenance.
Read more...
---
Modular mid-range PLC series
June 2020, ElectroMechanica , PLCs, DCSs & Controllers
The Delta compact modular mid-range AS series PLCs, available locally from ElectroMechanica (EM), is a high-performance, multi-purpose controller designed for all kinds of automated equipment. The series 
...
Read more...
---
Fishery relies on Siemens process management
December 2019 , PLCs, DCSs & Controllers
The fishery in Steinach, Switzerland, breeds fish species which are under threat so that they can be released into domestic waterways in the canton of St. Gallen. The quality and temperature of the water, 
...
Read more...
---
Meet the Future: Edge Programmable Industrial Controllers
November 2019, Opto Africa Holdings , PLCs, DCSs & Controllers
All controls engineers are familiar with PLCs and PACs (programmable automation controllers). Both have been used and improved over many years, incorporating capabilities that used to be found only in 
...
Read more...
---
Precise control in joining applications
October 2019, ASSTech Process Electronics + Instrumentation , PLCs, DCSs & Controllers
Digiforce is the trusted name when comprehensive monitoring of press-fit, joining, riveting and caulking processes is needed. The models 9306 and 9310 are being successfully used in innumerable applications 
...
Read more...
---
The powerful Festo modular control system CPX-E
Technews Industry Guide: Industrial Internet of Things & Industry 4.0, Festo South Africa , PLCs, DCSs & Controllers
Designed as an EtherCAT master and motion controller with protection to IP20, the powerful automation system CPX-E for factory and process automation with NE21-specific certifications is becoming the 
...
Read more...
---
Rockwell strengthens industrial control system security
July 2019, Rockwell Automation , PLCs, DCSs & Controllers
Communications between industrial control devices have minimal protection today. This leaves them vulnerable to threats like malicious tampering and incidental system changes that can stop production 
...
Read more...
---
Siemens extends the Simine ­portfolio
June 2019, Siemens Digital Industries , PLCs, DCSs & Controllers
Siemens has extended the Simine portfolio for high-pressure grinding mills (HPGR) to include a new controller. Plug-and-play functionality makes the load share controller available for immediate use. 
...
Read more...
---
Schneider Electric announces a new era of control
June 2019, Schneider Electric South Africa , PLCs, DCSs & Controllers
Schneider Electric's new high-end Modicon M580 Ethernet programmable automation controller (ePAC) features redundant processors, native Ethernet, and cybersecurity embedded into its core. It combines 
...
Read more...
---