printer friendly version
Time switches for precise temperature control
October 2017
Temperature Measurement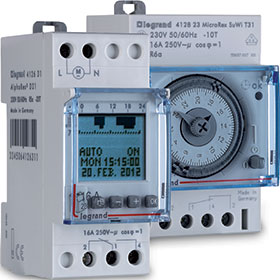 Legrand's new generation of programmable time switch technology encompasses AlphaRex and MicroRex time switches for precise temperature control in domestic, commercial and industrial environments.
Typical applications include water heaters, air conditioners, heating and ventilation systems and swimming pool heaters.
AlphaRex
AlphaRex programmable time switches have a user-friendly standardised text guided programming facility, with a high resolution digital display and backlight. There is a standard, single data key for all devices in this range to allow quick and easy transfer of programmes to other time switches and for creating backup copies.
These time switches are available with standard and multiple functions, with a daily or weekly programme facility and a clock working reserve of six years.
Programming with clock precision to the second is controlled directly on the time switch, or outside the distribution board using a PC and Legrand's AlphaSoft programming software. Other features include an EEPROM memory which prevents settings being lost and the facility to programme the clock prior to dispatch. Once the unit has been programmed, the information will remain installed even if the switch is not connected to power. The battery can be removed without having to uninstall the time switch from the distribution board.
MicroRex
MicroRex time switches offer easy plug and play installation for daily and weekly programming. By simply setting the analog switching dial during start up, the time is automatically set using the fast-run mode. In the event of a power failure, the time is automatically reset.
MicroRex analog and digital modules are 24 hour and seven day time switches for DIN rail and wall mounting, with a 100 hour running reserve. These units have the capability for multiple programmes, which ensures optimum time setting flexibility. MicroRex time switches have an LED status indicator, precision clockwork of 0,2 s/day and are controlled by either a quartz or synchronous motor. For increased safety and user convenience, there is an automatic and manual and advance/over-ride facility.
An analog defrost switch is available for short periods of controlled defrosting. The timer can repeat one or two settable short programmes within 24 hours and the defrosting time is from one to 60 minutes per contact.
Other time switches in the Legrand range are designed for precise control in security installations as well as for use in industrial applications, including pump stations, filters and conveyors. Legrand time switches are also used for the lighting of commercial boards and signage, as well as for street lighting. Time switches in agricultural applications are used for irrigation and sprinkler systems and for cyclical programmes, like animal feed systems.
For more information contact Legrand, +27 (0)11 444 7971, legrand.south-africa@legrand.co.za, www.legrand.co.za
Credit(s)
Further reading:
Temperature measuring in steel processing
June 2021, R&C Instrumentation , Temperature Measurement
Accurate and reliable temperature measurement is a part of efficient metal processing and steel manufacturing.
Read more...
---
Legrand's new P17 Tempra Pro plugs
June 2021, Legrand , Electrical Power & Protection
New to Legrand's range of plugs and sockets is the versatile P17 Tempra Pro range, which has been developed for safe installation in indoor and outdoor environments.
Read more...
---
Temperature and humidity monitoring for vaccine rollouts
May 2021, Omniflex Remote Monitoring Specialists , Temperature Measurement
How remotely monitoring facilities maintains the vaccine cold chain.
Read more...
---
High-temperature pyrometer with Bluetooth
May 2021, R&C Instrumentation , Temperature Measurement
Raytek has added Bluetooth capability to the Raynger 3i Plus handheld pyrometer.
Read more...
---
Automated cold chain monitoring
March 2021 , Temperature Measurement
Smart, connected and automated temperature monitoring at every point helps logistics companies proactively ensure their cold chain is never broken and goods arrive in prime condition for use and sale.
Read more...
---
Accuracy of infrared temperature measurement
March 2021, R&C Instrumentation , Temperature Measurement
Infrared (IR) thermometers have the ability to measure temperature without coming into physical contact with a particular product.
Read more...
---
Battery powered digital temperature gauges
March 2021, Instrotech , Temperature Measurement
hese gauges offer a wide range of industrial and analytical possibilities for applications where high accuracy and clear indication are required.
Read more...
---
Automotive paint cure – a formidable task
April 2021, R&C Instrumentation , Temperature Measurement
To provide protection to the car body, a series of coatings is applied to the raw substrate and in turn thermally cured. Accurate control of the thermal process is critical to the performance of the coating both cosmetically and physically.
Read more...
---
Compact thermal profiling system for monoblock packaging
February 2021, R&C Instrumentation , Temperature Measurement
Manufacturers can now optimise their oven settings and ensure that every product experiences the specified time at temperature.
Read more...
---
Legrand's Netatmo smart weather stations
November 2020, Legrand , Analytical Instrumentation & Environmental Monitoring
Legrand's Netatmo smart home weather stations are an easy and efficient way to understand and monitor a home's indoor and outdoor environment.
Read more...
---