printer friendly version
Wireless gas detector for personal monitoring
August 2017
IS & Ex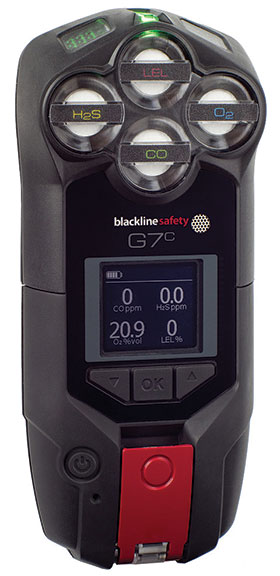 Industrial work for employees can be risky. While many organisations use personal gas monitors to measure for toxic or combustible gases, they are traditionally disconnected and thus cannot call for help. With Blackline Safety's revolutionary G7, a new level of personal safety is defined by this wireless gas detector with 3G/satellite wireless connectivity, two-way speakerphone, and messaging combined with live monitoring. The G7 provides comprehensive safety coverage irrespective of whatever hazardous working conditions might exist. With constant connectivity, every incident is communicated and managed in real-time, allowing teams to deliver optimised emergency responses tailored to the situation.
Modular design supports customisation
G7 features an exclusive modular design to support customisation that caters to diverse working conditions. Gas detection is customised to teams' working environments with the choice of field-replaceable single or quad gas cartridges. A multitude of gas sensors available to suit all applications. G7 solves the old problem of replacing sensors inside a gas detector, traditionally requiring a device be removed from the field for maintenance. By utilising the Cartridge Replacement Program, secondary cartridges can be fitted for this purpose.
Several alarm modes are built in to the G7, such as the SOS Emergency Latch, a fall alarm, no motion alarm, self check-in and detection of all gas parameters. If any of the alarm modes are triggered, G7 instantly connects workers to the customisable Blackline Live monitoring portal (cloud based) and the live monitoring team, who can instantly react when an alert is communicated by calling or texting the individual on the G7, thus providing immediate emergency response as and when required. With connectivity, worker confidence increases in hazardous environments, knowing they are connected and being monitored continuously.
G7 gas detectors communicate environmental conditions in real-time directly with the user's teams, who are then empowered to mobilise the appropriate response, based on the business' pre-determined response protocols. The safety operations teams also control wireless gas detection insights to notify responders of possible hazards they should be prepared for during emergency responses, any additional protective equipment that might be required, or to advise workers to report to specified muster points – keeping everyone involved, informed and safe.
The G7 is available in a 3G and/or satellite version, is ATEX approved, and carries the local IA certification.
For more information contact Alan Lewis, Trigas Agencies, +27 (0)10 590 4752, info@trigasonline.com, www.trigasonline.com
Further reading:
Mobile application for barcode scanning
Africa Automation Fair 2019 Preview, Extech Safety Systems , IS & Ex
Extech is exhibiting the mobXscan app for use in hazardous areas, which adds the capability of barcode scanning to any Windows 10 tablet or Android device. It can be seen at Stand E03. It uses the built-in 
...
Read more...
---
Safety on the pistes
May 2019, Siemens Digital Industries , IS & Ex
Inauen Schätti, a construction company whose areas of specialism include ropeways, is working to improve piste safety for skiers. As part of a pilot test project on the Parpaner Rothorn mountain, the 
...
Read more...
---
Safety technology to improve ­flexibility
May 2019, AC/DC Dynamics , IS & Ex
The new Datalogic concept for robot evolution expects to overtake the competition. Following demanding safety regulations, outdated isolated robotic cells are now replaced with robot-like parts of industrial 
...
Read more...
---
Drone-based gas leak detection
May 2019, ABB South Africa , IS & Ex
Leaks in gas distribution and transmission pipelines present serious safety risks and result in lost revenue and profits to producers. The ABB Ability mobile gas leak detection system is a digital solution, 
...
Read more...
---
Conveyor system fire prevention
May 2019, R&C Instrumentation , IS & Ex
The transport of materials is a key activity for most industries. For many of these tasks, conveyor belt systems offer a cost effective and efficient solution. However, with such a system comes a high 
...
Read more...
---
LSIS achieves Ex rating for HMI range
Africa Automation Fair 2019 Preview, Ana-Digi Systems , IS & Ex
LSIS is rolling out Ex certification for its entire range of HMIs. These products now carry a rating which allows for a maximum pollution degree 2 level. Mounting the HMIs into an IP54 enclosure ensures 
...
Read more...
---
Equipment for hazardous areas
Africa Automation Fair 2019 Preview, Extech Safety Systems , IS & Ex
Extech Safety Systems is showcasing Sensear digital communication and active listening headsets and earplugs at Stand E03. These are for use in high noise and hazardous environments. Sensear's patented 
...
Read more...
---
Solutions for the Ex automation industry
Africa Automation Fair 2019 Preview, Stahl Esaco , IS & Ex
Stahl Esaco is presenting leading R. Stahl solutions and products for the Ex automation industry. These include remote I/O systems, HMIs and cameras, which can be viewed at Stand F12. The I/O systems 
...
Read more...
---
Calibration in hazardous areas
April 2019, QTEK Instrumentation & Calibration Solutions , IS & Ex
This article is an edited version of a Beamex calibration white paper, the original unedited document can be downloaded at
https://instrumentation.co.za/papers/J4324.pdf
Read more...
---
Pump monitoring in hazardous areas
Technews Industry Guide: Maintenance, Reliability & Asset Optimisation 2019, Siemens Digital Industries , IS & Ex
Safety has top priority wherever flammable media are used in industry. This applies in particular to the chemical industry, where flammable liquids are produced, processed and transported by pumps in 
...
Read more...
---