printer friendly version
Belden introduces compact wireless access point
August 2017
Industrial Wireless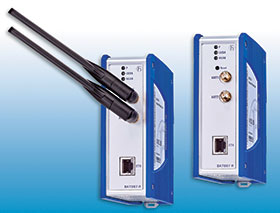 Belden has expanded its industrial wireless portfolio with the addition of the BAT867-R wireless access point, a compact and rugged device designed to help industrial applications maximise efficiency and performance.
"Space and budget are limited in industrial settings, like discrete automation and machine building, so we designed our newest wireless access point to include a refined set of features to help reduce the device's size, as well as overall networking costs," said Khachig Arjinian, product manager at Belden. "With growing bandwidth requirements, we also took data transmission speeds into consideration, and our BAT867-R is the fastest wireless device in Belden's portfolio, with the technology to transmit data up to 867 Mbps."
The BAT867-R offers essential interfaces for wireless local area network (WLAN) applications, including one radio, one Ethernet port and one power supply. "We only want our customers to pay for the features they need, so we selected a priority set of features to offer a cost-effective solution that can still transmit data at high speeds," added Arjinian.
Wireless access points, like the BAT867-R, enable many benefits for customers, such as:
• High levels of flexibility and productivity by monitoring and operating machines from tablets or smartphones.
• Remote access of machines for maintenance, diagnostics and troubleshooting.
• Reliable wireless connectivity for mobile equipment and automated guided vehicles.
Used as clients, routers or bridges, these access points feature IEEE 802.11ac technology and are backward compatible to a/b/g/n standards. The BAT867-R's rugged design also ensures compliance with challenging requirements and approvals for use in harsh industrial settings.
For more information, contact Daniel Nyange, IAC, +27 (0)12 657 3600, info@iacontrol.co.za, www.iacontrol.co.za
Credit(s)
Further reading:
Adroit brings M2M, IoT and IIoT to the industrial world
June 2019, Adroit Technologies , Industrial Wireless
Combining the new IIoT capability with GIS interfaces, situational awareness and alarm management data, all can use the big data and analytical processing capability of Adroit's standard scada Intelligence software package to derive greater insights and value from their processes.
Read more...
---
Wireless networks for AGV systems
June 2019, RJ Connect , Industrial Wireless
In order for factories to perform their tasks efficiently and optimise production, automated material handling (AMH) systems, such as AS/RS and AGVs, need the flexibility to move around on their designated 
...
Read more...
---
Merging control and telemetry
June 2019, Omniflex Remote Monitoring Specialists , Industrial Wireless
Wireless telemetry and control in plants have become a necessity with the data acquisition requirement of modern plant control to lift performance and compliance. In-plant cabling costs often push the 
...
Read more...
---
Managing complexity in wireless environments
June 2019, Axiz , Industrial Wireless
In the decades since its infancy, wireless networking has undergone tremendous shifts, opening an avenue for enterprise wireless Internet consumption. The advances in speed, coupled with the sheer convenience 
...
Read more...
---
Mobility for Industry 4.0 ­challenges
Africa Automation Fair 2019 Preview, Pepperl+Fuchs , Industrial Wireless
The Tab-Ex 02 series of tablets from Pepperl+Fuchs has innovative features that make Industry 4.0/IIoT applications easy to implement.    The DZ1 version ecom has a range of applications that are unique 
...
Read more...
---
Hazardous area access point
Africa Automation Fair 2019 Preview , Industrial Wireless
Bartec's Wireless X is a small, light wireless access point, eliminating the need for bulky, heavy enclosures and external antennas. On show at Stand G13, it has both IECEx and ATEX Zone 1 certification. 
...
Read more...
---
IIoT gateway for access to remote industrial equipment
Africa Automation Fair 2019 Preview, Throughput Technologies , Industrial Wireless
SiteManager is a security certified IIoT Edge Gateway in the Secomea Industrial Communications Solution program that ensures unified, uninterrupted and secure access to remote industrial equipment. Visit 
...
Read more...
---
A switch for the next ­generation network
Africa Automation Fair 2019 Preview, IAC - Industrial Automation & Control , Operator Interfaces, Switches & Relays
The Hirschmann BOBCAT Switch is a compact managed switch. It is the first appliance to provide advanced security and real-time communication through time sensitive networking (TSN) technology on all of 
...
Read more...
---
Responsive wireless I/O from ­Omniflex
May 2019, Omniflex Remote Monitoring Specialists , Industrial Wireless
Radio networks traditionally follow the Master (main station node) and Slave (out station node) methodology for data acquisition. A single master polls for data from one or more slaves, depending on the 
...
Read more...
---
Next generation Layer 3 Ethernet backbone
Africa Automation Fair 2019 Preview, IAC - Industrial Automation & Control , Fieldbus & Industrial Networking
The Hirschmann DRAGON MACH4500 Layer 3 Ethernet backbone is ideal for applications that require high bandwidths and reliable data transfer. This flexible, future-oriented solution supports redundant internal 
...
Read more...
---