printer friendly version
Safety laser scanners immune to wood chippings
August 2017
IS & Ex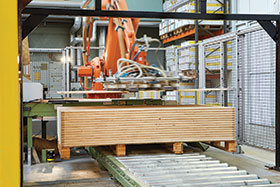 Through industrial parquet manufacturing, fine wood flooring has become more affordable and easily available. To achieve production of over 80 million metres of flooring annually, demands stringent requirements on systems used in the European automated wood processing industry: sawdust and wood chippings are challenging for conventional safety sensors, which are nonetheless expected to perform their tasks both reliably and precisely. One of the leading parquet manufacturers in Europe, Bauwerk Parkett, uses the new microScan3 safety laser scanner from SICK Automation to make a stacking robot safe.
Safety laser scanners offer step-behind detection and prevent a machine from being restarted unintentionally. Such a device was already being used to make the operating area of the robot safe, but this safety laser scanner occasionally reached its limits, if clouds of sawdust were created when moving the wood. "Depending on the intermediate goods process, chippings are mixed in from time to time. And even if there are only a few, they tend to accumulate over the entire pallet," explains Heinz Isele, engineering manager at Bauwerk Parkett. "There are up to a hundred layers on top of each other. This occasionally causes a small cloud of chippings to be released when they are lifted with the vacuum system, which then triggered the scanner."
The availability of the system was limited. "With the new microScan3 we were able to eliminate this issue altogether," says Isele. The microScan3 is one of a new generation of safety laser scanners from SICK. Thanks to its innovative safeHDDM scanning technology, it is setting new standards as it combines a compact design and wide scanning range in one device. The housing of the microScan3 is rugged, with outstanding reliability in dust and ambient light.
Reliability through advanced technology
safeHDDM is based on SICK's high definition distance measurement (HDDM). This patented method carries out intelligent filtering and evaluation to deliver a measurement result that is unprecedented by safety laser scanners.
Digital filtering of remissions, resulting in a histogram accumulation, suppresses random individual remissions, while remissions from coded pulse sequences are reliably detected and evaluated. Dust particles or contamination on the optical interface therefore have considerably less impact on the detection reliability and the protective function. The parabolic shape of the front screen deflects reflections that arrive outside of the optical path of the laser pulses, into an optical trap – away from the receiver element in the device. This increases the resistance to contamination of these safety laser scanners.
Intuitive operation
The new Safety Designer configuration and diagnostic software makes configuring and commissioning extremely easy. Areas can be defined freely and sent to the scanner via USB. During operation, the status indicators (LEDs) and display are clearly visible from several angles, even from a distance. The user-friendly push buttons on the device and the status indicators on the display allow for simple device diagnosis and operation at all times.
Thanks to the use of smart connectivity and standardised M12 plug connectors, the microScan3's cabling is simple and saves on connection costs. The device can be replaced quickly and conveniently thanks to the integrated configuration memory in the system plug.
The mounting bracket with integrated guide rails allows easy attachment and adjustment. The proven light-metal die-cast housing achieves a high level of mechanical resistance. The microScan3 protects hazardous areas at loading and unloading stations, multi-sided access points to machines and material gates, with an object resolution of up to 30 mm.
For more information contact Stephen Eltze, SICK Automation Southern Africa, +27 (0)41 399 9485, stephen.eltze@sickautomation.co.za, www.sickautomation.co.za
Credit(s)
Further reading:
Accurate bulk flow measurement in the cement industry
June 2019, SICK Automation Southern Africa , Flow Measurement & Control
The rapid development of sensor technology provides cement producers with a toolbox of solutions to optimise performance and strengthen market presence. Non-contact volume flow measurement of conveyed 
...
Read more...
---
Part localiser from SICK Automation
June 2019, SICK Automation Southern Africa , System Integration & Control Systems Design
Testing and assembly specialist, Kubik Automation from Baienfurt, Germany, is putting SICK Automation's PLOC2D robot guidance system to use in its new sCube assembly cell. The team of experienced industry 
...
Read more...
---
Mobile application for barcode scanning
Africa Automation Fair 2019 Preview, Extech Safety Systems , IS & Ex
Extech is exhibiting the mobXscan app for use in hazardous areas, which adds the capability of barcode scanning to any Windows 10 tablet or Android device. It can be seen at Stand E03. It uses the built-in 
...
Read more...
---
Safety on the pistes
May 2019, Siemens Digital Industries , IS & Ex
Inauen Schätti, a construction company whose areas of specialism include ropeways, is working to improve piste safety for skiers. As part of a pilot test project on the Parpaner Rothorn mountain, the 
...
Read more...
---
Safety technology to improve ­flexibility
May 2019, AC/DC Dynamics , IS & Ex
The new Datalogic concept for robot evolution expects to overtake the competition. Following demanding safety regulations, outdated isolated robotic cells are now replaced with robot-like parts of industrial 
...
Read more...
---
Drone-based gas leak detection
May 2019, ABB South Africa , IS & Ex
Leaks in gas distribution and transmission pipelines present serious safety risks and result in lost revenue and profits to producers. The ABB Ability mobile gas leak detection system is a digital solution, 
...
Read more...
---
Conveyor system fire prevention
May 2019, R&C Instrumentation , IS & Ex
The transport of materials is a key activity for most industries. For many of these tasks, conveyor belt systems offer a cost effective and efficient solution. However, with such a system comes a high 
...
Read more...
---
LSIS achieves Ex rating for HMI range
Africa Automation Fair 2019 Preview, Ana-Digi Systems , IS & Ex
LSIS is rolling out Ex certification for its entire range of HMIs. These products now carry a rating which allows for a maximum pollution degree 2 level. Mounting the HMIs into an IP54 enclosure ensures 
...
Read more...
---
Equipment for hazardous areas
Africa Automation Fair 2019 Preview, Extech Safety Systems , IS & Ex
Extech Safety Systems is showcasing Sensear digital communication and active listening headsets and earplugs at Stand E03. These are for use in high noise and hazardous environments. Sensear's patented 
...
Read more...
---
Solutions for the Ex automation industry
Africa Automation Fair 2019 Preview, Stahl Esaco , IS & Ex
Stahl Esaco is presenting leading R. Stahl solutions and products for the Ex automation industry. These include remote I/O systems, HMIs and cameras, which can be viewed at Stand F12. The I/O systems 
...
Read more...
---