printer friendly version
ISO standard for cone meters
August 2017
Flow Measurement & Control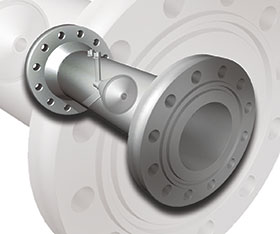 With decades of proven performance, the innovative V-Cone flowmeter from McCrometer conforms to the industry standard ISO 5167 Part 5: Cone Meters, which helps engineers make better informed decisions about cone flowmeters in the same way that they have relied on Parts 1-4 for other types of differential pressure (dP) meters.
"We're proud to have assisted in developing this ISO standard for cone meters, which is something that our customers have been requesting for years," said Nick Voss, general manager of McCrometer's Oil, Gas and Industrial Process business unit.
"With multiple suppliers making various claims, our customers have long wanted the International Standards Organization to provide them with assurance about cone meter accuracy claims and installation requirements," said Voss.
McCrometer's V-Cone meter, Voss explained, already conforms to the American Petroleum Institute's API 22.2 testing protocol for differential pressure flow devices. "With ISO, there is now a second respected global standard for cone meters, which explains their principle of operation, the differing performance accuracy of calibrated versus uncalibrated meters and their minimal straight pipe run installation requirements."
The ISO 5167-5 standard confirms that uncalibrated cone meters perform at no better than 5% accuracy. Laboratory calibrated cone meters, such as the V-Cone meter, are accurate to 0,5%, a significant performance difference.
In addition, the standard includes a groundbreaking section, providing explicit guidance on how to calibrate a cone meter. This includes a recommendation that each flowmeter is calibrated in laboratories accredited to the ISO 17025 standard. McCrometer operates one of only six flow labs in the USA accredited to ISO/IEC 17025:2005 through NVLAP.
Finally, ISO 5167-5 verifies cone meters can be installed with a straight pipe run of only 0-3 diameters upstream and 0-1 diameters downstream. This feature is useful where space and weight are a concern, such as offshore platforms and vessels.
For more information contact Stuart Brown, UIC Instrumentation, +27 (0)31 468 2561, stuartb@uic.co.za, www.uic.co.za
Credit(s)
Further reading:
Systematic flow metering
July 2019, Siemens Digital Industries , Flow Measurement & Control
Aguas de Saltillo, the water utility company which serves the Mexican city of Saltillo, is responsible for supplying drinking water to a population of around 850 000. To ensure a reliable supply to this 
...
Read more...
---
Water regulation made easy
July 2019, Instrotech , Flow Measurement & Control
Kobold's REG mechanical flow restrictors and rate regulators, with their simple yet effective functionality, are ideally suited to consumer applications and uniform supply to multiple consumers. Once 
...
Read more...
---
Accurate flow and mass measurement
July 2019, Actum Industrial , Flow Measurement & Control
Measurement of flowing media containing solids and particles poses a great challenge in the mining industry, due to the damage caused to inline flowmeters. The installation of inline flowmeters can be 
...
Read more...
---
Accurate bulk flow measurement in the cement industry
June 2019, SICK Automation Southern Africa , Flow Measurement & Control
The rapid development of sensor technology provides cement producers with a toolbox of solutions to optimise performance and strengthen market presence. Non-contact volume flow measurement of conveyed 
...
Read more...
---
Flow sensor for liquid media
June 2019, Festo , Flow Measurement & Control
The new flow sensor SFAW from Festo is ideal for monitoring cooling circuits, for example in welding guns in the automotive industry as well as in front-end applications in the semiconductor and electronics 
...
Read more...
---
Electromagnetic flowmeters
Africa Automation Fair 2019 Preview, Dupleix Liquid Meters (DLM) , Flow Measurement & Control
Badger Meter's electromagnetic flowmeters are ideally suited for flow measurement of all liquids with a minimum conductivity of 5 μS cm. The flow measurement is independent of density, temperature and 
...
Read more...
---
Flowmeters for clean liquids and gases
Africa Automation Fair 2019 Preview, WIKA Instruments , Flow Measurement & Control
Venturi tubes such as WIKA's model FLC-VT are reliable, easy to use and low maintenance.    They are particularly suitable for the measurement of clean liquids and gases. The main advantages of a Venturi 
...
Read more...
---
Industrial gas flowmeters
Africa Automation Fair 2019 Preview, Mecosa , Flow Measurement & Control
The IN-FLOW mass flowmeters and controllers by Bronkhorst High-Tech are of rugged design according to IP65. Showcased at Stand D08, the instruments are available for flow ranges from 0,05 to 1 mln/min 
...
Read more...
---
New flowmeter for biogas
May 2019, KROHNE , Flow Measurement & Control
The new Optisonic 7300 Biogas ultrasonic flowmeter from Krohne has been specially designed to measure dry and wet biogas with variable composition. The meter provides additional functions, like calculation 
...
Read more...
---
Revolutionary new flowmeter
Africa Automation Fair 2019 Preview, Bürkert South Africa , Flow Measurement & Control
Bürkert is known for producing high quality process control equipment for the hygienic processing sector. The company has developed FLOWave, an innovative solution for liquid flow measurement, which has 
...
Read more...
---