printer friendly version
Measuring volumetric flow by means of oscillation
August 2017
Flow Measurement & Control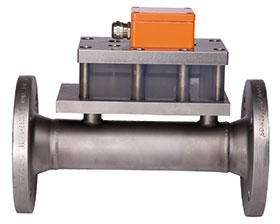 Kobold offers the DOG range of flowmeters that use the unique oscillation principle to measure dry or humid gases even in low pressure applications.
In this measuring procedure, a partial stream of the medium is led into the measuring cell by means of a bypass. In the measuring cell, the medium flows through a chamber with two flow channels. A gate allows the stream to flow through either the left or the right channel. The flow creates over-pressure on one side and under-pressure on the other. The difference in pressure directs the media stream to the other side. This results in the stream between the two sides oscillating, which sets the medium in the connecting channel into vibration. The frequency of the oscillation is directly proportional to the flow speed. A detector determines the oscillation in the connecting channel and converts it into an electrical signal. The signal is processed further in the downstream electronic unit and then displayed or output in another form.
The devices within the DOG flowmeter family are designed for tough industrial use. They are offered in flange or intermediate flange versions up to nominal widths DN 200 in stainless steel. This means that the equipment can be used for many different applications, such as compressed air, natural gas, biogas, fermentation gas, propane, hydrogen gas and many more. Approval by the European ATEX guideline and IECEx also means that explosive gas streams can be safely measured.
The oscillation system requires only a low feed pressure and can also be used in biogas applications where measurement can otherwise be difficult. Generously dimensioned channels mean that the measuring devices are less prone to dirt deposits. There are no moving parts in the media stream and therefore there is no wear.
The advantages are: reliable performance maintained over a long lifetime; a high degree of measuring accuracy; not prone to dirt deposits; no wear and large measuring ranges.
For more information contact Instrotech, +27 (0)10 595 1831, sales@instrotech.co.za, www.instrotech.co.za
Credit(s)
Further reading:
Accurate bulk flow measurement in the cement industry
June 2019, SICK Automation Southern Africa , Flow Measurement & Control
The rapid development of sensor technology provides cement producers with a toolbox of solutions to optimise performance and strengthen market presence. Non-contact volume flow measurement of conveyed 
...
Read more...
---
Flow sensor for liquid media
June 2019, Festo , Flow Measurement & Control
The new flow sensor SFAW from Festo is ideal for monitoring cooling circuits, for example in welding guns in the automotive industry as well as in front-end applications in the semiconductor and electronics 
...
Read more...
---
Electromagnetic flowmeters
Africa Automation Fair 2019 Preview, Dupleix Liquid Meters (DLM) , Flow Measurement & Control
Badger Meter's electromagnetic flowmeters are ideally suited for flow measurement of all liquids with a minimum conductivity of 5 μS cm. The flow measurement is independent of density, temperature and 
...
Read more...
---
Flowmeters for clean liquids and gases
Africa Automation Fair 2019 Preview, WIKA Instruments , Flow Measurement & Control
Venturi tubes such as WIKA's model FLC-VT are reliable, easy to use and low maintenance.    They are particularly suitable for the measurement of clean liquids and gases. The main advantages of a Venturi 
...
Read more...
---
Industrial gas flowmeters
Africa Automation Fair 2019 Preview, Mecosa , Flow Measurement & Control
The IN-FLOW mass flowmeters and controllers by Bronkhorst High-Tech are of rugged design according to IP65. Showcased at Stand D08, the instruments are available for flow ranges from 0,05 to 1 mln/min 
...
Read more...
---
Miniature IR thermometer for plastic film
May 2019, Instrotech , Pressure Measurement & Control
Temperature is a key physical variable for ensuring quality in the production of plastic film. The application of non-contact temperature measurement technology poses the challenge that films with a thickness 
...
Read more...
---
Leak detection in coal-fired power stations
Africa Automation Fair 2019 Preview, Instrotech , Sensors & Transducers
Instrotech's advanced acoustic leak detection system, Inspecta FFT, can detect boiler tube leaks in coal-fired utilities and in oxygen plants and gasifiers. The technology and equipment is in use in power 
...
Read more...
---
New flowmeter for biogas
May 2019, KROHNE , Flow Measurement & Control
The new Optisonic 7300 Biogas ultrasonic flowmeter from Krohne has been specially designed to measure dry and wet biogas with variable composition. The meter provides additional functions, like calculation 
...
Read more...
---
Miniature multi-turn encoder
May 2019, Instrotech , News
Modern industrial applications demand innovative designs featuring high performance, precise information and smaller component footprints. To this end, Instrotech now offers the Scancon miniature absolute 
...
Read more...
---
Pyrometer with automatic spot finder
Africa Automation Fair 2019 Preview, Instrotech , Temperature Measurement
The Optris infrared Xi series is a fusion between a robust, compact pyrometer and an advanced IR camera. The integrated spot finder function enables accurate temperature measurements in moving objects 
...
Read more...
---