printer friendly version
New AC drives reduce energy costs
June 2017
Motion Control & Drives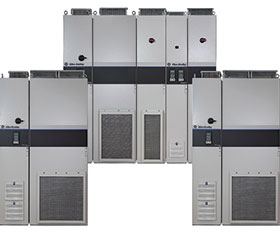 Following its global release at Automation Fair 2016, Rockwell Automation Sub-Saharan Africa launching the new Allen-Bradley PowerFlex 755T drives to local markets at Automation University Classic 2017, at Emperors Palace during May.
Rockwell Automation has introduced a suite of drive solutions that will help users reduce energy costs and increase machine uptime for assets running in high-demand applications. The Allen-Bradley PowerFlex 755T drives provide harmonic mitigation, regeneration and common bus system configurations.
Superior motor control
The latest PowerFlex drive offering marks the introduction of TotalFORCE technology from Rockwell Automation. This new drive technology delivers superior motor control through precise, adaptive control of velocity, torque and position for electric motors.
"AC drive technology is an important investment for our customers, and they want their application up and running every possible minute," said Adrian van Wyk, business manager for Power and Components, Rockwell Automation, Sub-Saharan Africa. "The PowerFlex 755T drives have been designed to provide savings from installation, through operation and maintenance with advanced features that allow users to optimise the operation of their assets."
The expanded Allen-Bradley drive portfolio now includes the PowerFlex 755TL low-harmonic drive, PowerFlex 755TR regenerative drive, and PowerFlex 755TM common DC bus drive system, all compliant to the IEEE 519 specification. These new drives offer the additional advantages of a world-class footprint, comprehensive diagnostic and maintenance features, and simplified startup and installation.
PowerFlex 755TL drive
The PowerFlex 755TL drive uses active, front-end technology and an internal harmonic filter to reduce harmonic distortion. The drive is available from 250 to 1800 Hp (160 to 1250 kW).
PowerFlex 755TR drive
Delivering power from 160 to 2300 kW, the PowerFlex 755TR drive includes both regenerative and harmonic mitigation solutions. The drive helps reduce energy consumption and costs by delivering energy back to the incoming supply, resulting in a more energy-efficient solution.
PowerFlex 755TM drive system
This allows users to build the system that best fits their needs for regeneration and coordination of multiple motors in common bus configurations. To optimise their system requirements and meet power-consumption needs, users can select from a series of predesigned modules with a power range from 160 to 2300 kW.
The three drive solutions have advanced predictive diagnostics to estimate and provide notification of the remaining life span of drive components, such as fans, relay contacts, power semiconductors and capacitors. Users can actively monitor parameters, such as temperature and runtime, of the drive and motor to allow for preventive action if necessary.
Key to simplified installation and maintenance is a design that allows complete removal of a module from the cabinet. This creates ample space for wire installation and allows the power wiring to stay connected while the module is rolled out. Installation and maintenance is further simplified with an accessory cart that allows one person to easily insert or remove a module without the need for a ramp or hoist.
The drives can be fully configured in the Rockwell Software Studio 5000 design environment as part of the Premier Integration experience when working with Logix controllers. This helps to reduce programming time, simplify startup and streamline diagnostics.
For more information contact Adrian van Wyk, Rockwell Automation, +27 (0)11 654 9700, avanwyk@ra.rockwell.com, www.rockwellautomation.co.za
Further reading:
Polymer linear guides adopted worldwide
Motion Control & Drives
The product range of lubrication-free drylin linear guides is based on the principle of 'gliding instead of rolling'.
Read more...
---
ML compensates for 'cogging' in high-precision linear motion
Beckhoff Automation Motion Control & Drives
Using recorded data, the servo motor software trains a neural network which is ultimately integrated into the control system for current pre-control.
Read more...
---
Drive-based solutions enhance machine efficiency and safety
Bearing Man Group t/a BMG Motion Control & Drives
BMG's electromechanical specialists are able to extend and adjust NORD drive equipment for drive monitoring, drive control and process control.
Read more...
---
Electromagnetic brakes for DC motors
Motion Control & Drives
Mini motor applications utilise DC motor technology because of compactness, low weight, and reliability. Stopping, slowing or holding the position and load of these motors is crucial for many applications, 
...
Read more...
---
New motors for servo drive system
Siemens South Africa Motion Control & Drives
The servo motor thus meets all hygienic conditions and can be used for mixing and stirring, dosing and filling, as well as conveying, packaging and storing a wide variety of end products.       The 
...
Read more...
---
The demand for higher efficiency motors
Motion Control & Drives
With electricity prices increasing rapidly, the justification for adopting more efficient motors is that much greater. To achieve this improved efficiency, such motors are designed to run cooler, which 
...
Read more...
---
Compact drive technology mobilises high-tech CT scanner
Beckhoff Automation Editor's Choice Motion Control & Drives
PC- and EtherCAT-based technology from Beckhoff delivers the desired viewing angles and mm-precise alignment of the X-ray source to the patient.
Read more...
---
Drive-based predictive maintenance solutions
Bearing Man Group t/a BMG Motion Control & Drives
BMG's NORD predictive maintenance solutions offer fast, efficient and comprehensive evaluation of analogue and digital data, to enhance the operational efficiency and safety of machines. The intelligent 
...
Read more...
---
Next-generation motor starters with digital innovation
Schneider Electric South Africa Motion Control & Drives
Schneider Electric has announced the release of the new generation of TeSys Giga series motor starters. The iconic TeSys Giga series has been re-imagined with the latest smart digital innovations to deliver 
...
Read more...
---
Compact planar scanner with air bearing
Horne Technologies Motion Control & Drives
PIglide positioning systems are ideally suited for high-precision applications such as inspection systems, laser marking, microscopy or scanning.
Read more...
---