printer friendly version
Building machines and panels made easy
June 2017
Operator Interfaces, Switches & Relays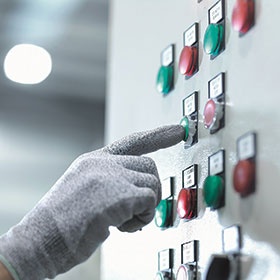 Schneider Electric's Harmony range of switches and indicators has been developed to ensure the highest possible level of reliability while offering a modern design to enhance an industrial machine's aesthetic appearance. To ensure total reliability, the company's laboratories use harsh industrial environments for endurance testing, which is done after component ageing.
The range reflects the modern trend of using equipment aesthetics to enhance the desirability or customer preference for a particular brand or range of products, making aesthetics a key criterion for competitive differentiation. In a world where technologies spread quickly and where novelty is copied in a matter of months, aesthetics is an excellent way to establish brand image.
Control and signalling interfaces are key components to consider
These interfaces are how users interact with their machines and an easy to read keyboard with large characters or symbols makes operators more efficient without wasting time searching the panel for the correct button to press.
Flush-mounted switches and displays are popular for packaging and process machinery in the food and beverage industry. The flat surface is easier to clean with less accumulation, making flush push-button interfaces the ideal solution for these applications.
Choosing the correct switch or indicator for a control panel can best be determined by considering the following:
• If the operators are using the buttons without looking at them, it would be better to use standard mounted buttons which are easily located by feel.
• If the operators usually stand far from the control panel, so that the pilot lights should be visible from far and low angles, it is better to let them protrude from the panel.
• If operators are wearing lab coats with long sleeves, flush mounted devices will prevent them from getting their clothes caught.
• If the machines are wiped clean frequently, the cleaning task will be much easier with a flat surface, making flush mounted switches and displays a better choice.
The company's commitment to ongoing development can be seen by its offering of reinforced waterproof solutions, which comply with IP66, 67, 69, and 69K and extending the operating temperature range to -40 to 70°C. These improvements not only allow Schneider Electric's Harmony products to be installed in harsher environments, but also guarantee a longer service lifetime.
Other unique features which ensure reliability and long life include:
• A special design which eliminates the retightening of screw terminals.
• A complete range of electrical contacts, which covers a very wide range of uses, including standard blocks with high electrical reliability guarantee, power blocks, and gold contacts blocks for low level voltages and currents.
• Electrical contact hooks with metal locks (including plastic versions).
• Snap mounting bases by metal clips (including plastic versions).
• Wide range of protective accessories (not only for product heads in front face, but also for the protection of contacts in the electrical cabinet).
Schneider Electric's Harmony also offers the tools to optimise preventive maintenance. Each component's expected lifetime is specified, expressed in 'lambda', guaranteed number of operations, or mean time to failure. These periods are generally much longer than the lifetimes of equipment or machinery. But if necessary, to avoid any loss of business, it may prove cost effective to replace even the most proven elements. By comparing the actual conditions of use of the products to their specifications, customers can implement high quality preventive maintenance programmes.
Furthermore, the company's field service teams can help make the diagnosis of the installed base to determine the critical equipment to replace and which spare parts to store in your factories.
For more information contact Lebohang Thokoane, Schneider Electric SA, +27 (0) 11 254 6400, lebohang.thokoane@schneider-electric.com, www.schneider-electric.co.za
Credit(s)
Further reading:
Digitisation requires new skills
September 2019, Schneider Electric South Africa , IT in Manufacturing
Smart grid investments by municipal and public power utilities typically focus on electric distribution and customer systems. The expected benefits include lower costs, better customer service and more 
...
Read more...
---
How the food and beverage industry could benefit from blockchain
Technews Industry Guide: Industrial Internet of Things & Industry 4.0, Schneider Electric South Africa , IT in Manufacturing
Advances in blockchain technology could enable the food and beverage industry (F&B) to enhance traceability. In the US alone, food recalls and food-borne illnesses cost some $77 billion per annum, including 
...
Read more...
---
A new electrician rewards programme
July 2019, Schneider Electric South Africa , News
Schneider Electric, has announced the introduction of its mySchneider Electrician Rewards Programme for electricians. The programme is aimed at rewarding residential and small building electricians for 
...
Read more...
---
Guaranteed power protection
July 2019, Schneider Electric South Africa , Electrical Power & Protection
During energy month, it may be time to assess what equipment in your office or data centre is critical to keep online. Adopting smart uninterruptible power supply (UPS) technology has become the preferred 
...
Read more...
---
Smart Grid solutions enhance utility revenue collection
July 2019, Schneider Electric South Africa , Electrical Power & Protection
At African Utility Week in Cape Town, Johan Pretorius, business development manager, Schneider Electric South Africa, presented a paper on 'The Impact of Revenue Collection on Non-Technical Losses'. "The 
...
Read more...
---
Schneider Electric announces a new era of control
June 2019, Schneider Electric South Africa , PLCs, DCSs & Controllers
Schneider Electric's new high-end Modicon M580 Ethernet programmable automation controller (ePAC) features redundant processors, native Ethernet, and cybersecurity embedded into its core. It combines 
...
Read more...
---
Mimic's SH300 text display for PLCs
June 2019, Mimic Components , Operator Interfaces, Switches & Relays
Mimic Components' SH-300 with text display is a long standing and reliable electronic device for programmable PLCs and other intelligent controllers equipped with a communication interface. It also functions 
...
Read more...
---
A switch for the next ­generation network
Africa Automation Fair 2019 Preview, IAC - Industrial Automation & Control , Operator Interfaces, Switches & Relays
The Hirschmann BOBCAT Switch is a compact managed switch. It is the first appliance to provide advanced security and real-time communication through time sensitive networking (TSN) technology on all of 
...
Read more...
---
Industrial signal conditioner
Africa Automation Fair 2019 Preview, ESTEQ Test & Measurement , Operator Interfaces, Switches & Relays
Setting new standards in industrial process control, ESTEQ's ClipX signal conditioner adapts to each measurement task, whether it is used with single- or multiple-channel applications, in manufacturing 
...
Read more...
---
Specialised control components
May 2019, Mimic Components , Operator Interfaces, Switches & Relays
Mimic Components supplies specialised control components. As a leader in LED pilot lights and filament lamp replacements, the company is now able to accommodate clients with specific requirements in the 
...
Read more...
---