printer friendly version
Compact control stations for LNG compressors
June 2017
IS & Ex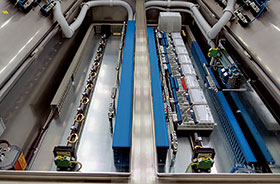 These days, natural gas is extracted in remote regions and then shipped around the world. To make optimal use of the cargo capacity, compressors are used aboard production platforms and tankers to compress the energy carrier into liquefied gas. For a leading manufacturer of these systems, R. Stahl regularly supplies Ex protected IS1 Remote I/O control stations for use in Zone 1 with intrinsically safe internal wiring, which, amongst other things, have to be adapted to overcome the limited installation space on the compressors.
Ex protected control stations with remote I/O
The customer, a machine builder specialising in the oil and gas industry, fits compressors to dozens of large tankers every year. These compressors are installed below deck wherein, outside of the gas tanks, space is limited. For this reason, the machines and their control stations with remote I/O modules and various digital display and signalling elements must be compact. And because this equipment is installed in the immediate vicinity of the gas, it is essential that it has Zone 1 explosion protection.
As part of a series of commissions in which systems were to be fitted to new LNG tankers for end customers from Russia and Norway, the machine builder worked with R. Stahl and the primary manufacturer of the main automation solution in these projects to design a system suitable for these applications. The collaboration began with comprehensive testing, which included weighing up the different networking alternatives. In this phase, a very compact system design was also specified for the control and distribution boxes in order to overcome problems of limited space.
The signals from sensors and actuators around the compressors that are linked via the IS1 remote I/O system are transmitted to the distributed control system via Profibus DP. The number of modules used for a broad spectrum of signal types can be tailored to the customer's exact requirements.
One of the key advantages is that the installation is incredibly easy to expand: further modules can be added at any time, the operator simply has to plug them in and they are ready for operation. All modules can also be hot-swapped in situ as required. The intrinsically safe bus system can be operated with copper conductors or fibre optics and, if required, can be designed with system or media redundancy.
The seawater-resistant enclosure materials and vibration-resistant design of IS1 systems, coupled with their resistance to the effects electromagnetic energy, which satisfies the strict EMC requirements that apply on board due to the ship radio, make them perfect for maritime applications. In addition to DNV and ABS certification, IS1 can also be designed to comply with the requirements of numerous other certificates, giving the customer the flexibility they need to use it in locations all across the world. The Zone 1 system passed the rigorous ship tests with flying colours – not only can it be used below deck, but it can also be used universally above deck if required.
Fit for purpose station design
R. Stahl has been installing systems on ships and offshore platforms for around 30 years. Besides the IS1 system, the range of items produced for installation on ships includes a vast array of other explosion-protected electrical equipment. The IS1 solution for a redundant system, comprises a total of seven enclosures of varying dimensions. The control and distribution boxes for the compressors are protected against explosions by a combination of Ex d and Ex e types of protection and are equipped with indicator lamps, rotary switches and pushbuttons, as well as emergency stop buttons produced by R. Stahl in-house. Warning and indicator devices or vibration sensors produced by other manufacturers can optionally also be integrated.
In the first instance, the design of the stations makes them easy to install. Stainless steel enclosures were used for the compressor control stations. These offer IP65 protection, with the option to upgrade to a higher level if required. They are very easy to connect in series and the compact cabinets feature multiple small doors to allow easy access, despite the limited space at the mounting location.
For more information contact Preshan Moodliar, Stahl Esaco, +27 (0)11 608 3120, preshan@esaco.co.za, www.esaco.co.za
Further reading:
RFID bus modules for Ex areas
Turck Banner IS & Ex
Turck's HF bus mode makes it possible to implement RFID applications with many read/write heads, quickly and at an affordable price.
Read more...
---
Sensor technology for explosion-protected areas
Pepperl+Fuchs IS & Ex
To enable customers to use Pepperl+Fuchs sensors in explosion-protected areas, the company has made sensors suitable for use in Zones 1 or 21, and Zones 2 or 22.
Read more...
---
Vibration pen for hazardous areas
R&C Instrumentation IS & Ex
Vibration and temperature are the most common parameters measured on process plants to predict equipment failure or process problems. As part of the extensive range of vibration measurement products and IS rated instruments from R&C Instrumentation, the TV712 series from Time now comes in IS versions for EX Hazardous areas such as coal mines and chemical plants.
Read more...
---
Training courses for hazardous areas
Extech Safety Systems IS & Ex
Extech Safety Systems has announced a partnership with Trainor to offer online training courses for hazardous areas.
Read more...
---
Process safety transformed by TDL technology
Elemental Analytics IS & Ex
Servomex has introduced a new advantage to safety systems with its unique line lock technology incorporated into the latest tunable diode laser (TDL) analysers.
Read more...
---
Reduce the risk of shock and arc flash
Comtest IS & Ex
Comtest now offers a new Fluke tester to the market, which sources both AC and DC steady-state voltage for Hi-Z and Lo-Z instruments, thus simplifying safety compliance testing.
Read more...
---
Three key principles to build a strong safety culture
Comtest IS & Ex
To build a strong culture of safety, one first needs to create a climate that allows for adaptation and change.
Read more...
---
Preconfigured fail-safe circuit from Festo
Festo South Africa IS & Ex
The preconfigured Festo fail-safe circuit is ready to install in the control cabinet as a safe and low-cost alternative when it comes to fail-safe technology.
Read more...
---
Flameproof cable glands
Pratley IS & Ex
A new flameproof cable gland range from Pratley allows for soft-bedding cables like PVC to be fitted to flameproof equipment without any concern regarding cable damage.
Read more...
---
Gigabit intrinsically safe Ethernet
Extech Safety Systems IS & Ex
Eaton's 9470 product range provides cost-effective intrinsically safe (IS) Gigabit Ethernet equipment that can be installed and maintained easily in hazardous areas.
Read more...
---