printer friendly version
Yokogawa releases enhanced version of ProSafe-RS
June 2017
IS & Ex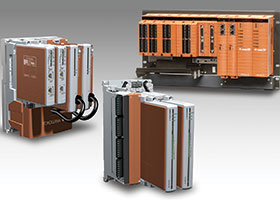 Yokogawa Electric Corporation has announced the release of an enhanced version of the ProSafe-RS safety instrumented system. This latest release, R4.03.00, includes an improved engineering function for configuring fire and gas systems (FGS) and new operation faceplates for the FGS operation and monitoring screens. These enhancements make it easier to adopt and use ProSafe-RS in FGS applications.
Development background
In the oil, natural gas, petrochemical, chemical, and other energy and basic materials industries, various safety measures must be taken to prevent accidents and protect the environment. This includes the use of a safety instrumented system, which can secure plant safety by functioning as an emergency shutdown system (ESD) that detects abnormal conditions and safely initiates emergency shutdowns, and by functioning as an FGS.
Yokogawa's ProSafe-RS safety instrumented system can be integrated with the Centum VP integrated production control system and is widely used mainly in ESD applications all over the world. Based on an April 2017 Yokogawa survey, ProSafe-RS is one of the top selling safety instrumented systems on the market today. Since releasing this system in 2005, Yokogawa has continued to strengthen its functions to satisfy a variety of customer needs. In response to the rising need for FGS solutions, this latest release includes features that make it easier to adopt and use this system in such applications. Adding a new I/O module and enabling the use of an alternate control network topology gives customers a greater range of choices in their ESD and FGS applications. In addition, cyber-security has also been strengthened.
Enhancements
Easier adoption and use in FGS applications
Software components (function blocks) that define the operations and functions to be performed when smoke, heat, and/or gas is detected, an essential aspect of any FGS application, have been added to the ProSafe-RS engineering functions. Standard FGS faceplates have been added for the integrated display of smoke, heat, and gas detector information such as gas concentration level and device status. In addition, the I/O module has a new function that can reset the detector that sends smoke and heat detection signals to the ProSafe-RS system. This eliminates the need for a reset circuit to restore communications after an abnormality is detected, thus reducing both the size of the hardware and its initial cost. With these enhancements, the ProSafe-RS is easier to adopt and use in FGS applications.
New I/O module
Yokogawa provides an N-IO (Network-IO) I/O device with channels that can be configured by software to handle either analog or digital signals. As most safety instrumented systems rely mainly on digital I/O signals, the company has added a new I/O module to its lineup that is used for only the input or output of digital signals. This new module reduces the total cost of ownership for users.
Ring network topology
For the Vnet/IP real-time control bus, ProSafe-RS has relied on the star network topology, in which all devices are connected to a central hub. The new ProSafe-RS is also compatible with the ring topology, in which devices are connected to each other in the shape of a ring. This feature affords our customers greater flexibility when configuring their systems.
Improved cybersecurity
As a result of enhancements made to the ProSafe-RS engineering station's software security functions and changes to the Windows security settings, users can now set their systems to a higher security level. This latest ProSafe-RS release also supports a Windows function that enables the centralised management of security settings. With this feature, users can apply the same security settings to multiple monitoring and operation PCs, thus greatly improving plant security.
For more information contact Christie Cronje, Yokogawa South Africa, +27 (0)11 831 6300, christie.cronje@za.yokogawa.com, www.yokogawa.com/za
Credit(s)
Further reading:
RFID bus modules for Ex areas
Turck Banner IS & Ex
Turck's HF bus mode makes it possible to implement RFID applications with many read/write heads, quickly and at an affordable price.
Read more...
---
Sensor technology for explosion-protected areas
Pepperl+Fuchs IS & Ex
To enable customers to use Pepperl+Fuchs sensors in explosion-protected areas, the company has made sensors suitable for use in Zones 1 or 21, and Zones 2 or 22.
Read more...
---
Vibration pen for hazardous areas
R&C Instrumentation IS & Ex
Vibration and temperature are the most common parameters measured on process plants to predict equipment failure or process problems. As part of the extensive range of vibration measurement products and IS rated instruments from R&C Instrumentation, the TV712 series from Time now comes in IS versions for EX Hazardous areas such as coal mines and chemical plants.
Read more...
---
Training courses for hazardous areas
Extech Safety Systems IS & Ex
Extech Safety Systems has announced a partnership with Trainor to offer online training courses for hazardous areas.
Read more...
---
Digitally managing energy costs and decarbonisation
Yokogawa South Africa Electrical Power & Protection Analytical Instrumentation & Environmental Monitoring
Real-time data combined with a single, asset-wide digital twin and proprietary analytics capabilities enable automatic opportunity identification and performance gap breakdown.
Read more...
---
Process safety transformed by TDL technology
Elemental Analytics IS & Ex
Servomex has introduced a new advantage to safety systems with its unique line lock technology incorporated into the latest tunable diode laser (TDL) analysers.
Read more...
---
Reduce the risk of shock and arc flash
Comtest IS & Ex
Comtest now offers a new Fluke tester to the market, which sources both AC and DC steady-state voltage for Hi-Z and Lo-Z instruments, thus simplifying safety compliance testing.
Read more...
---
Three key principles to build a strong safety culture
Comtest IS & Ex
To build a strong culture of safety, one first needs to create a climate that allows for adaptation and change.
Read more...
---
Preconfigured fail-safe circuit from Festo
Festo South Africa IS & Ex
The preconfigured Festo fail-safe circuit is ready to install in the control cabinet as a safe and low-cost alternative when it comes to fail-safe technology.
Read more...
---
Flameproof cable glands
Pratley IS & Ex
A new flameproof cable gland range from Pratley allows for soft-bedding cables like PVC to be fitted to flameproof equipment without any concern regarding cable damage.
Read more...
---