printer friendly version
Sensors for stockyard control
June 2017
Sensors & Transducers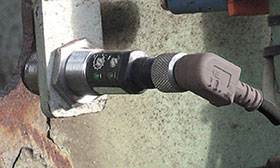 Telco Sensors are often considered as the infrared sensor problem solver because the products can withstand the effects of the most challenging applications such as the extreme airborne contamination found at paper mills.
Log debarker
Telco series Spacescan SS01 is used on log conveyors for detecting the presence of the log after it leaves the debarker and before it enters the band mill. The series replaces a single through-beam sensor that sometimes fails to detect small diameter logs which pass under the beam, or logs with significant bow causes a gap. They can also be used to measure the log diameter at the in feed and then a second one can measure it at the out feed.
Very important in this application is that Telco Sensors are:
• Easily aligned: the sensors are easy to align and require no complicated set ups that guarantee effortless installation every time.
• Penetration power: severe contamination is no longer a problem as the sensors operate reliably even in the most hostile environments.
• Immunity from background light: the sensors do not need to be covered or hidden from ambient or extraneous light to function effectively.
• Shock and vibration: the sensors can tolerate severe vibrations and physical impact without hindering lifetime or performance.
• Water resistance: the sensors are designed to withstand direct exposure to water and high-pressure spray and are capable of operating reliably in wet conditions.
For more information contact Gail Norton Instrumentation Agencies, +27 (0)31 701 4861, info@gailnortoninstrumentation.co.za, www.gailnortoninstrumentation.co.za
Credit(s)
Further reading:
2D/3D profile sensor for weld seam tracking
ASSTech Process Electronics + Instrumentation Sensors & Transducers
Supporting software can evaluate two- and three-dimensional data from smart cameras, vision systems, profile sensors and IPCs with profile sensors.
Read more...
---
Standard-compliant differential current transformer
Beckhoff Automation Sensors & Transducers
The SCT5564 can be used as a residual current monitor and can measure DC and AC residual currents with up to 100 kHz frequency in the 0 to 2 A range.
Read more...
---
Wire-actuated encoder for crane arms and lifting platforms
Instrotech Sensors & Transducers
Siko has solved the challenges presented by such applications with the SG 30 and its very compact, yet robust, design.
Read more...
---
Ultrasonic distance sensor
ASSTech Process Electronics + Instrumentation Sensors & Transducers
Wenglor's new ultrasonic distance sensors combine low installation depth and easy integration of the sensor with tried and tested ultrasonic technology, setting new standards in terms of range and integration options.
Read more...
---
Grist for the mill
Turck Banner Editor's Choice Sensors & Transducers
To meet the requirements of Swiss company Bühler with regard to its MHSA grain huller, Turck certified its contactless Li linear position sensor for use in the Ex area. Thanks to its contactless operating principle, the robust sensors are both maintenance-free and wear-free. They offer an impressive performance due to their optimum reproducibility, resolution and linearity over a large temperature range.
Read more...
---
Ex-rated strain gauge transducer
Turck Banner Sensors & Transducers
Turck Banner's IMX12-SG for force measurement applications in hazardous areas achieves response times below 10 ms and can be used as a repeater or signal converter.
Read more...
---
Concentration measurement with process sensors
Sensors & Transducers
To run chemical reactions in an optimal range and to control product quality, online concentration measurement is required. This ensures a fast intervention in case of concentration variation during 
...
Read more...
---
Sensors for pulp and paper applications
Gail Norton Instrumentation Sensors & Transducers
Some of the toughest challenges for sensors are found in the pulp and paper industry. Here, high temperatures and a contaminated environment make it difficult for optical sensors to operate accurately 
...
Read more...
---
Universal code reader for optimal reliability
Pepperl+Fuchs Sensors & Transducers
Camera-based code readers have already proven their worth in reading detailed data for automated processes, with the adaptability to suit many tasks.
Read more...
---
Working hand in hand to meet automotive OEMs' strict requirements
Turck Banner Sensors & Transducers System Integration & Control Systems Design
The LASE Group, producer of machines and assembly cells for the automotive industry, places trust in its close collaboration with Turck Multiprox.
Read more...
---