printer friendly version
Mini programmable logic controller
May 2017
PLCs, DCSs & Controllers
GIC's PL-100 mini programmable logic controller is a real-time system designed for multiple input and output arrangements. The PL-100 can control a wide variety of devices to support user's evolving automation needs. The PL-100 monitors inputs and changes outputs as controlled by the user program, which can include Boolean logic, counting, timing, complex mathematical operations and communication with other intelligent devices. With its free software, compact design, flexible configuration and powerful instruction set, the PL-100 is a perfect solution for controlling a wide variety of applications in the industrial and commercial sectors.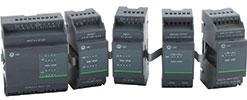 Prominent features include:
• Programming using ladder diagram.
• Supports up to 112 I/Os including isolated digital inputs (sourcing and sinking), digital transistorised outputs with short circuit protection, high-speed inputs and outputs (PTO/PWM/S-profile) and analog voltage or current inputs and outputs.
• Programming is done through a USB port.
• Standard RS-232/RS-485 port with RJ11 for HMI and scada interface.
• Modbus RTU support.
• Stacking using FRC cable up to maximum six expansion modules.
• Rugged and designed to withstand electromagnetic interference, vibrations, temperature and humidity variations.
• Some of the software features includes 128 time switches, multiple timers, counters including retentive counters, hour meters and many other function blocks.
• An independent scale converter block with various SFBs to convert the corresponding parameters. It supports up to 16 points
conversion for various data types.
• The modified preset parameters of the SFBs configured in ladder, can be retained by selecting the 'Retain SFB Set Value'.
• Complete with LED indication for inputs, outputs, run, stop and error.
• User-friendly software for online and offline simulation that supports regular firmware updates.
Users can now seamlessly and affordably implement automation in almost any electromechanical process.
For more information contact AC/DC Dynamics, +27 (0)10 202 3300, farrels@acdc.co.za, www.acdc.co.za
Credit(s)
Further reading:
New Modicon IIoT-ready controller
September 2020, Schneider Electric South Africa , PLCs, DCSs & Controllers
The Modicon M262 is IIoT-ready, designed and delivered with intuitive direct cloud connectivity and no gateways are required for OEMs to design solutions for performance demanding applications.
Read more...
---
Modular mid-range PLC series
June 2020, ElectroMechanica , PLCs, DCSs & Controllers
The Delta compact modular mid-range AS series PLCs, available locally from ElectroMechanica (EM), is a high-performance, multi-purpose controller designed for all kinds of automated equipment. The series 
...
Read more...
---
Fishery relies on Siemens process management
December 2019 , PLCs, DCSs & Controllers
The fishery in Steinach, Switzerland, breeds fish species which are under threat so that they can be released into domestic waterways in the canton of St. Gallen. The quality and temperature of the water, 
...
Read more...
---
Meet the Future: Edge Programmable Industrial Controllers
November 2019, Opto Africa Holdings , PLCs, DCSs & Controllers
All controls engineers are familiar with PLCs and PACs (programmable automation controllers). Both have been used and improved over many years, incorporating capabilities that used to be found only in 
...
Read more...
---
Precise control in joining applications
October 2019, ASSTech Process Electronics + Instrumentation , PLCs, DCSs & Controllers
Digiforce is the trusted name when comprehensive monitoring of press-fit, joining, riveting and caulking processes is needed. The models 9306 and 9310 are being successfully used in innumerable applications 
...
Read more...
---
The powerful Festo modular control system CPX-E
Technews Industry Guide: Industrial Internet of Things & Industry 4.0, Festo South Africa , PLCs, DCSs & Controllers
Designed as an EtherCAT master and motion controller with protection to IP20, the powerful automation system CPX-E for factory and process automation with NE21-specific certifications is becoming the 
...
Read more...
---
Rockwell strengthens industrial control system security
July 2019, Rockwell Automation , PLCs, DCSs & Controllers
Communications between industrial control devices have minimal protection today. This leaves them vulnerable to threats like malicious tampering and incidental system changes that can stop production 
...
Read more...
---
Siemens extends the Simine ­portfolio
June 2019, Siemens Digital Industries , PLCs, DCSs & Controllers
Siemens has extended the Simine portfolio for high-pressure grinding mills (HPGR) to include a new controller. Plug-and-play functionality makes the load share controller available for immediate use. 
...
Read more...
---
Schneider Electric announces a new era of control
June 2019, Schneider Electric South Africa , PLCs, DCSs & Controllers
Schneider Electric's new high-end Modicon M580 Ethernet programmable automation controller (ePAC) features redundant processors, native Ethernet, and cybersecurity embedded into its core. It combines 
...
Read more...
---
Selecting the right PLC
June 2019, AC/DC Dynamics , PLCs, DCSs & Controllers
Automation projects, big or small, start with a specification. Here are five factors to consider when choosing a PLC vendor.      
Broad range of devices
The selected brand must have a complete product 
...
Read more...
---