printer friendly version
Yokogawa and Cosasco conclude agreement for sale of wireless products
May 2017
Industrial Wireless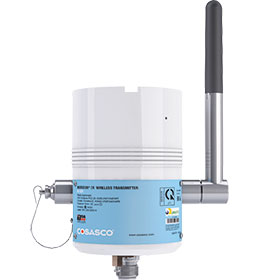 Yokogawa Electric Corporation has announced that it has signed a mutual sales agreement with Rohrback Cosasco Systems, a leading US-based manufacturer of corrosion monitoring systems and equipment. Under this agreement, Yokogawa will distribute Cosasco's ISA wireless-based MWT-3905 and CWT-9020 corrosion monitors, and Cosasco will distribute Yokogawa ISA wireless-based field wireless system devices.
Thanks to this agreement, Yokogawa can add corrosion sensors to its line-up of field wireless devices that help customers efficiently maintain facilities and ensure safety at their plants. For Cosasco, the ability to offer its corrosion monitors in combination with Yokogawa field wireless devices is expected to increase sales.
Overview of the tie-up and its objectives
With a field wireless system, plant field devices and analysers are able to communicate wirelessly with host-level monitoring and control systems. The increasing need to improve productivity and enhance safety by collecting more data on plant operations is driving the demand for field wireless devices, which can be installed even in difficult to access locations. Field wireless devices have the added advantage of reducing installation costs.
Yokogawa has developed ISA100 wireless-based technologies and products such as wireless access points and management stations, and Cosasco has a long global track record in supplying various kinds of corrosion monitors to the oil and gas, petrochemical, chemical, and other industries.
Through this agreement, Yokogawa aims to increase sales for its field wireless business by being able to offer a wider field wireless device lineup. Cosasco, on the other hand, aims to drive up sales for its wireless corrosion monitors by being able to offer them in combination with Yokogawa field wireless devices that are used to link field devices with host systems.
Features of Cosasco's wireless corrosion monitors
Corrosion sensors monitor the thinning or deterioration of the metal walls of pipes and other installations. A variety of technologies are employed, including electrical resistance and ultrasonics. Cosasco's MWT-3905 and CWT-9020, the devices covered by this sales agreement, are direct measuring type corrosion sensors that use high speed electrical resistance and linear polarisation resistance (LPR) technology. The major features are as follows:
• Corrosion rate measurement for all process environments.
• Highly secure and reliable ISA100 Wireless networks.
• Low installed cost.
• International hazardous area certifications.
Applications include monitoring of corrosion in facilities at offshore platforms and other types of oil and gas installations, petrochemical plants, chemical plants, and water and sewage treatment facilities.
Yokogawa's approach to field wireless communications
Yokogawa released its first ISA100 wireless system devices and wireless pressure and temperature transmitters in July 2010. In addition to enabling sophisticated control techniques in continuous processes, this gave customers a wider range of devices to choose from.
Yokogawa will continue to expand its line-up of ISA100 wireless transmitters and other devices such as adaptors to develop best-in-class solutions that provide higher value to customers, and promote the use of field wireless technologies.
ISA100 is a wireless technology that is based on the ISA100.11a standard. It includes ISA100.11a-2011-communications, an application layer with process control industry standard objects, device descriptions and capabilities, a gateway interface, infrared provisioning and a backbone router.
For more information contact Christie Cronje, Yokogawa South Africa, +27 (0)11 831 6300, christie.cronje@za.yokogawa.com, www.yokogawa.com/za
Credit(s)
Further reading:
Wireless at the edge
November 2020, RJ Connect , Industrial Wireless
The ultimate goal of most industrial automation applications is to obtain actionable insights from data sources for more precise decision-making. To achieve this, businesses need to make their field data 
...
Read more...
---
RS Components introduces Linx Technologies
November 2020, RS Components SA , Industrial Wireless
RS Components now stocks a comprehensive range of antennas from wireless technology specialist Linx Technologies.
Read more...
---
Do all wireless solutions solve real industry problems?
September 2020, Festo South Africa , Industrial Wireless
By using modern, standards-driven wireless technologies, designers and machine users have access to new tools that can help transform and simplify their working lives.
Read more...
---
Wireless vibration monitor
September 2020, Emerson Automation Solutions , Industrial Wireless
Emerson's AMS Wireless Vibration Monitor makes it possible to monitor motors, pumps, fans and other critical plant equipment to reduce downtime and achieve more reliable operations.
Read more...
---
Best practices in measurement
September 2020, Yokogawa South Africa , Maintenance, Test & Measurement, Calibration
Operating envelopes are changing and the impact of these changes on instrumentation must not be underestimated. Instrumentation with a design rating of a particular capacity is heavily stressed when the load is increased.
Read more...
---
Pump control at a distance
September 2020, Omniflex Remote Monitoring Specialists , Industrial Wireless
The ability to control a pump remotely over distance and without using wires is simple using Omniflex Teleterm Radio RTUs over a licence free band, avoiding administration of radio frequency band use. 
...
Read more...
---
The digital twin explained
August 2020, Yokogawa South Africa , IT in Manufacturing
The digital twin defined
A digital twin is a virtual, digital copy of a device, system, or process that accurately mimics actual performance in real time, is executable, can be manipulated, and allows 
...
Read more...
---
How investing in a niche market placed Yokogawa aboard the International Space Station
June 2020, Yokogawa South Africa , News
While the world was abuzz with excitement over the revival of U.S. manned spaceflight, another equally promising space endeavour flew under the radar. On 20 May, the H-II Transfer Vehicle (HTV-9), affectionately 
...
Read more...
---
SMC launches wireless valve bank in SA
July 2020, SMC Corporation South Africa , Industrial Wireless
In response to customer demand for a reliable communication system, which could limit the number of cables needed to communicate between multiple valve banks/field sensors and a PLC, a wireless communication 
...
Read more...
---
Vibration sensor for prescriptive analytics
June 2020, Emerson Automation Solutions , Industrial Wireless
Emerson has introduced the AMS Wireless Vibration Monitor, a low-cost, easy to deploy vibration sensor that performs prescriptive analytics on vibration data using native software to automatically identify 
...
Read more...
---