printer friendly version
Yokogawa and Cosasco conclude agreement for sale of wireless products
May 2017
Industrial Wireless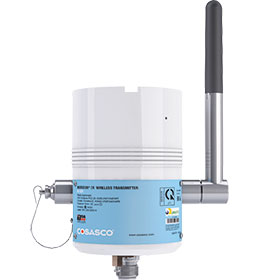 Yokogawa Electric Corporation has announced that it has signed a mutual sales agreement with Rohrback Cosasco Systems, a leading US-based manufacturer of corrosion monitoring systems and equipment. Under this agreement, Yokogawa will distribute Cosasco's ISA wireless-based MWT-3905 and CWT-9020 corrosion monitors, and Cosasco will distribute Yokogawa ISA wireless-based field wireless system devices.
Thanks to this agreement, Yokogawa can add corrosion sensors to its line-up of field wireless devices that help customers efficiently maintain facilities and ensure safety at their plants. For Cosasco, the ability to offer its corrosion monitors in combination with Yokogawa field wireless devices is expected to increase sales.
Overview of the tie-up and its objectives
With a field wireless system, plant field devices and analysers are able to communicate wirelessly with host-level monitoring and control systems. The increasing need to improve productivity and enhance safety by collecting more data on plant operations is driving the demand for field wireless devices, which can be installed even in difficult to access locations. Field wireless devices have the added advantage of reducing installation costs.
Yokogawa has developed ISA100 wireless-based technologies and products such as wireless access points and management stations, and Cosasco has a long global track record in supplying various kinds of corrosion monitors to the oil and gas, petrochemical, chemical, and other industries.
Through this agreement, Yokogawa aims to increase sales for its field wireless business by being able to offer a wider field wireless device lineup. Cosasco, on the other hand, aims to drive up sales for its wireless corrosion monitors by being able to offer them in combination with Yokogawa field wireless devices that are used to link field devices with host systems.
Features of Cosasco's wireless corrosion monitors
Corrosion sensors monitor the thinning or deterioration of the metal walls of pipes and other installations. A variety of technologies are employed, including electrical resistance and ultrasonics. Cosasco's MWT-3905 and CWT-9020, the devices covered by this sales agreement, are direct measuring type corrosion sensors that use high speed electrical resistance and linear polarisation resistance (LPR) technology. The major features are as follows:
• Corrosion rate measurement for all process environments.
• Highly secure and reliable ISA100 Wireless networks.
• Low installed cost.
• International hazardous area certifications.
Applications include monitoring of corrosion in facilities at offshore platforms and other types of oil and gas installations, petrochemical plants, chemical plants, and water and sewage treatment facilities.
Yokogawa's approach to field wireless communications
Yokogawa released its first ISA100 wireless system devices and wireless pressure and temperature transmitters in July 2010. In addition to enabling sophisticated control techniques in continuous processes, this gave customers a wider range of devices to choose from.
Yokogawa will continue to expand its line-up of ISA100 wireless transmitters and other devices such as adaptors to develop best-in-class solutions that provide higher value to customers, and promote the use of field wireless technologies.
ISA100 is a wireless technology that is based on the ISA100.11a standard. It includes ISA100.11a-2011-communications, an application layer with process control industry standard objects, device descriptions and capabilities, a gateway interface, infrared provisioning and a backbone router.
For more information contact Christie Cronje, Yokogawa South Africa, +27 (0)11 831 6300, christie.cronje@za.yokogawa.com, www.yokogawa.com/za
Credit(s)
Further reading:
5G – the wireless network of the future
December 2019, Siemens Digital Industries , Industrial Wireless
Mobile wireless network standards, starting with 1G, have been shaping our mobile communication for years. While previous developments have focused on improved usability in the public sector, the new 
...
Read more...
---
Dome protects communication sticks
December 2019, Beckhoff Automation , Industrial Wireless
With the new CU8210-M001 cabinet dome, the USB port of an industrial PC can be fed out of the control cabinet and still be well protected. In this way, reliable and powerful wireless connections to the 
...
Read more...
---
Instrument Area Network
December 2019 , Industrial Wireless
Modern plant managers and operations professionals can save time and money through a robust condition and preventative maintenance model enabled by wireless Instrument Area Network devices. Instrument 
...
Read more...
---
Yokogawa announces acquisition of RAP International
November 2019, Yokogawa South Africa , News
Yokogawa Electric Corporation has announced the signing of an agreement with UK-based RAP International for Yokogawa to acquire all shares of the company and make RAP a wholly-owned subsidiary. RAP specialises 
...
Read more...
---
Banner Engineering simplifies monitoring of rotating equipment
November 2019, Turck Banner , Industrial Wireless
Banner's Wireless Solutions Kit for vibration monitoring is a fully integrated and easy-to-use solution for monitoring assets with rotating motion. It is designed to make it easy for users of any experience 
...
Read more...
---
AGV systems need wireless networks
November 2019, RJ Connect , Industrial Wireless
In order for factories to perform their tasks efficiently and optimise production, automated material handling (AMH) systems, such as AS/RS and AGVs, need the flexibility to move around on their designated 
...
Read more...
---
Intelligent wireless connectivity
September 2019, RJ Connect , Industrial Wireless
The ultimate goal of most industrial automation applications is to obtain actionable insights from data sources for more precise decision-making. To achieve this, businesses need to make their field data 
...
Read more...
---
Industrial Scientific expands ­connected safety portfolio
August 2019, Comtest , Industrial Wireless
Comtest has announced the expansion of Industrial Scientific's connected safety portfolio to include cellular and Wi-Fi capability in the VentisPro5 Personal Gas Monitor and a satellite communication 
...
Read more...
---
Long range wireless communication for air instrumentation
Technews Industry Guide: Industrial Internet of Things & Industry 4.0, Artic Driers , Industrial Wireless
Artic Driers in association with Suto iTEC of Germany have launched a long range wireless communication system for the comprehensive range of compressed air instrumentation marketed by Artic. Wireless 
...
Read more...
---
Using IS phones or tablets for barcode scanning
Technews Industry Guide: Industrial Internet of Things & Industry 4.0, Extech Safety Systems , Industrial Wireless
Extech Safety Systems worked with Mobexx in the UK to develop the mobXscan mobile application for barcode scanning with mobile devices. The application (https://mobxscan.com) has been released for Windows 
...
Read more...
---