printer friendly version
Contactless coded safety switch
May 2017
Operator Interfaces, Switches & Relays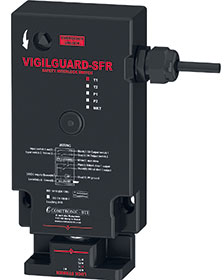 Interlocking devices are solutions used to protect operators from dangerous machinery. As such, they represent an important and fundamental element of the machine and should be integrated during the early stages of the machine design.
Comitronic-BTI markets many tamper-proof coded safety switches using the Actom3 process, which is based on electronic monitoring and internal relays thus negating the need for a separate safety module. This solution is not only cost effective (as the external relay is not needed), but also simplifies electrical wiring and saves space in the panel. The high switching capacity of both safety circuits (2 A/48 V) is sufficient for most machines in industries such as packaging, palletising, woodworking, robotics, food industry and many more. VigilGuard interlocking devices integrate the Actom3 process and as such benefit from this proven technology.
In the machine safety market, traditional mechanical interlocking devices require the alignment to be exact and often have a short life expectancy due to the breakage of the keys. Another disadvantage of the traditional mechanical interlocks is that the actuating holes on the devices themselves do not comply with the demanding standards of the food industry, as bacteria can accumulate in the holes.
The VigilGuard coded contactless solution solves the challenges of the traditional interlock: when energised, the coded bolt is activated and inserted into the coded strike head. The solution then guarantees that the door is closed and locked correctly by reading the code in the strike head, thereby confirming that the bolt is inserted into the correct strike head before actuating the safety contacts. Due to the dead bolt design, there is no mechanical wear and the mechanical lifetime expectancy is over 10 000 000 cycles. The housing material, Zamak (zinc-aluminium-magnesium-copper) is highly resistant to harsh environments and the rough handling experienced on heavy doors, which are commonly used in the automotive and steel industries. The smooth and hygienic design simplifies the cleaning process, as there is no cavity in the switch and the strike head has a central hole to release any water.
Fitted with internal relays, VigilGuard achieves the highest safety level (PL4e according to ISO EN 13849-1, or Category 4 as per EN954-1), without having to be wired to a safety module. The redundancy of the safety lines, self checking circuitry, inclusion of a manual reset and emergency manual unlocking system allows it to be totally independent and safe.
To ensure that the device is easy to wire, the redundant safety lines have a potential free switching capacity of 2 A/48 V, allowing them to be connected directly to most machines' contactors. The optional dual M12 connectors make wiring devices in series easy, while maintaining the same safety level.
Three LEDs give operators an overview of the state of the switch:
• Power On/Door Unlocked – when the power supply is not in the correct range, or when the temperature of the device becomes abnormal, a visual indication is given via the LED and the machine is automatically switched into a safe state.
• Door locked.
• Eco mode/standby.
For more information contact Brandon Topham, RET Automation, +27 (0)11 453 2468, brandon.topham@retautomation.com, www.retautomation.com
Credit(s)
Further reading:
Pressure sensors for Industry 4.0
Technews Industry Guide: Industrial Internet of Things & Industry 4.0, Turck Banner , Pressure Measurement & Control
Turck's new pressure sensors of the PS+ series offer complete access to sensor parameters via IO-Link.
Read more...
---
All-in-one pressure sensor and wireless node
July 2019, Turck Banner , Sensors & Transducers
One cost-effective and easy-to-deploy device
Turck's all-in-one pressure sensor and wireless node is a compact device consisting of a media isolated pressure sensor, a 2,4 GHz wireless node, and a battery 
...
Read more...
---
New sensor with wash-down ­features
July 2019, Turck Banner , Sensors & Transducers
Turck is presenting a new Q130WD Uprox sensor with wash-down features. Compliant with the requirements of the food and beverage industry, the rectangular proximity switch offers the highest degrees of 
...
Read more...
---
Pressure transmitters for mobile equipment
June 2019, Turck Banner , Pressure Measurement & Control
In order to provide solutions for use in mobile equipment, Turck has expanded its portfolio of pressure sensors with the introduction of the PT1100/2100 transmitters. This includes mining, forestry, agricultural 
...
Read more...
---
Mimic's SH300 text display for PLCs
June 2019, Mimic Components , Operator Interfaces, Switches & Relays
Mimic Components' SH-300 with text display is a long standing and reliable electronic device for programmable PLCs and other intelligent controllers equipped with a communication interface. It also functions 
...
Read more...
---
Magnetic sensors for C-groove cylinders from SMC
June 2019, Turck Banner , Sensors & Transducers
Turck's portfolio of magnetic field sensors is being expanded: The BIM-UNC product series was specially optimised for perfect mounting in the C-groove pneumatic cylinder of SMC. The sensors can be inserted 
...
Read more...
---
New generation HMI/PLC series of controllers
Africa Automation Fair 2019 Preview, Turck Banner , IT in Manufacturing
The new generation of the TX700 series of HMI/PLC controllers can control and visualise even more complex processes and applications than before. With several interfaces and an integrated OPC UA server, 
...
Read more...
---
Wireless vibration and ­temperature monitoring
Africa Automation Fair 2019 Preview, Turck Banner , Temperature Measurement
Banner Engineering's wireless vibration solutions kit and temperature sensor provides superior machine monitoring. Designed to effectively monitor machines for increases in vibration and temperature, 
...
Read more...
---
A switch for the next ­generation network
Africa Automation Fair 2019 Preview, IAC - Industrial Automation & Control , Operator Interfaces, Switches & Relays
The Hirschmann BOBCAT Switch is a compact managed switch. It is the first appliance to provide advanced security and real-time communication through time sensitive networking (TSN) technology on all of 
...
Read more...
---
Industrial signal conditioner
Africa Automation Fair 2019 Preview, ESTEQ Test & Measurement , Operator Interfaces, Switches & Relays
Setting new standards in industrial process control, ESTEQ's ClipX signal conditioner adapts to each measurement task, whether it is used with single- or multiple-channel applications, in manufacturing 
...
Read more...
---