printer friendly version
Contactless coded safety switch
May 2017
Operator Interfaces, Switches & Relays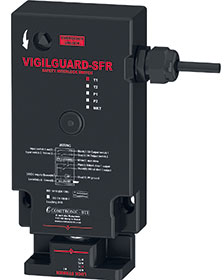 Interlocking devices are solutions used to protect operators from dangerous machinery. As such, they represent an important and fundamental element of the machine and should be integrated during the early stages of the machine design.
Comitronic-BTI markets many tamper-proof coded safety switches using the Actom3 process, which is based on electronic monitoring and internal relays thus negating the need for a separate safety module. This solution is not only cost effective (as the external relay is not needed), but also simplifies electrical wiring and saves space in the panel. The high switching capacity of both safety circuits (2 A/48 V) is sufficient for most machines in industries such as packaging, palletising, woodworking, robotics, food industry and many more. VigilGuard interlocking devices integrate the Actom3 process and as such benefit from this proven technology.
In the machine safety market, traditional mechanical interlocking devices require the alignment to be exact and often have a short life expectancy due to the breakage of the keys. Another disadvantage of the traditional mechanical interlocks is that the actuating holes on the devices themselves do not comply with the demanding standards of the food industry, as bacteria can accumulate in the holes.
The VigilGuard coded contactless solution solves the challenges of the traditional interlock: when energised, the coded bolt is activated and inserted into the coded strike head. The solution then guarantees that the door is closed and locked correctly by reading the code in the strike head, thereby confirming that the bolt is inserted into the correct strike head before actuating the safety contacts. Due to the dead bolt design, there is no mechanical wear and the mechanical lifetime expectancy is over 10 000 000 cycles. The housing material, Zamak (zinc-aluminium-magnesium-copper) is highly resistant to harsh environments and the rough handling experienced on heavy doors, which are commonly used in the automotive and steel industries. The smooth and hygienic design simplifies the cleaning process, as there is no cavity in the switch and the strike head has a central hole to release any water.
Fitted with internal relays, VigilGuard achieves the highest safety level (PL4e according to ISO EN 13849-1, or Category 4 as per EN954-1), without having to be wired to a safety module. The redundancy of the safety lines, self checking circuitry, inclusion of a manual reset and emergency manual unlocking system allows it to be totally independent and safe.
To ensure that the device is easy to wire, the redundant safety lines have a potential free switching capacity of 2 A/48 V, allowing them to be connected directly to most machines' contactors. The optional dual M12 connectors make wiring devices in series easy, while maintaining the same safety level.
Three LEDs give operators an overview of the state of the switch:
• Power On/Door Unlocked – when the power supply is not in the correct range, or when the temperature of the device becomes abnormal, a visual indication is given via the LED and the machine is automatically switched into a safe state.
• Door locked.
• Eco mode/standby.
For more information contact Brandon Topham, RET Automation, +27 (0)11 453 2468, brandon.topham@retautomation.com, www.retautomation.com
Credit(s)
Further reading:
Inline sensor status indicator
January 2020, Turck Banner , Maintenance, Test & Measurement, Calibration
Machine downtime can be costly for any company and identifying the problem can be time-consuming. The S15L series inline sensor status indicator can be mounted on a sensor for 360 degree-visibility of 
...
Read more...
---
Pressure sensors with touchpads
December 2019, Turck Banner , Pressure Measurement & Control
Turck has launched its new PS+ series pressure sensors, a modular range that enables access to reliable measuring instruments with intuitive operation. The sensors are easily commissioned and overhead 
...
Read more...
---
Sensors for predictive maintenance solutions
December 2019, Turck Banner , Sensors & Transducers
Banner Engineering's QM30VT series sensors build on the capabilities offered by the QM42VT Series sensors they replace. They maintain all the same functionality, registers, and scaling, however, their 
...
Read more...
---
Banner Engineering simplifies monitoring of rotating equipment
November 2019, Turck Banner , Industrial Wireless
Banner's Wireless Solutions Kit for vibration monitoring is a fully integrated and easy-to-use solution for monitoring assets with rotating motion. It is designed to make it easy for users of any experience 
...
Read more...
---
Bright, versatile illumination
November 2019, Turck Banner , Sensors & Transducers
The bright, uniform output of the WLB72 reduces shadows, improves visibility and gives workers the light they need to work efficiently and without making mistakes. A diffuse window minimises eye strain 
...
Read more...
---
RS introduces flush-mount devices for smart manufacturing
November 2019, RS Components SA , Operator Interfaces, Switches & Relays
RS Components has added the Schneider Electric Harmony XB4F series of flush mounting pushbuttons, selector switches and pilot lights to its product portfolio. Designed for use in industrial automation 
...
Read more...
---
LM sensor for precise applications
October 2019, Turck Banner , Sensors & Transducers
Banner's LM series of precision measurement sensors is now available in an even more precise model that features a 0,002 mm analog resolution at a range of 40-80 mm. The new LM80 model also features a 
...
Read more...
---
I/O solutions with Profinet redundancy
October 2019, Turck Banner , Fieldbus & Industrial Networking
Turck's Simple IO-Link Device Integration, SIDI for short, simplifies the handling of IO-Link. As its first fieldbus module with Profinet S2 system redundancy, the company has introduced the TBEN-L5-8IOL. 
...
Read more...
---
How integrated visual management and remote monitoring demystify machine safety
September 2019, Turck Banner , IS & Ex
This article shares common challenges for machine safety, and shows how combining easy-to-use safety devices with visual indication and remote monitoring capabilities can help make safety simpler and more effective.
Read more...
---
Radar sensors: frequently asked questions
September 2019, Turck Banner , Sensors & Transducers
Radar sensors are commonly used for a wide variety of vehicle detection and collision avoidance applications, and they are a particularly good choice for outdoor deployments.
Read more...
---