printer friendly version
Radar level transmitter for bypass chambers and magnetic level indicators
May 2017
Level Measurement & Control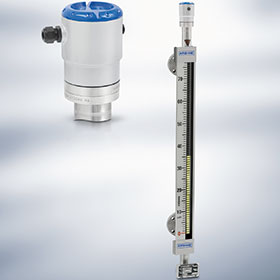 Krohne has introduced a new radar level transmitter for bypass chambers and magnetic level indicators, the Optiwave 1010. The 2-wire FMCW radar level transmitter is designed as a cost-effective solution for the continuous level measurement of liquids in bypass applications in various industries, e.g. chemical, power, water and wastewater, or automotive.
The instrument can be combined with the BM 26 advanced bypass chambers and magnetic level indicators (MLIs), thereby adding a 4-20 mA HART output to these mechanical devices. The combinations can be conveniently ordered as a whole, or alternatively, it can be welded onto the bypass chamber. Thus it is also an ideal solution for other MLI manufacturers to add a level radar measurement option to their product range.
Optiwave 1010 is competitively priced to replace reed chains, magnetostrictive and simple TDR transmitters that are typically used with bypass chambers or MLIs. In addition to a measuring accuracy of 5 mm, the FMCW principle offers a better overall accuracy in bypass applications: while reed chain and magnetostrictive principles are measuring the float position which depends on the product density, the FMCW radar directly measures the liquid surface. The application range includes almost any liquids with process temperatures up to 150°C and 40 barg, with measuring ranges up to 8 m.
The transmitter features a dual process seal system that allows for removal of the converter under process conditions. The 2-wire loop powered HART device is pre-configured in the factory and is delivered ready to use. Application specific adjustments are possible via HART/DD and DTM.
For more information contact Deon Rampathi, Krohne SA, +27 (0)11 314 1391, d.rampathi@krohne.com, www.za.krohne.com
Credit(s)
Further reading:
Level measurement in silos
January 2020, Morton Controls , Level Measurement & Control
UWT has taken a traditional method of content measurement in silos and storage hoppers and remastered it to enable seamless integration with modern-day control systems and PLCs. The UWT NivoBob continuous 
...
Read more...
---
Digital float switch
January 2020, WIKA Instruments , Level Measurement & Control
As its first instrument of this kind, WIKA has launched a float switch with a PNP/NPN output signal. The model GLS-1000 detects the level of liquids with an accuracy of 1 mm or less. The digitised float 
...
Read more...
---
Radiometric solutions in refineries
November 2019, Mecosa , Level Measurement & Control
Berthold Technologies' radiometric instruments for non-contacting level and density measurement are widely used in the oil refining industry, where customers include Exxon Mobil, Sinopec, Shell, BP, Conoco 
...
Read more...
---
Interface measurement in desalters
November 2019, Mecosa , Level Measurement & Control
Interface measurements in desalters are often regarded as non-critical, even though every drop of oil to be refined passes through the desalter. As refineries try to maximise their margins, so-called 
...
Read more...
---
Level monitoring of groundwater
October 2019, WIKA Instruments , Level Measurement & Control
Much of our drinking water is extracted from subterranean resources. Water that falls to the surface of the Earth drains not only into rivers and lakes, much of it will permeate into subterranean reservoirs. 
...
Read more...
---
Ultrasonic sensor for remote water level measurement
October 2019, Instrotech , Level Measurement & Control
Instrotech has available the Senix ToughSonic CHEM range of ultrasonic sensors, in service around the world in some of the most demanding and corrosive industrial environments. They measure a wide variety 
...
Read more...
---
Simple measurement of liquid levels
October 2019, VEGA Controls SA , Level Measurement & Control
In 2016, VEGA introduced the Vegapuls 64, its first radar level sensor for liquids that measures at a frequency of 80 GHz, which allows considerably better focusing of the radar beam. With Vegapuls 64, 
...
Read more...
---
Density compensated pressurised vessel level measurement
October 2019 , Level Measurement & Control
The traditional approach to level measurement in closed vessels such as boilers, evaporators, crystallisers or distillation columns, has been to use a conventional differential pressure (DP) transmitter 
...
Read more...
---
Kobold's new float level switches
August 2019, Instrotech , Level Measurement & Control
Kobold's M-series level switch comprises a float that slides up and down with the liquid along a guide tube. Thus, up to 4 reed contacts moulded in the guide tube are switched in a non-contacting fashion 
...
Read more...
---
Foxboro buoyancy level transmitter
August 2019, I-PAS (Industrial Process Automation Solutions) , Level Measurement & Control
Principle of operation
When an element a (displacer rod) is immersed into a liquid, according to Archimedes' Principle, the displacer will 'lose' some of its weight proportional to the level of the liquid 
...
Read more...
---