printer friendly version
Pyrometer for harsh temperature applications
May 2017
Temperature Measurement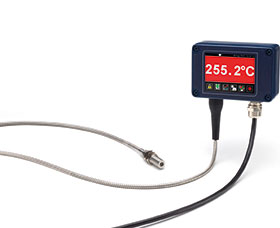 Measuring the temperature of reflective metals is a challenge as reflective surfaces, hot furnaces and high ambient temperatures can make it difficult to achieve results with non-contact sensors. Now available from ASSTech is the Calex Fibre-Mini, a fibre optic pyrometer with innovative features for accurate measurement, specific for these applications.
Problems when using a handheld IR thermometer to measure the surface of shiny metals include difficulty to achieve an accurate measurement as changing the angle can affect the reading, or the thermometer cannot display a believable temperature, especially when aiming it into a furnace.
General purpose, long wavelength temperature guns are not suitable to use on metals because they are more susceptible to errors than shortwave sensors if the emissivity setting is incorrect. A small error can cause a big error of measurement.
Add to this the problem that the area surrounding the furnace is a harsh place to mount an infrared sensor, with the ambient temperature commonly exceeding 100°C and this challenging application rules out most choices of sensor.
The solution is to use a shortwave pyrometer such as the Fibre-Mini with the following advantages:
• Fibre-optic sensing head withstands up to 200°C ambient temperature, making it ideal for mounting near furnaces.
• No electronics in the sensor head make it immune to electromagnetic interference in high-EMC applications such as induction heating.
• Reflected energy compensation allows for an accurate reading when measuring reflective objects inside furnaces. Simply enter the temperature of the furnace interior and the sensor will compensate for the reflection for a more accurate reading. This can also be adjusted automatically on Modbus models for maximum accuracy during heating and cooling cycles.
• Laser aiming light illuminates the measurement area, showing both the location and the size of the measuring spot.
• Large, full colour temperature display with data logging makes the Fibre-Mini a truly plug-and-play solution. A choice of 4-20 mA or RS-485 Modbus outputs is available for connection to the process instrumentation.
• Fully configurable via touchscreen with no need for any additional configuration hardware or software.
A choice of temperature ranges from 250°C to 2000°C is available, as is a choice of optics for measuring small or large areas at short or long distances. Feeding the sensing head through conduit and trunking is easy thanks to the slim, highly flexible fibre-optic cable which is available in lengths of 3,5 or 10 m. The short measurement wavelength allows the sensor to measure through many ordinary viewpoints made of glass or quartz as well as specialist IR-transmissive materials.
For more information contact Anastas Schnippenkotter, ASSTech Process Electronics & Instrumentation, +27 (0)11 708 9200, info@asstech.co.za, www.asstech.co.za
Credit(s)
Further reading:
Bimetal thermometer with switch contacts
December 2019, WIKA Instruments , Temperature Measurement
WIKA's model TGS55 is a stainless steel bimetal thermometer which offers high reliability and long service life. Wherever the process temperature has to be indicated on-site and, at the same time, circuits 
...
Read more...
---
Infrared monitoring of kiln shells extends refractory life
December 2019 , Temperature Measurement
Extending the life of a kiln refractory as well as preventing disastrous failures requires a good understanding of the condition of the refractory material.
Read more...
---
Thermocouples in gasification reactors
November 2019, WIKA Instruments , Temperature Measurement
Gasification reactors, due to their harsh process conditions, place high demands on the instruments used there. Many manufacturers have reacted to this and adapted their products accordingly, but what 
...
Read more...
---
Hotspot detection in pressboard manufacturing applications
October 2019, R&C Instrumentation , Temperature Measurement
In the building industry, there is a product used that is commonly referred to as pressboard, also known as chipboard. Sheets of pressboard are typically 1,2 m x 2,4 m in size and are used in the construction 
...
Read more...
---
Pair temperature probes with different cable lengths
October 2019, ASSTech Process Electronics + Instrumentation , Temperature Measurement
In heat meters for heating systems, two paired temperature probes are usually used for symmetrical installation. These must have identical cable lengths to comply with the legal regulations. Now, Jumo 
...
Read more...
---
Precise control in joining applications
October 2019, ASSTech Process Electronics + Instrumentation , PLCs, DCSs & Controllers
Digiforce is the trusted name when comprehensive monitoring of press-fit, joining, riveting and caulking processes is needed. The models 9306 and 9310 are being successfully used in innumerable applications 
...
Read more...
---
IR thermometers in the steel industry
September 2019, R&C Instrumentation , Temperature Measurement
In many foundry applications, temperature readings show whether processes are operating within their proper ranges, whether a reheater is too cold or too hot, whether a stand needs adjusting, or how much 
...
Read more...
---
Hygienic pressure transmitter
September 2019, ASSTech Process Electronics + Instrumentation , Pressure Measurement & Control
The pressure transmitter Jumo Taros S46 H – available locally from ASSTech – is designed according to the hygienic requirements for precision measurement and longevity. The high-level protection type 
...
Read more...
---
Compact IR camera with industrial accessories
September 2019, Comtest , Temperature Measurement
Comtest has announced an addition to the Optris Compact line of IR cameras – Xi 80 and Xi 400 – with new industrial accessories for use in harsh conditions. The range has a modular design and as a result, 
...
Read more...
---
IR measurement optimises plastic stationary and rotary thermoforming
August 2019, R&C Instrumentation , Temperature Measurement
Background
Thermoforming is the process by which a thermoplastic sheet is made soft and pliable by heating, and bi-axially deformed by being forced into a three-dimensional shape. This process may take 
...
Read more...
---