printer friendly version
Placing critical visual alarms in hazardous areas
May 2017
Operator Interfaces, Switches & Relays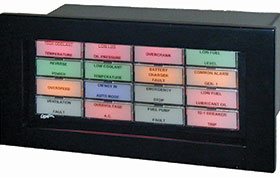 Local panels in plants perform vital safety functions and in hazardous locations, local panels must perform without compromising the integrity of the area. Annunciators have a primary safety role in local panel design to provide immediate alert and response to danger.
Based on the field proven Omni16 Alarm Annunciator range, the Omni16 C1480B-EX is an intrinsically safe backlit version developed for use in Zone 2 hazardous environments such as those of the chemical and petrochemical industries. The annunciator accepts 16 potential free inputs and displays a visual warning when a critical alarm is triggered. Since the annunciator is intrinsically safe, there is no danger of igniting any combustible gas or dust that may be present in the air.
The alarm sequences for the 16 inputs are configured by software or DIP switch with a choice of 27 standard options. Four output relays can be configured as group alarm, horn output and watchdog with a change-over contact at the terminals. The group alarm can be set to one of four functions, Follows Input, Follows Alarm, Multiple Reflash, Ringback Horn. The Omni16C can be combined into alarm systems up to 256 points.
The instrument has been certified by SABS as equipment category Ex ic in accordance with international standards IEC60079-0 and IEC60079-15. C1480B-EX is suitable for use in hazardous areas classified as Zone 2, gas and dust, propane to hydrogen.
Credit(s)
Further reading:
The importance of up-to-date alarm annunciators
January 2020, Omniflex Remote Monitoring Specialists , IS & Ex
At 1.23 pm on Sunday, 24 July 1994, twenty-six people were injured when an explosion erupted through an oil refinery in an otherwise quiet corner of South Wales in the United Kingdom. The site was occupied 
...
Read more...
---
RS introduces flush-mount devices for smart manufacturing
November 2019, RS Components SA , Operator Interfaces, Switches & Relays
RS Components has added the Schneider Electric Harmony XB4F series of flush mounting pushbuttons, selector switches and pilot lights to its product portfolio. Designed for use in industrial automation 
...
Read more...
---
Time synchronise your key remote sites
November 2019, Omniflex Remote Monitoring Specialists , Sensors & Transducers
Managing processes where root cause identification is rapidly identified can generate substantial savings though improved productivity and implementation of planned preventive maintenance schedules. Knowing 
...
Read more...
---
Omniflex eases mine water compliance
October 2019, Omniflex Remote Monitoring Specialists , System Integration & Control Systems Design
Water licences carry a 'Burdon of Proof' that the licence holder will not harm the environment or the water system through its activities. This covers the use of water from the system and the responsible 
...
Read more...
---
Alarm system upgrade from Omniflex
September 2019, Omniflex Remote Monitoring Specialists , IS & Ex
Fiddler's Ferry Power Station was constructed by the CEGB (Central Electricity Generating Board) in the UK and came into full operation in 1973. It has four 500 MW sets, giving a total generating capacity 
...
Read more...
---
Water level system controls cathodic protection
August 2019, Omniflex Remote Monitoring Specialists , Level Measurement & Control
Corrosion Control Services is a leading specialist in the design, installation, commissioning and monitoring of cathodic protection. CCSL carries out works on reinforced concrete structures, historic 
...
Read more...
---
Powerterm P PSU: priced to meet tight budgets
August 2019, Omniflex Remote Monitoring Specialists , Electrical Power & Protection
The Powerterm P range of DIN rail mount 24 VDC power supplies are specifically designed for industrial instrumentation applications. Use of carefully selected long-life components and conservative design 
...
Read more...
---
Big Data enabled by Omniflex IIoT solutions
Technews Industry Guide: Industrial Internet of Things & Industry 4.0, Omniflex Remote Monitoring Specialists , Fieldbus & Industrial Networking
Omniflex specialises in 'out-of-the-box' remote monitoring solutions based on years of industrial plant networking experience, from last mile connection to mainstream Ethernet backbones. The Teleterm 
...
Read more...
---
Linearise all your signals
July 2019, Omniflex Remote Monitoring Specialists , Industrial Wireless
Signal conditioners have progressed over the years to become mainstream protection front ends for PLC and DCS control systems. They provide signal isolation and protection from the harsh plant conditions 
...
Read more...
---
Merging control and telemetry
June 2019, Omniflex Remote Monitoring Specialists , Industrial Wireless
Wireless telemetry and control in plants have become a necessity with the data acquisition requirement of modern plant control to lift performance and compliance. In-plant cabling costs often push the 
...
Read more...
---