printer friendly version
ProSoft's Hotspot radio technology
March 2017
Industrial Wireless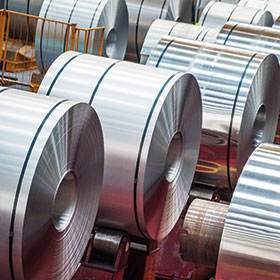 The process of aluminium production is a long and potentially hazardous one if precautions are not in place. Clauser Dunkerque, a company based in France, knows the challenges involved and the precision required, and set about strengthening the communications network for an aluminium producer in the Middle East.
Clauser Dunkerque primarily manufactures high current conductors and special machinery for use in aluminium production. In this case, it was manufacturing an earthing trolley for the company, and it needed to ensure strong, clear communications, since the device is used in a facility filled with potlines. These reduction pots hold extracted aluminium, and are electrically connected in a series. Once in the pots, the aluminium melts down and is divided. A potline can feature 1000 or more pots in some cases, with high current to match. 
With such a high current application, it's important to ensure that any potential leakage current is taken care of as soon as possible. A leakage can be caused by a variety of factors, including an insulation fault or humidity. In the best case scenario, a leak left unfixed causes energy loss and potentially losses in productivity and profit. Worst case scenario is it can be hazardous to workers and cost a lot of money. If a flashover occurs due to an unexpectedly high current, it could kill the substation costing the company millions of Euros. 
So, clear communications are a must in this type of facility. But they can be tricky: running wires or cables from inside the potline to an outside environment was not possible in this operation. And even some wireless radios could face an issue if used in the facility thanks to interference caused by electrical noise. Previously, the communications were hard wired to Flex I/O and had to be connected and unconnected every time the trolley was moved. That led to maintenance issues, with connectors being damaged, and did not allow for monitoring of the current.
That is where ProSoft Technology came in
ProSoft Technology's Weatherproof and Industrial Hotspot radios were used with MIMO antennas in conjunction with a Rockwell Automation ControlLogix system. The Weatherproof radios are perfect for this rugged application, and the 802.11n MIMO and channel bonding allows for high-resolution video monitoring while the I/O is being controlled – ideal for this application, where real-time information is crucial. The radios offer ultra-fast access point switchover times of less than 10 ms, which came in handy as the earthing trolley connected to the closest repeater. Two master radios were connected on different channels to avoid interference and ensure redundancy between the repeaters.
"Our on-site tests went well. We especially liked that the system was flexible with reduced configuration – it took just half a day to configure, and less than a week for full deployment of the application," said Clauser Dunkerque project manager Fréderic Vervelle. "We also like that ProSoft's solution was approved by the Telecommunication Regulatory Authority. If it hadn't been, we would have had declaration fees and a bandwidth-based payment." 
For more information contact Bob Petrie, Throughput Technologies, +27 (0)11 705 2497, bob@throughput.co.za, www.throughput.co.za
Credit(s)
Further reading:
IO-Link data communication through to the cloud
April 2020, Pepperl+Fuchs , Industrial Wireless
Continuous data communication from the lowest sensor/actuator level to the cloud is becoming increasingly important across the entire industrial environment. For the logistics sector in particular, where 
...
Read more...
---
Handheld spectrum analysers
April 2020, Comtest , Industrial Wireless
The latest offering from Bird expands its highly sought-after SignalHawk family of rugged, handheld spectrum analyser products by adding the SH-60S-AOA Angle of Arrival spectrum analyser and the SH-60S-TC. 
...
Read more...
---
Take data to the cloud wirelessly
February 2020, RJ Connect , Industrial Wireless
The ultimate goal of most industrial automation applications is to obtain actionable insights from data sources for more precise decision-making. To achieve this, businesses need to make their field data 
...
Read more...
---
Wireless control of pumps
February 2020, Omniflex Remote Monitoring Specialists , Industrial Wireless
The ability to control a pump remotely over distance and without using wires is simple using Omniflex Teleterm Radio RTUs over a licence free band, avoiding administration of radio frequency band use. 
...
Read more...
---
Enterprise-level wireless infrastructure management
February 2020, Emerson Automation Solutions , Industrial Wireless
Emerson has added two new IIoT solutions to its Plantweb Insight data analytics platform that will enable industrial facilities to transform the way they manage their enterprise-level wireless network 
...
Read more...
---
Vibration sensor simplifies asset monitoring
February 2020, Emerson Automation Solutions , Industrial Wireless
Emerson has introduced the AMS Wireless Vibration Monitor, a low-cost, easy to deploy vibration sensor that performs prescriptive analytics on vibration data using native software to automatically identify 
...
Read more...
---
5G – the wireless network of the future
December 2019, Siemens Digital Industries , Industrial Wireless
Mobile wireless network standards, starting with 1G, have been shaping our mobile communication for years. While previous developments have focused on improved usability in the public sector, the new 
...
Read more...
---
Dome protects communication sticks
December 2019, Beckhoff Automation , Industrial Wireless
With the new CU8210-M001 cabinet dome, the USB port of an industrial PC can be fed out of the control cabinet and still be well protected. In this way, reliable and powerful wireless connections to the 
...
Read more...
---
Instrument Area Network
December 2019 , Industrial Wireless
Modern plant managers and operations professionals can save time and money through a robust condition and preventative maintenance model enabled by wireless Instrument Area Network devices. Instrument 
...
Read more...
---
Local PDS at the cutting edge of technology
November 2019 , Industrial Wireless
With mine safety legislation getting progressively tighter, Booyco Electronics continues to ensure compliance with its locally developed proximity detection system (PDS). According to Pieter Janse van 
...
Read more...
---