printer friendly version
Paperless process recorders
March 2017
Data Acquisition & Telemetry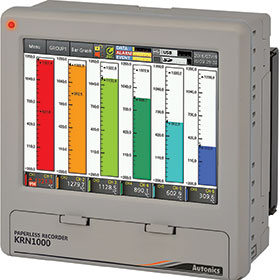 The new KRN1000 series paperless process recorders from Autonics feature 5,6" TFT colour LCD touchscreen displays with excellent visibility and intuitive control interfaces. The recorders are capable of processing 27 different inputs including RTD, thermocouple, and analog input types. The outstanding performance of the recorders is matched with affordable prices to ensure top value to users.
The recorders also feature high-speed sampling rates of up to 25 ms and an adjustable recording cycle time from 1 to 3600 s. USB, RS-422/485, and Ethernet communication support is standard on all models for flexible application in diverse industrial settings. The units also provide high capacity internal memory storage of 200 MB, and supports external SD/USB memory storage of up to 32 GB, ensuring that no information gets lost. Nine different measurement graph types are available including bar graph, trend graphs, and digital displays, so that users can read important data best matching their application. The KRN1000 series also feature a compact, space-saving design, allowing easy installation in tight or limited spaces.
Various user-friendly functions and features are also standard, including easy access pop-up menu, virtual keyboard, 23-colour support, check data history and file history, group settings, event list, and much more. Monitoring and configuration is possible via PC using the free comprehensive device management software DAQMaster. The KRN1000 series is available in 4, 8, 12, and 16 input channel models with various input/output options including digital input, alarm relay output, and 24 VDC power output for transmitters.
For more information contact Philip Kim, Autonics Corporation, +82 51 519 3232, sales@autonics.com, www.autonics.com
Further reading:
New network function for digital ­indicator
October 2018, Yokogawa South Africa , Data Acquisition & Telemetry
Yokogawa has added a network function to the UM33A digital indicator with alarms. With this network function, a single UM33A digital indicator can receive, process and sequentially display data from up 
...
Read more...
---
Remote monitoring and telemetry at power station water plants
July 2018, Omniflex Remote Monitoring Specialists , Data Acquisition & Telemetry
The wireless ability to manage pumps remotely over long distances is now available using Omniflex's Teleterm M3 Radio RTUs. This full functionality IEC61131 PLC enables both control and wireless communications 
...
Read more...
---
Purely analog signal conditioning
June 2018, GHM Messtechnik SA , Data Acquisition & Telemetry
IMTRON, part of the GHM Group, has launched the Purely Analogue Signal Conditioning TSA modules that offer well-established methods for processing, filtering, amplifying and galvanically isolating sensor 
...
Read more...
---
KPMs rotary consistency transmitter boosts pulp mill performance
May 2018, UIC Instrumentation , Data Acquisition & Telemetry
In today's pulp and paper-making market place, consistency measurement is one of the most important ways to keep costs as low as possible without sacrificing quality or production throughput. KPM's KC/5 
...
Read more...
---
Cost-effective process monitoring and recording
January 2018 , Data Acquisition & Telemetry
KRN1000 series paperless process recorders.
Read more...
---
RS Pro range of USB keys delivers secure data storage
January 2018, RS Components SA , Data Acquisition & Telemetry
RS Components has introduced a new addition to its high-quality RS Pro range with the launch of the Evikey One NFC cybersecure contactless USB key. The innovative range of USB flash-drives delivers a 
...
Read more...
---
Low power, battery operated RTU/logger
Africa Automation Fair 2017 Preview , Data Acquisition & Telemetry
The new SSE ultra low power, battery operated RTU/logger is a reliable, high performance data logger. It is easy to deploy across a wide range of water and wastewater applications. Visit Stands F13-F15 
...
Read more...
---
Data acquisition and control system
Africa Automation Fair 2017 Preview, Elexsys , Data Acquisition & Telemetry
The Dataforth MAQ20 industrial data acquisition and control system from Elexsys consists of DIN rail-mounted, programmable, multichannel, industrially rugged signal conditioning input and output modules. 
...
Read more...
---
New mini scada RTU for data acquisition
April 2017 , Data Acquisition & Telemetry
Define Instruments has released the Zen RTU Mini, a data acquisition unit for industrial analog signals. A breakthrough for DAQ applications requiring the collation of multiple signals and signal types 
...
Read more...
---
Low-cost alarm logging for Omniflex annunciators
January 2017, Omniflex Remote Monitoring Specialists , Data Acquisition & Telemetry
Alarm and event logging can provide valuable information to help determine the cause of abnormal plant conditions and reduce plant downtime. Now, local low-cost alarm logging is available for all Omniflex 
...
Read more...
---