printer friendly version
AS-i positioner simplifies valve installation
February 2017
Valves, Actuators & Pump Control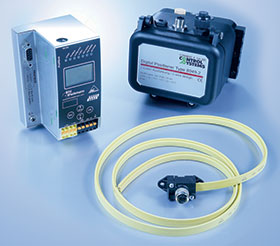 One of Schubert & Salzer's goals in developing an AS interface was to make installation fast, reliable and easy while keeping connection costs low. This innovative bus system at the actuator-sensor level has proved highly popular, especially in drinks sector technology. An AS-i-based system makes it very easy to install, start up and reliably monitor modular-built plants in particular. Schubert & Salzer has therefore incorporated AS-i networking technology into its new 8049 digital positioner to exploit the key benefits of AS-i into their actuating and control valves, namely:
• Reduction in cabling cost and effort.
• Significantly fewer sources of faults.
• Simpler installation and commissioning.
The digital AS-i positioner for actuating pneumatic control valves is linked to the master by means of the characteristic yellow, twin-conductor AS-i cable, whose dual function is to supply power while simultaneously transmitting data.
By developing the 8049 AS-i positioner in a so-called "top-mounted" configuration in which it rests centrally over the valve actuator and does not have to be linked via an actuating lever on the side, this design provides very high hygiene standards and is ideally suited for integration into food and drink process technology. For reasons of operating reliability and hygiene, on-site operation has been reduced to a minimum and is limited to self-balancing and to adjustment of the positioner setting locally. This is all that is required since the 8049 digital positioner can be configured very easily for the tasks in question via the AS-i connection, a PC interface and a user-friendly GUI. Furthermore, AS-i permits the use of remote diagnostic tools to interrogate the status of the equipment at the control valve and to access any error messages. Diagnosis through the Internet is possible also, and the AS-i structures can be seamlessly embedded in other bus structures through appropriate gateways.
The benefits of the AS-i positioner can be combined with different actuating and control valves to provide individual modular process solutions. Examples of this can be found in the processing technologies in the brewing and drinks industries, where the 6020 hygienic control valves, the 6021 aseptic control valves and the sliding gate valves can be used with the digital AS interface positioning system.
The 6020 hygienic control valve is a self-draining right angled valve and is made from solid, non-porous stainless steel. Precision turning, polishing, fine polishing or electro polishing are used to achieve the surface quality required by the particular process. The 6021 aseptic control valve has a completely smooth diaphragm to provide a complete separation between the processing region and the piston rod. Both the 6020 as well as the 6021 valve ranges are offered in the nominal sizes DN 15, 25 and 40 up to a PN 16 pressure level. Sliding gate valves are precision devices used for liquid, vapourphase and gaseous media in many adjacent areas in brewing and drinks process engineering. Sizes in this case range from DN 15 to DN 200 for pressures up to PN 100 and media temperatures from -60 to 350°C.
For more information contact Rowan Blomquist, Macsteel Fluid Control, +27 (0)11 383 4000, rowan.blomquist@macfluid.co.za, www.macsteel.co.za
Credit(s)
Further reading:
The ultimate control valve
Valve & Automation Valves, Actuators & Pump Control Editor's Choice
Zwick has designed its TRI-SHARK range of Triple Eccentric Valves to be used in control or throttling applications as well as for pure on/off functionality.
Read more...
---
Smart pumping – a new era in water management and supply
Schneider Electric South Africa Valves, Actuators & Pump Control
Smart pumping can address the high cost and energy usage challenges faced by private and municipality-managed facilities.
Read more...
---
Schubert & Salzer and Macsteel
Macsteel Service Centres Valves, Actuators & Pump Control
The demand on valves, particularly in tyre production plants, is extreme with tyre curing presses working constantly at high temperatures and pressures.
Read more...
---
Chinese LNG tanker fitted with ARCA anti-surge valves
Valve & Automation Valves, Actuators & Pump Control
ARCA anti-surge valves avoid surging by accurately adjusting the gas circulation or blow-off flow, effectively protecting the safety of the compressor unit.
Read more...
---
Electrified subsea actuator for offshore production
Valves, Actuators & Pump Control
Bosch Rexroth has engineered the SVA R2 Subsea Valve Actuator as a disruptive innovation for electrically actuating valves in the subsea process industry. It can replace conventional hydraulic cylinders 
...
Read more...
---
Eliminate bearing failures in TOVs
Valve & Automation Valves, Actuators & Pump Control
Bearing failures are among the highest root causes of failure in triple offset valves (TOV) for tight shutoff applications. This issue is directly attributed to the need to have metal bearings with very 
...
Read more...
---
Locally manufactured knife gate valves
Bearing Man Group t/a BMG Valves, Actuators & Pump Control
BMG and Abrasive Flow Solutions (AFS) play a major role in the local valves sector, through the design, distribution, supply and support of a broad range of slurry related valves.
Read more...
---
Protect your pump and keep it longer
Elemental Analytics Valves, Actuators & Pump Control
Unexpectedly losing a pump is often an expensive or even a dangerous problem in a chemical plant.
Read more...
---
Locally valves manufactured for tailings pipeline
Valves, Actuators & Pump Control
The AFS manufacturing plant in Benoni is equipped with advanced equipment and is supported by specialists who offer dependable technical support to ensure the optimum safety, efficiency and extended service life of every system.
Read more...
---
New flange monoblock with shut-off valve
WIKA Instruments Valves, Actuators & Pump Control
WIKA's new monoblock with flange design integrates a shut-off valve to separate the process from the instrument side.
Read more...
---