printer friendly version
New generation of knife gate valves from Stafsjö
February 2017
Valves, Actuators & Pump Control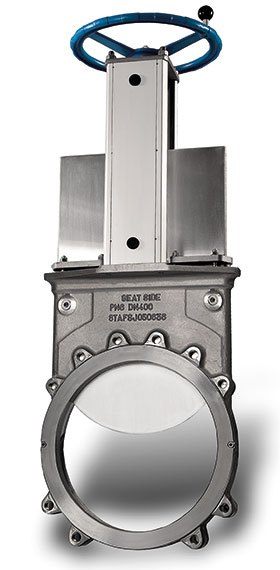 In 1928, Stafsjö started to manufacture knife gate valves in close co-operation with nearby pulp and paper mills. Now the company has introduced its eighth knife gate valve generation, the MP, which is a result of market driven requirements coupled with engineering experience gained over the years.
Stafsjö's latest development for the pulp and paper industry, the MP valve, represents a new generation of shut-off valves which fully meet today's market demands such as bi-directionality, full bore and minimum maintenance.
Product features
The MP is a bi-directional full bore valve which together with its special shut-off design makes it suitable for many different applications.
MP has a one piece body design in stainless steel and for reliability in applications with corrosive or clogging media the valve body comes with integrated purge ports as standard. It is also supplied with Stafsjö's retainer ring system, which can be combined with several seat materials and this makes it easy to optimise the valve to specific process conditions. The valve has gate and cast bottom support cams to obtain bi-directional sealing. The gate support is available in a variety of materials to suit most applications.
The top work consists of aluminium beams and stainless steel tie rods which give good corrosion resistance and stability for manoeuvring. Several actuator types are available to choose from as standard as well as accessories and all remote operated valves are supplied with gate guards in stainless steel.
Sealing principle
When the valve is operated from the open to the closed position, the gate effectively cuts through the media. This is facilitated by the inner cavity of the valve body and the bevel edged gate. In closed position the gate is pushed against the seat and the gate support ensures a bi-directional seal together with the bottom support cams that stabilises the gate.
The gland box is equipped with three layers of our TwinPack and a scraper gives high operation reliability and prevents the media from reaching the surrounding environment.
For more information contact, Valve & Automation, +27 (0)31 579 2593, sales@valve.co.za, www.valve.co.za
Credit(s)
Further reading:
Valve & Automation's new Secunda Valve Repair Centre
Valve & Automation News
On 1 November 2021, Valve & Automation's Secunda Valve Repair Centre opened at 18 Kingfisher Street, Ext 57, Secunda, Mpumalanga.
Read more...
---
The ultimate control valve
Valve & Automation Valves, Actuators & Pump Control Editor's Choice
Zwick has designed its TRI-SHARK range of Triple Eccentric Valves to be used in control or throttling applications as well as for pure on/off functionality.
Read more...
---
Smart pumping – a new era in water management and supply
Schneider Electric South Africa Valves, Actuators & Pump Control
Smart pumping can address the high cost and energy usage challenges faced by private and municipality-managed facilities.
Read more...
---
Schubert & Salzer and Macsteel
Macsteel Service Centres Valves, Actuators & Pump Control
The demand on valves, particularly in tyre production plants, is extreme with tyre curing presses working constantly at high temperatures and pressures.
Read more...
---
Chinese LNG tanker fitted with ARCA anti-surge valves
Valve & Automation Valves, Actuators & Pump Control
ARCA anti-surge valves avoid surging by accurately adjusting the gas circulation or blow-off flow, effectively protecting the safety of the compressor unit.
Read more...
---
Electrified subsea actuator for offshore production
Valves, Actuators & Pump Control
Bosch Rexroth has engineered the SVA R2 Subsea Valve Actuator as a disruptive innovation for electrically actuating valves in the subsea process industry. It can replace conventional hydraulic cylinders 
...
Read more...
---
Eliminate bearing failures in TOVs
Valve & Automation Valves, Actuators & Pump Control
Bearing failures are among the highest root causes of failure in triple offset valves (TOV) for tight shutoff applications. This issue is directly attributed to the need to have metal bearings with very 
...
Read more...
---
Locally manufactured knife gate valves
Bearing Man Group t/a BMG Valves, Actuators & Pump Control
BMG and Abrasive Flow Solutions (AFS) play a major role in the local valves sector, through the design, distribution, supply and support of a broad range of slurry related valves.
Read more...
---
Protect your pump and keep it longer
Elemental Analytics Valves, Actuators & Pump Control
Unexpectedly losing a pump is often an expensive or even a dangerous problem in a chemical plant.
Read more...
---
Locally valves manufactured for tailings pipeline
Valves, Actuators & Pump Control
The AFS manufacturing plant in Benoni is equipped with advanced equipment and is supported by specialists who offer dependable technical support to ensure the optimum safety, efficiency and extended service life of every system.
Read more...
---